President Morton Schapiro announces his 2022 departure
After more than a decade of a transformative presidency, Schapiro to conclude tenure in August 2022
Editor's note: On July 11, Rebecca Blank announced that she has been diagnosed with cancer and will be unable to fulfill her role as the 17th president of Northwestern. President Morton Schapiro will continue to lead the University until his successor is identified.
Northwestern University President Morton Schapiro, who has led the University through one of its most transformative and sustained periods of academic growth, announced today (March 4) that he will conclude his tenure on Aug. 31, 2022.
Since Schapiro took office in September 2009 as the 16th president in Northwestern's 170-year history, the University has elevated its status as a premier university for research and teaching, reaching several important milestones:
Applications for its undergraduate class have nearly doubled during his tenure, while the acceptance rate has dropped from 27% to 7%. Representation from underrepresented student groups also has doubled.
Annual funding for sponsored research activity has risen 86%, from $476.9 million in 2009 to $887.3 million in 2020.
The number of faculty with major national academy memberships has increased roughly 73%, from 95 in 2009 to 164 today.
Bolstered by one of the most successful fundraising campaigns in higher education history, which has raised $5.3 billion to date, the University has more than doubled its endowment from $5.8 billion to $12.2 billion.
Its campuses have been transformed by nearly 50 major construction projects that have provided 3.5 million square feet in new or renovated physical spaces.
The University began an era of active civic engagement, committing considerable scholarly and financial resources to its community through programs such as Northwestern Academy and the Good Neighbor Fund.
Northwestern has risen to a position among the top 10 universities in the country, with record-high rankings for many of its individual schools and departments.
"During President Schapiro's tenure, Northwestern has further established itself as one of the world's very finest academic institutions," said J. Landis Martin, chairman of the Northwestern Board of Trustees. "Since he took office, the University has improved by every relevant measure. We will celebrate what we have achieved and continue to achieve under President Schapiro's leadership. And, in the coming weeks, the Board of Trustees will announce steps toward identifying his successor, including the formation of a search committee that will represent Northwestern's many constituencies."
"It is an honor to work alongside our faculty, staff, students, trustees and alumni at this moment in Northwestern's history," Schapiro said. "I've watched this brilliant academic community accomplish unimaginable things in the past eleven-and-a-half years, even during a historic global health emergency that has tested the resolve of everyone."
He expressed a commitment to continuing to address key initiatives in the next 18 months. "We have the opportunity to bring a strong close to this chapter of Northwestern's history, and then prepare well for the next one," Schapiro said. "Our goal of reaching $1 billion in annual sponsored research funding is within reach. We have a chance to make the University more diverse and more inclusive than ever before. And, after we put the finishing touches on our We Will fundraising campaign, we soon will begin laying the groundwork for the next one. All this is necessary to ensure Northwestern's success in perpetuity."
Schapiro came to Northwestern after serving nine years as president of Williams College in Williamstown, Mass. Originally committed to a five-year term, he agreed to a second five-year term; in 2014, the Board of Trustees extended his contract another three years, through the end of the 2022 fiscal year.
Schapiro has modeled an active teaching and scholarly career that is rare for a president of a large research university today. He has delivered lectures at every Northwestern school, from the Pritzker School of Law to the Bienen School of Music; penned some 50 op-eds and essays in popular media; collaborated regularly alongside School of Education and Social Policy Dean David Figlio, with whom he published last month a new study detailing several years of their findings on effective teaching; and co-authored three books with Professor Gary Saul Morson, including "Minds Wide Shut: How the New Fundamentalisms Divide Us," to be released this month by Princeton University Press.
"While I'm incredibly proud of what we've achieved together to increase Northwestern's national and international standing, I'd have to say teaching — and learning from — our students as well as our faculty and alumni, may be the highlight of my time here," Schapiro said. "After all, that's what a university is at its core, and a president should never lose sight of that while making decisions and gathering and allocating resources."
Areas in which Northwestern progressed significantly under Schapiro include:
Student Body
While applications for seats in the first-year undergraduate class increased from roughly 25,000 in 2009 to 39,263 in 2020, the University also worked actively to increase diversity across the board. Compared to when Schapiro joined Northwestern, the percentage of Black students in the class of 2024 has risen from 6% to 10%; Latinx students, from 7% to 16%; first-generation college students, from 9% to 13%; Pell Grant-eligible students, from 12% to 21%; and Chicago Public School students, from 3% to 6%.
"In the close to 45 years that I have been a part of the Northwestern community — as a student, faculty member, and now, dean — I have never encountered a president who cared more about or worked harder to improve the quality of the undergraduate student experience," said Charles Whitaker, professor and dean of Medill School of Journalism, Media, Integrated Marketing Communications. "Under Morty's guidance, Northwestern's enrollment of low-income and first-generation students has gone from single digits to 20%. By almost any measure, we are a better institution thanks to Morty's transformational leadership."
In the past decade, Northwestern students and recent graduates have been honored with 10 Marshall Scholarships, 1 Rhodes Scholarship, 5 Winston Churchill Scholarships, 15 Goldwater Scholarships, 3 Truman Scholarships, 245 Fulbright Awards and 168 National Science Foundation Graduate Research Fellowships.
Schapiro is credited with a number of initiatives to improve the student experience, including the establishment of new traditions such as the March Through the Arch and Ryan Field Wildcat Welcome Dash for first-year and transfer students. He also created the Distinguished Secondary School Teacher Award Program, now in its 11th year, which invites graduating seniors to nominate high school teachers who made a difference in their lives. Each year, five awardees are invited to campus and honored at commencement by their student nominators.
Prior to the novel coronavirus pandemic, Schapiro and his wife, Mimi, hosted some 20,000 Northwestern guests, many of them students, at their home near the Evanston campus. Schapiro has also been a frequent presence at student events ranging from the Dance Marathon to the Dillo Day music festival.
"During his leadership, President Schapiro has advocated for the spiritual growth and development of our students and staff. In particular, President Schapiro has dedicated efforts towards those who may not identify in the dominant narrative or often feel marginalized," said Tahera Ahmad, associate chaplain and director of interfaith engagement. "He has invested his time to meet with different affinity groups and advocated for their specific needs."
Faculty
In 2009 Northwestern had a total of 95 members in the National Academy of Sciences, National Academy of Medicine, National Academy of Engineering, National Academy of Education and the American Academy of Arts of Sciences. That figure has risen to 164 today. A number of faculty members have also received top honors in the past decade, including the Nobel Prize, Yidan Prize and MacArthur Fellowship.
"The growth and development of Northwestern under Morty's leadership have been extraordinary," said Chad Mirkin, the George B. Rathmann Professor of Chemistry and director of the International Institute for Nanotechnology. "The programs started, faculty recruited, buildings built and commitment to making Northwestern a more diverse and welcoming place all will be a part of his lasting legacy. His remarkable energy, commitment and good humor helped guide Northwestern through both good and sometimes turbulent times."
Fundraising and Endowment
We Will. The Campaign for Northwestern, announced publicly in 2014, surpassed its $3.75 billion goal nearly two years ahead of schedule and was extended with a new target of $5 billion by the time the Campaign concludes. That new goal, which has already been exceeded, has helped establish 502 new endowed scholarships and fellowships; 84 endowed professorships; more than 30 new research centers and institutes, including the Buffett Institute for Global Affairs; and hundreds of additional grants. The University's endowment stands at $12.2 billion, up from $5.8 billion in 2009.
Sponsored Research
As annual sponsored research funding has increased from $476.9 million in 2009 to $887.3 million in 2020, the University has risen in that time from 27th in National Institutes of Health (NIH) funding to 15th. Schapiro has set a goal for Northwestern to draw $1 billion annually in total research and reach the top 10 in NIH funding, in order to maximize its faculty's opportunities to be at the forefront of new academic frontiers.
Community Service
In 2013 Schapiro launched the acclaimed Northwestern Academy, which has helped hundreds of students from underserved communities attend competitive colleges and universities. In 2015, he established a Good Neighbor Fund that committed $1 million annually, for a five-year period, to the City of Evanston. That fund was expanded into a $1.5 million effort to address racial equity in Chicago and Evanston.
"Morty's impact on Northwestern and on Evanston has been significant and positive," said Eric Witherspoon, superintendent of Evanston Township High School District (ETHS) 202. "Our community could feel the difference in the town-gown relationship during his very first months here in Evanston, and he unfailingly has continued to build and strengthen relationships with our community during his entire tenure here.
"President Schapiro created partnerships with ETHS beyond any collaborations that ever existed before or were ever imagined between ETHS and Northwestern," Witherspoon said. "Because of his commitment to youth in our community, his vision for enhancing and enriching learning opportunities for our students, and his significant investment in Evanston students, he has made a difference for thousands of young lives here."
Campus Improvement and Expansion
During Schapiro's tenure, the University has invested $2 billion to construct and renovate buildings on its campuses, including noteworthy campus upgrades for the sciences, arts and athletics and recreation. The rapid increase in research funding in particular necessitated new science facilities on the Evanston and Chicago campuses. This involved a transformation of the north campus in Evanston, as parking lots were rebuilt into new academic space. Expansions of the Technological Institute added more than 200,000 square feet of new space.
New, state-of-the-art facilities include the Kellogg Global Hub, Louis A. Simpson and Kimberly K. Querrey Biomedical Research Center, Segal Visitors Center, Patrick G. and Shirley W. Ryan Center for the Musical Arts, Welsh-Ryan Arena, Ryan Fieldhouse and the Walter Athletics Center. Major renovations have included Seeley G. Mudd Building, a number of residence halls and the Evanston campus' historic Black House.
"For 12 years I've had the privilege to work for the best University president in higher education," said Pat Fitzgerald, Dan and Susan Jones Family Head Football Coach. "There is no more passionate Wildcats fan than Morty Schapiro; his belief in our students is unmatched. The transformational past decade for Northwestern Athletics and Recreation simply would not have been possible without his unwavering support, leadership and vision. President Schapiro has elevated ambitions across our community and prepared Northwestern to expect and earn excellence in everything it does."
Multimedia Downloads
Images
Photo credit: Northwestern University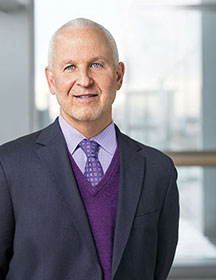 Northwestern University President Morton Schapiro