Abolitionist organizer and educator Mariame Kaba will deliver MLK keynote
MLK Dream Week events Jan. 13 to 19
Northwestern University will commemorate the life and legacy of Dr. Martin Luther King, Jr. with a series of virtual Dream Week events beginning Jan. 13, 2021. Many events are free and open to the public, including the keynote event with Mariame Kaba at 4 p.m., (CST) Wednesday, Jan. 13.
The keynote speaker was selected with this year's One Book, One Northwestern selection, Bryan Stevenson's "Just Mercy," in mind as well as the Women's Center's programmatic theme of Mutual Aid and Community Engagement.

"Mariame Kaba was nominated by Dream week 2021 committee member Melisa Stephen who noted Kaba's long-standing work in Chicago and her time as a student at Northwestern," said Mónica Russel y Rodríguez, assistant provost for Diversity and Inclusion, and Dream week committee chair.
"Kaba's nomination was supported by student, staff and faculty committee members who affirmed that her keynote would provide deep insight into our current moment of change and need," Russel y Rodríguez said.
"Mariame is such a thoughtful and talented teacher," said Stephen, program coordinator of the Women's Center at Northwestern. "She has a remarkable gift of simultaneously humbling you to the challenging, sometimes ugly truths of human nature and inspiring you to dream bigger than you ever thought you could. Her voice and work are an invaluable source of guidance in a time of heightened awareness and reckoning."
Kaba is an organizer, educator, curator and prison industrial complex (PIC) abolitionist who is active in movements for racial, gender and transformative justice. Kaba is founder and director of Project NIA, a grassroots organization with a mission to end youth incarceration, and a member of the Movement for Black Lives Policy Table. Kaba is currently a researcher at Interrupting Criminalization: Research in Action at the Barnard Center for Research on Women, a project she co-founded with Andrea Ritchie in 2018.
Kaba's keynote address comes as Northwestern — and the country — continues to grapple with issues of race, policing and social justice after the killings of George Floyd, Breonna Taylor and countless others. In the fall, student activists led nightly protests on campus and in Evanston and have advocated for change.
In June, University officials committed to 10 social justice initiatives, and have begun a series of discussions on issues of diversity, equity and inclusion with members of the Northwestern community. Earlier this month, the University launched a Social Justice at Northwestern website to track progress.
Kaba has co-founded multiple social justice organizations and projects in Chicago over the years, including We Charge Genocide, the Chicago Freedom School, the Chicago Taskforce on Violence against Girls and Young Women, Love & Protect, the Just Practice Collaborative and Survived & Punished.
Kaba's leadership, organizing and influence extend widely as she offers a radical analysis that influences how people think and respond to how violence, prisons and policing affect the lives of people of color. Kaba is the author of "Missing Daddy" (Haymarket 2019), selected as one of Chicago Public Library's Best of the Best Books in 2019. Her forthcoming book, "We Do This Til We Free Us: Abolitionist Organizing and Transforming Justice," will be published by Haymarket Press in February 2021.
In her MLK keynote address, Kaba will discuss prison industrial complex abolition as a vision for a restructured society based on care, cooperation and true safety.
Dream Week program details and the links to online events, including the keynote program, will be available soon on Northwestern's MLK Website.
Multimedia Downloads
Assets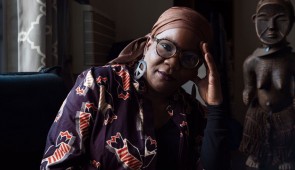 Kaba is an organizer, educator, curator and prison industrial complex (PIC) abolitionist who is active in movements for racial, gender and transformative justice. She will deliver Northwestern University's MLK Dream Week (virtual) keynote address Jan. 13, 2021. Photo credit: Gion Carlo.