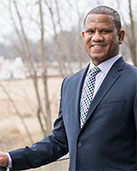 Associate professor of political science; director of the Center for the Study of Diversity and Democracy
Tillery's research and teaching interests are in the fields of American politics and political theory. His research focuses on American political development, racial and ethnic politics and media and politics.
"The failure to indict the officers who killed Breonna Taylor after bursting into her apartment in March shows how difficult it is to hold police officers accountable for their misconduct and poor performance in cases that involve deadly force. What is beyond belief is that the one charge brought in the case will be against an officer for firing into a neighboring apartment in the act of killing Ms. Taylor. 
"The ruling is a watershed moment for the Black Lives Matter movement. For more than three months we have seen activists organizing mostly peaceful, disciplined protests demanding charges against the officers in the case. What today showed is that protests are not going to be enough to generate accountability in such a badly broken system. The activists are going to have to supplement their disruptive protests with political organizing and voting if they are going to change the environment in Kentucky."