She wasn't pregnant. She had fibroids.
CHICAGO --- Saudia Davis, 48, always wanted to have children. Her uterine fibroids had a different plan for her.
After years of battling fibroids of different sizes and severity, she eventually opted to have a hysterectomy once she learned a bowling-ball size fibroid was pressing on her bladder, causing mild, temporary incontinence and a uterus that was so stretched, she appeared to be seven months pregnant. Luckily, her tumor was benign.
"You don't know that they're in there and growing," Davis said. "That's what's so bizarre. Women are lit up and don't even know it. Your stomach doesn't feel right. I kept thinking, 'Do I have issues with gluten intolerance?' and I definitely do, but it was way more than just that.
In April 2022, Davis learned her only option was to have a hysterectomy.
"So not only could I not have children, but I was faced with the finality of having to have my uterus come out, too," she said.
Being a Black woman, author and Emmy-nominated producer, Davis said she wanted to capture her stomach on film to raise awareness of fibroids and encourage others to share their story because "it is healing."
While the almost $90,000 hysterectomy was fully covered by insurance, Davis created a GoFundMe to cover the $10,094 cost of her abdominoplasty — a reconstructive stomach surgery — that was not covered by insurance. She successfully raised $8,000.
"We know the stats for Black women are high, but no one talks about this," Davis said. "Once we posted the video online, women were coming out of the woodwork that I know to tell me their stories with fibroids."
Davis continues to share her fibroids story with as many people as she can to continue to reduce the stigma. She said she wishes there was a fibroid financial fund for women who do not have access or financial resources for needed surgery like she had.
Davis' fibroids journey:
While living in New York City in her early 30s, Davis encountered her first uterine fibroid, about the size of a quarter. After completing an East Asian cleanse, she believes it went away.
Fast forward almost 14 years, Davis was living in Chicago. She had an MRI scan of her back, which also captured part of her stomach. A physician friend suggested she seek medical guidance about it. A Northwestern Medicine OB-GYN discovered Davis' fibroids were back, but this time they had multiplied. One was the size of a grapefruit, another a plum and also a bag of marbles. Two were in her vaginal canal, and in order to potentially have children one day, she decided to have them removed.
In the winter of 2021, Davis began having pain in her lower left side. Her physicians determined this was due to a weakness in her abductor muscle, so she started six months of pelvic-floor therapy. Because of the pandemic, Davis said she hadn't seen many people, but as she slowly started to encounter more people as things began to open up, she began being asked if she was pregnant. Once she began having mild, temporary incontinence when she sneezed or coughed, she sought another ultrasound to determine if her fibroids were resting on her abductor muscle. Her doctors discovered they were.
Davis had her hysterectomy Aug. 29, 2022.
Multimedia Downloads
Saudia Davis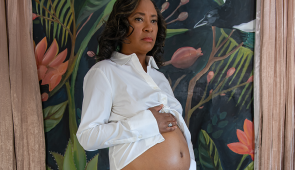 Portrait of Saudia Davis on July 26, 2022. She appeared to be seven months pregnant but actually had uterine fibroids, one of which was the size of a bowling ball. She had a hysterectomy Aug. 29, 2022 to remove her fibroids and uterus. (Credit: © Sandra Steinbrecher).