Bienen School presents Midwest premiere of Jake Heggie opera
Russell Thomas Master Class and chorale concert of Heggie repertoire round out winter vocal offerings
Updated: February 17, 2022 – The University Chorale concert has been cancelled.
Link to: Northwestern Now Story
EVANSTON, Ill. --- American composer Jake Heggie's Faustian opera "If I Were You" will make its Midwest debut in Northwestern University Opera Theater's Feb. 24-27 production at Cahn Auditorium.
The opera continues a productive association between the Bienen School of Music and the pianist-composer that began with the Chicago-area premiere of Heggie's "Dead Man Walking" in 2015, followed by a vocal master class and convocation keynote address in 2017.
"The Bienen School of Music was honored by Jake Heggie's invitation to present 'If I Were You' at Northwestern," said Toni-Marie Montgomery, dean of the Bienen School of Music. "This opera is an ideal work for our voice students since it was written for young artists of the Merola Opera Program. We look forward to Jake's upcoming campus visits to coach our young singers in preparation for the opera and choral performances."
Other winter vocal and opera highlights include a concert of Heggie's choral works and the return of the Tichio-Finnie Vocal Master Class Series, featuring tenor Russell Thomas.
University Chorale with Jake Heggie - Note: As of 2/17/22 this event has been cancelled
Sunday, Feb. 20, 7:30 p.m.
Pick-Staiger Concert Hall
50 Arts Circle Drive, Evanston
In anticipation of the Northwestern University Opera Theater production of Heggie's "If I Were You," University Chorale presents selections from the composer's choral repertoire alongside a conversation between the composer and Bienen's Grammy Award-winning Director of Choral Organizations Donald Nally.

Tickets are free of charge and may be reserved from the Bienen School Ticket Office in-person, online at concertsatbienen.org or by phone at 847-467-4000.
Jake Heggie's "If I Were You"
Midwest Premiere
Thursday – Saturday, Feb. 24-26, 7:30 p.m.
Sunday, Feb. 27, 3 p.m.
Just added: Feb. 24 includes an Opening Night pre-show talk with Heggie and librettist Gene Scheer at 6:45 p.m.
Cahn Auditorium, 600 Emerson Street, Evanston
Joachim Schamberger, director
Joseph Mechavich, guest conductor
Jake Taniguchi, graduate assistant conductor
Northwestern University Symphony Orchestra
Commissioned by the Merola Opera Program, Heggie's opera "If I Were You" premiered in August 2019. Northwestern University Opera Theater's production is the first fully staged public performance in the Midwest. Hoping to win the heart of his beloved, dispirited young writer Fabian Hart makes a bargain with the devil. He is given the supernatural ability to move his soul and identity from person to person for as long as he likes, but if he ever returns to his own body, death awaits, and the devil will collect his soul. Will Fabian choose to live forever as other people, or die for love as himself?
Director Joachim Schamberger describes what makes the opera fun for singers to perform. "Basically, so many people get to be the lead at least for some time in the piece, so the same character goes through different voice types."
In a virtual Q&A session for Bienen students with the opera's librettist Gene Scheer, Heggie talked about the opera's storyline, which is based loosely on the 1947 Julien Green novel "Si j'étais vous."
"It felt like a piece about young people facing difficult choices and dealing in a very complicated world. It felt timeless, it felt big, it felt intimate," he said. "I loved the confusion of this character Fabian, who I love very much but [who] does some unlovable things. I like that these people are flawed, and that is very human, too."
Scheer comments, "The core of the story…is this yearning to explore and to be someone special, and not valuing what you have. The only thing we have is our own emotional fingerprints of life, and to learn to value that is something that is part of Fabian's journey and all of our journeys, so it was a great pleasure to write this."
Tickets are $18 for the general public and $8 for full-time students with valid ID.
Russell Thomas Vocal Master Class
Wednesday, March 2, 7 p.m.
Galvin Recital Hall, 70 Arts Circle Drive, Evanston
The Tichio-Finnie Vocal Master Class series returns with a session led by tenor Russell Thomas, featuring performances by Bienen School voice and opera students. Tickets are $10 for the general public and $5 for full-time students with valid ID.
Tickets for the Bienen School's winter opera and vocal programs can be purchased from the Bienen School Ticket Office in-person, online at concertsatbienen.org or by phone at 847-467-4000.
The Bienen School Ticket Office is located at the southeast entrance of Pick-Staiger Concert Hall, 50 Arts Circle Drive, Evanston. Ticket Office hours are 10 a.m.- 6 p.m. Mondays through Fridays, and noon - 3 p.m. Saturdays.
All patrons, regardless of vaccination status, are required to wear masks at all times while inside Northwestern venues.
Artist Bios:
Jake Heggie is the composer of such operas as "Dead Man Walking," "Moby-Dick," "It's A Wonderful Life" and "Great Scott," as well as art songs, concerti, chamber music, choral and orchestral works. He is currently at work with librettist Gene Scheer and choreographer Jawole Zollar on a new production for the Houston Grand Opera titled "Intelligence." He has collaborated as a composer and pianist with singers, including Kiri Te Kanawa, Renée Fleming, Joyce DiDonato, Susan Graham, Ben Heppner, Jonathan Blalock, Joshua Hopkins and Bryn Terfel. A Guggenheim Fellow, Heggie has served as a mentor for Washington National Opera's American Opera Initiative and University of Colorado Boulder's New Opera Workshop.
Librettist Gene Scheer has collaborated with Heggie on numerous projects, including the operas "Moby-Dick" and "Three Decembers," the lyric drama "To Hell and Back" and the song cycle "Camille Claudel: Into the Fire." Scheer has also worked with Tobias Picker, Wynton Marsalis, Steven Stucky, Joby Talbot and Jennifer Higdon, winner of the Bienen School's 2018 Michael Ludwig Nemmers Prize in Music Composition. Together with Higdon, he was nominated for a Grammy Award for best classical composition for his work on the opera "Cold Mountain." A composer in his own right, Scheer has written songs for such artists as Renée Fleming, Sylvia McNair, Stephanie Blythe, Jennifer Larmore, Denyce Graves and Nathan Gunn.
Director Joachim Schamberger's productions have appeared in the U.S., Germany, Italy, France, the Czech Republic, Brazil, Norway, Israel, Japan and China. An avid opera educator, he is on the faculty at many young artist festivals and guest lectures at conservatories throughout the world. Prior to becoming director of opera and artist-in-residence at the Bienen School, he served as visiting professor of opera at DePauw University. A native of Germany, Schamberger is a graduate of the Musikhochschule in Würzburg, the Hochschule für Musik und Darstellende Kunst Mannheim and the Merola Opera Program of the San Francisco Opera. He studied digital film production and 3-D animation at the New York Film Academy.
Joseph Mechavich has established a reputation as a leading conductor of contemporary works, including Jake Heggie's "Dead Man Walking," "Moby-Dick," "Great Scott," "Out of Darkness: Two Remain" and "Three Decembers," as well as Carlisle Floyd's "Susannah," "Cold Sassy Tree," "Of Mice and Men" and "Wuthering Heights." He also conducts much of the standard operatic repertoire, with recent highlights including "Il barbiere di Siviglia" at the Washington National Opera and Minnesota Opera, "Werther" at Florida Grand Opera, "Cavalleria rusticana/I Pagliacci" at Madison Opera, "Eugene Onegin" at the Curtis Institute of Music and "Ariadne auf Naxos," "Macbeth" and "Madama Butterfly" at Kentucky Opera, where he serves as principal conductor and artistic advisor.
Tenor Russell Thomas has earned international acclaim for his performances in key Verdi roles, including debuts as Otello at the Canadian Opera Company, Manrico in "Il trovatore" at the Bayerische Staatsoper, Radames in "Aida" at Houston Grand Opera, Stiffelio at Opera Frankfurt and Don Alvaro in "La forza del destino" at Deutsche Oper Berlin. An alumnus of the Metropolitan Opera's Lindemann Program, Thomas most recently returned there as Rodolfo in "La bohème." He has appeared as tenor soloist with the Los Angeles, New York and Vienna philharmonics, as well as the symphonies of Dallas, Detroit, Atlanta, Houston and Boston. During the 2020-21 season, Thomas began his tenure as artist-in-residence at Los Angeles Opera. The 2021-22 season sees his return to some of his most celebrated roles: Florestan in "Fidelio" at San Francisco Opera, Cavaradossi in "Tosca" at Lyric Opera of Chicago, Radames in "Aida" at Los Angeles Opera and as the title character in Verdi's "Otello" at Royal Opera House Covent Garden.
Multimedia Downloads
Artists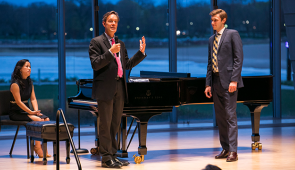 American composer Jake Heggie will return to Bienen School of Music to coach vocal students in preparation for the February 2022 opera and choral performances. Photo for Bienen School by Todd Rosenberg.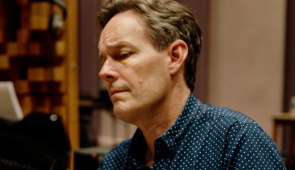 Jake Heggie. Photo by James Niebuhr.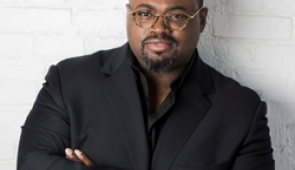 Tenor Russell Thomas. Photo by Fay Fox.
Production Photos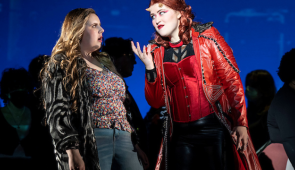 Photo by Todd Rosenberg