'COVID toes probably more rampant than we realize'
Dermatologist says symptoms are likely an inflammatory reaction possibly in response to COVID-19
Cases of a new mysterious skin condition that causes purple, blue or red discoloration of the toes and sometimes fingers are popping up across the country and leading dermatologists to wonder if there is a connection to COVID-19.
Northwestern Medicine dermatologist Dr. Amy Paller said she has seen images of approximately 30 cases of this condition, informally being called "COVID toes," and is part of a national pediatric dermatology registry collecting images across the United States. She said more testing is needed to definitely know what is causing the condition.
"We don't know for sure if it's related to COVID-19, but when it's so common right now during a pandemic and is occurring in otherwise asymptomatic or mildly affected patients, it seems too much of a coincidence not to be a manifestation of the virus for patients in their teens and 20s," said Paller, the chair of dermatology at Northwestern University Feinberg School of Medicine and a pediatric dermatologist at Ann & Robert H. Lurie Children's Hospital of Chicago. "I think it's much more rampant than we even realize. The good news is it resolves spontaneously."
Given the shortage in testing for the virus right now, Paller recommends getting antibody testing when available to confirm the association in these otherwise largely healthy kids.
Paller is available to speak to the media about what she's seeing in patients, her hypotheses as to what might be causing the symptoms and how it is similar but not identical to another dermatologic condition called pernio. To set up an interview, contact Kristin Samuelson at ksamuelson@northwestern.edu.
More quotes from Paller:
Still so much we don't know:
"A minority of these patients with this have been tested for COVID-19 and many have been negative, but we still suspect a relationship. Many have had some mild viral symptoms in the week before and it might be a sign during the 'convalescent' healing period when no longer contagious. We won't understand the association until we can test this more broadly."
Similar but not identical to pernio:
"This looks like a condition we see called pernio but we're still calling it 'COVID toes' because it's only pernio-like. Pernio is a purple discoloration and causes the toes to be very tender. The condition we're seeing can look just like pernio, but often varies from being bright red to purple, and not uncommonly affects broader areas of the toes. Sometimes the bottom of the feet has circles of discoloration – and the fingers occasionally show similar discoloration. Sometimes the feet are itchy, sometimes painful, sometimes without any symptoms."
A possible blood-flow immune response
"We know this involves the small blood vessels in the hands and feet and is an inflammatory reaction. Pernio, which this resembles but is a response to cold, involves clamping down of these small blood vessels – and we think something like this may be happening in response to the inflammation, perhaps caused as part of the response to the COVID-19 virus."
Multimedia Downloads
Download images of 'COVID toes'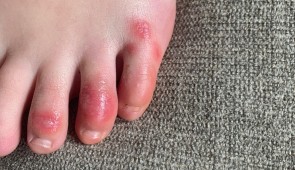 A teenage patient's foot as pictured on April 3, 2020, at the onset of the skin condition being informally called "COVID toes." (Photo courtesy of Dr. Amy Paller, Northwestern University)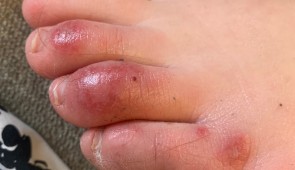 A teenage patient's foot as pictured on April 6, 2020, three days after the onset of the skin condition being informally called "COVID toes." Notice the dusky hue to the discoloration. (Photo courtesy of Dr. Amy Paller, Northwestern University)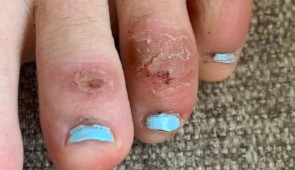 A teenage patient's foot as pictured on April 21, 2020, four weeks after the onset of the skin condition being informally called "COVID toes." (Photo courtesy of Dr. Amy Paller, Northwestern University)