Strauss' 'Die Fledermaus' is a comic operetta for our time
Northwestern University Opera Theater production runs Feb. 27 to March 1
EVANSTON, Ill. – Johann Strauss' high-spirited operetta of frivolity, festivities and a practical joke gone awry, 'Die Fledermaus', premiered in 1874 in Vienna, and remains one of the composer's most beloved works.
Northwestern University's Henry and Leigh Bienen School of Music presents Strauss' beloved operetta from Feb. 27 to March 1 in Cahn Auditorium, 600 Emerson Street on the Evanston campus.
Joachim Schamberger directs the Northwestern University Opera Theater production and John Baril conducts the Northwestern University Symphony Orchestra.
Mistaken identities, disguises and romantic escapades abound in Strauss' third operatic work. Everyone is going to Prince Orlofsky's ball, but they don't want their nearest and dearest to know. Gabriel von Eisenstein evades jail for a night to attend; his wife follows him, disguised as a countess, to find out whether he will misbehave. Adele, their maid, claims to be visiting her aunt, but she, too, goes to the ball, disguised as an actress.
Renowned across Europe for his waltzes and other dance music, Strauss enthralled the public with this early endeavor at operetta, known for its exciting overture and farcical drama. The success spurred Strauss to compose several more operettas in the decades that followed.
Music will be performed in German with supertitles; dialogue will be performed in English.
Performance times are 7:30 p.m. Thursday to Saturday and 3 p.m. Sunday.
Tickets are $18 for the general public and $8 for full-time students with valid ID. Tickets are available online at concertsatbienen.org, by phone at 847-467-4000 or in person at the Bienen School ticket office located at the southeast entrance of Pick-Staiger Concert Hall, 50 Arts Circle Drive. Ticket office hours are Mondays through Fridays 10 a.m. to 6 p.m. and Saturdays noon to 3 p.m.
Artist Bios:
The Bienen School of Music's director of opera Joachim Schamberger has gained international recognition as a stage director and video designer. His productions have been staged in the United States, Germany, Italy, France, the Czech Republic, Brazil, Norway, Israel, Japan and China. He is on the faculty at numerous young artist festivals and guest lectures at conservatories around the world. Prior to his arrival at the Bienen School, he served as visiting professor of opera at DePauw University. A native of Germany, Schamberger is a graduate of the Musikhochschule in Würzburg, the Hochschule für Musik und Darstellende Kunst Mannheim and the Merola Opera Program of the San Francisco Opera. He also studied digital film production and 3-D animation at the New York Film Academy. Schamberger's expertise includes vocal and dramatic interpretation as well as style and language coaching.
Conductor John Baril has led critically acclaimed performances of symphonic and choral music, ballet, opera, operetta and musical theater. Currently resident conductor and musical director at Central City Opera, he has worked closely with the apprentice and studio artists in the Bonfils-Stanton Foundation Artists Training Program at the Central City Opera Festival for more than 20 seasons. In this role, he has led mainstage productions of "Carmen," "Little Women," "Les contes d'Hoffmann," "Madama Butterfly," "Don Giovanni" and "Il barbiere di Siviglia." In addition to his work with Central City Opera, Baril has conducted a diverse range of productions at the Nashville Opera, Opera Delaware, Virginia Opera, Opera Colorado, the Nevada Opera and the Toledo Opera, among others. He has also led productions at the University of Kentucky and University of Missouri-Kansas City.
The Bienen School of Music is a member of the Northwestern Arts Circle, which brings together film, humanities, literary arts, music, theater, dance and visual arts. Search for events across all artistic disciplines at Northwestern Arts Circle.
Multimedia Downloads
Assets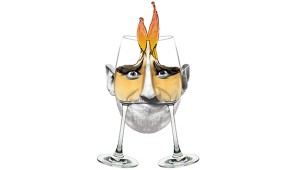 Bienen School of Music presents Strauss' beloved operetta 'Die Fledermaus' from Feb. 27 to March 1 in Cahn Auditorium, 600 Emerson Street on the Evanston campus.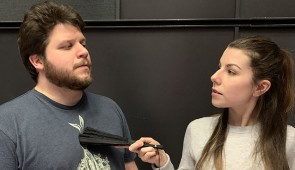 Bienen students Daniel Fleming and Megan Fleishmann rehearse for "Die Fledermaus." The production runs Feb. 27 to March 1 at Cahn Auditorium.