Bienen School presents Chicago-area premiere of David T. Little's 'Dog Days'
Northwestern Opera Theater and Institute for New Music production runs Nov. 21 to 24
David T. Little's dystopian opera "Dog Days" makes its Chicago-area premiere when Northwestern University's Henry and Leigh Bienen School of Music, together with the school's Institute for New Music, presents a limited run Nov. 21 to 24 at the Ryan Opera Theater, located in the Ryan Center for the Musical Arts at 70 Arts Circle Drive on the Evanston campus.
The production marks the first collaboration between Bienen's Institute for New Music and the opera program. "Dog Days" is directed by Joachim Schamberger and features the Bienen School's Contemporary Music Ensemble, conducted by Alan Pierson. Pierson conducted the world premiere of "Dog Days" in 2012 at Peak Performance at Montclair State University in New Jersey in association with Beth Morrison Projects.
Bienen faculty provide an overview of the Institute for New Music in this short video "What is New Music?"
With a libretto by Royce Vavrek and music by Little, "Dog Days" is based on a post-apocalyptic short story by Judy Budnitz. As war rages in a not-so-distant future and a starving American family slowly unravels, they discover a man in a dog suit on their property, howling for scraps. The appearance of this new visitor raises numerous questions for both the characters and the audience: Is it madness, delusion or instinct that guides us through trying times? Where is the line between human and animal? At what point must we surrender to our animal instincts merely to survive?
Audience advisory: This production contains graphic violence, explicit language and adult situations.
Composer Little will return to the Bienen School Nov. 5 to 8 and Nov. 19 to 22 to coach the cast and orchestra and to work with Bienen composition students.
During his first Bienen residency in spring of 2019, Little addressed students' wide-ranging questions about his writing process and how aspects of the characters are embedded into the notes and rhythms of the score.
"It was exciting to revisit some of those moments and remember the act of creating Lisa and Prince and the boys," Little said.
"I grew up with a lot of different musical influences. I would go from 'Oklahoma!' one minute to Napalm Death the next," he said. "These extremes defined my musical language. I feel the expressive potential of each of those stylistic worlds. I think partially why I got into opera is that it's a world that can support this kind of aesthetic variety because you are telling a story."
"'Dog Days' is gritty and provides many provocative and shocking moments," Schamberger said. "The music language that David found for the story is incredible – it really impacts you. Unlike classical operas, 'Dog Days' dives into the action quickly without a need for exposition, which makes it a great first opera for the uninitiated."
Bienen senior Morgan Mastrangelo performs the role of Prince, a man dressed in a dog suit.
"What this piece really does is shine a light on how our humanity changes as we undergo hardship," Mastrangelo said. "In this society, as resources become scarcer, it asks how humans will maintain compassion in the face of scarcity and how we treat those who are lesser and more vulnerable than us."
"Dog Days" performances are at 7:30 p.m. Thursday through Saturday and 3 p.m. Sunday.
Tickets are $18 for the general public and $8 for full-time students with valid ID and are available online at concertsatbienen.org, by phone at 847-467-4000 or in person at the Bienen School ticket office located at the southeast entrance of Pick-Staiger Concert Hall, 50 Arts Circle Drive. Ticket office hours are 10 a.m. to 6 p.m. Mondays through Fridays, and noon to 3 p.m. Saturdays.
Artist Bios:
Bienen School of Music Director of Opera Joachim Schamberger has gained international recognition as a stage director and video designer. His productions have been staged in the United States, Germany, Italy, France, the Czech Republic, Brazil, Norway, Israel, Japan and China. He is on the faculty at numerous young artist festivals and guest lectures at conservatories around the world. Prior to his arrival at the Bienen School, he served as visiting professor of opera at DePauw University. A native of Germany, Schamberger is a graduate of the Musikhochschule in Würzburg, the Hochschule für Musik und Darstellende Kunst Mannheim and the Merola Opera Program of the San Francisco Opera. He also studied digital film production and 3-D animation at the New York Film Academy. Schamberger's expertise includes vocal and dramatic interpretation as well as style and language coaching.
Conductor Alan Pierson is the artistic director and conductor of the acclaimed contemporary ensemble Alarm Will Sound and also has served as artistic director and conductor of the Brooklyn Philharmonic. Pierson has appeared as a guest conductor with the Los Angeles Philharmonic, the Hamburg Symphony Orchestra, the Chicago Symphony Orchestra, the London Sinfonietta, the Steve Reich Ensemble, the Orchestra of St. Luke's, Carnegie Hall's Ensemble ACJW, the Tanglewood Music Center Orchestra, the New World Symphony and the Silk Road Project, among other ensembles. He is principal conductor of the Dublin-based Crash Ensemble and has been a visiting faculty conductor at the Indiana University Jacobs School of Music and the Eastman School of Music. Pierson regularly collaborates with major composers and performers including Yo-Yo Ma, Steve Reich, Dawn Upshaw, Osvaldo Golijov, John Adams, Augusta Read Thomas, David Lang, Michael Gordon, Donnacha Dennehy, La Monte Young and choreographers Christopher Wheeldon, Akram Khan and Elliot Feld.
Composer David T. Little's operas "Dog Days," "JFK," "Vinkensport" and "Soldier Songs" have received wide acclaim, and his music has been presented by the Los Angeles Philharmonic, Carnegie Hall, Los Angeles Opera, Park Avenue Armory, Lincoln Center Festival, Kennedy Center, Holland Festival and Opéra de Montréal, with upcoming engagements at the Chicago Symphony Orchestra and Chicago Opera Theater. Little is currently composing a new monodrama for Grammy-winning tenor Karim Sulayman and Alarm Will Sound, based on Garth Greenwell's celebrated novel "What Belongs to You," and he is developing a new work commissioned by the Metropolitan Opera and Lincoln Center Theater new works program. Little is published by Boosey & Hawkes.
The Bienen School of Music is a member of the Northwestern Arts Circle, which brings together film, humanities, literary arts, music, theater, dance and visual arts. Search for events across all artistic disciplines at Northwestern Arts Circle.
Multimedia Downloads
Assets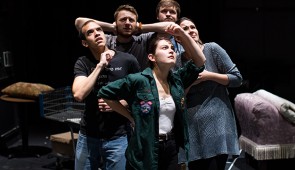 Bienen students rehearsing "Dog Days." Photo by Justin Barbin.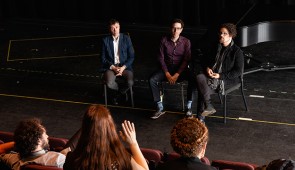 Institute for New Music faculty members Joachim Schamberger (music director of opera, Bienen School) and Alan Piersen (Contemporary Music Ensemble conductor, Bienen School) and composer in residence David T. Little answer student questions. Photo courtesy of Bienen School of Music.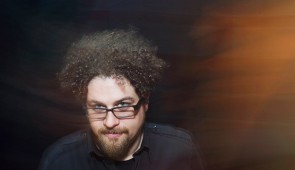 Composer David T. Little photographed by Merri Cyr.