Images
Exhibition preparation images
DOWNLOAD ALL IMAGES (.ZIP FILE)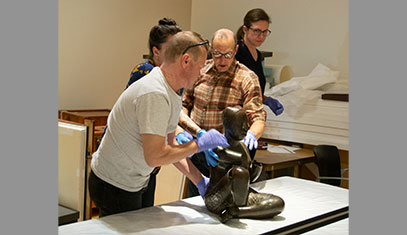 Download Image
Seated Figure, Possibly Ife, Tada
Nigeria, is unpacked inside The Block Museum.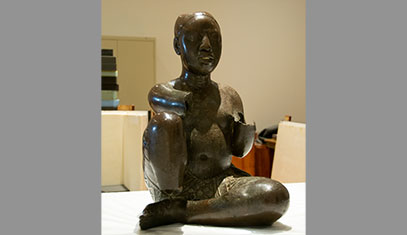 Download Image
Pictured inside The Block Museum: Seated Figure, Possibly Ife, Tada, Nigeria, Late 13th-14th century, Copper with traces of arsenic, lead, and tin, H. 54 cm, Nigerian National Commission for Museums and Monuments, 79.R18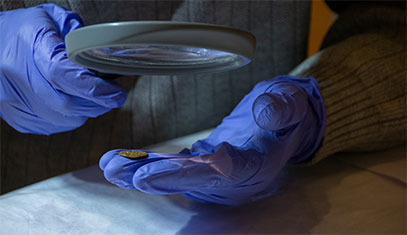 Download Image
Researcher inspects Dinar of al-Mustans ̇ir Billaˉh (r. 1036–1094 ce), issued AH 461, struck at Mis ̇r (Cairo). Gold, diameter 22 mm. Bank al-Maghrib, Rabat, Morocco, 521508
Maps
During the medieval period, major trade routes crossing the Sahara Desert linked cities and towns that functioned as trade centers.
Southward the routes connected with the Niger River, a major byway to Africa's forest region. Northward they connected to the vast trade networks of the Mediterranean Sea, traveling inland across Europe, while eastward they met the Levantine routes and ultimately the Silk Roads of Central and East Asia.
DOWNLOAD ALL IMAGES (.ZIP FILE)
Excavations
DOWNLOAD ALL IMAGES (.ZIP FILE)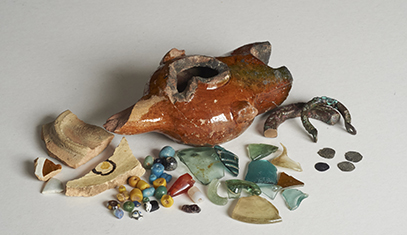 Download Image
A selection of excavated finds from Essouk-Tadmekka, including fragments of glazed ceramics (among which is an oil lamp), stone beads and semi-precious stones, Mali. Photograph by Sam Nixon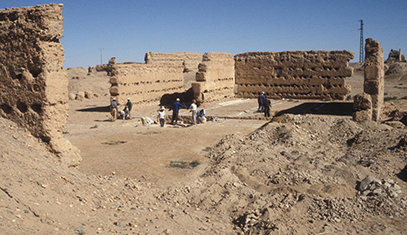 Download Image
Excavations within the Sijilmasa mosque, with exposed walls from the "Filalian" period. Photograph by MAPS, 1996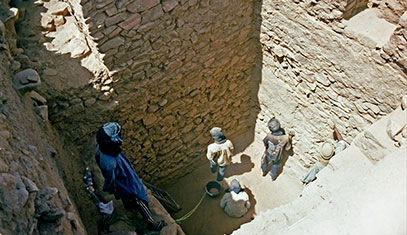 Download Image
Looking down into excavation unit in Tadmekka from the surface; the image shows digging at depth of approximately 5 meters at the depth of the earliest walls recorded. Photograph by Sam Nixon, 2005
Back to top