Strauss' 'Die Fledermaus' is a comic operetta for our time
Northwestern University Opera Theater production runs Feb. 27 to March 1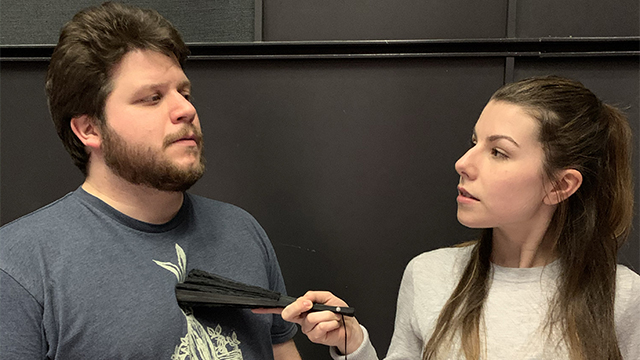 Bienen students are now in rehearsal for "Die Fledermaus," Johann Strauss' high-spirited operetta of frivolity, festivities and a practical joke gone awry. It premiered in 1874 in Vienna and remains one of the composer's most beloved works.
This entertaining and funny operetta was a much-needed source of escapism at the time it was written and continues to be so today. As the characters obscure their identities and get caught up in romantic escapades, a search for the truth ensues. In a world of alternative facts and identity theft, the farcical nature of this play speaks to our own modern-day uncertainties.
In the operetta, everyone is going to Prince Orlofsky's ball, but they don't want their nearest and dearest to know. Gabriel von Eisenstein evades jail for a night to attend; his wife follows him in disguise, to find out whether he will misbehave. Adele, their maid, claims to be visiting her aunt, but she, too, goes to the ball.
"Die Fledermaus" runs Feb. 27 to March 1 at Cahn Auditorium. Bienen Director of Opera Joachim Schamberger directs and guest artist John Baril will conduct the Northwestern University Symphony Orchestra. 
Third-year student Megan Fleishmann (a voice and opera major with a theatre minor) alternates in the role of maid Adele. She relishes the comic and musical craftsmanship of the piece.
"What I love about Adele is how ridiculous and stubborn she is," Fleishmann said. "She is a woman who gets what she wants one way or another. She spends a great deal of time pretending she's someone she isn't and with that comes a few uncomfortable moments and social situations that seem impossible to work through."
Fleishmann's favorite song is the romantic waltz finale of Act II. "In addition to the musical beauty of this song, there is a great deal of drama unfolding among the characters. Between mistaken identities, love triangles and exacting revenge, it is an incredibly fun scene to perform and watch."
"I think audiences are in for a hilarious roller-coaster ride," said first year graduate student Daniel Fleming, who alternates in the role of Eisenstein. "The music is so much fun to sing -- I especially enjoy singing the "Watch Duet" because it has so many different colors to play with."
Fleming believes the themes of the show are relevant in any time. "This is a show about infidelity and revenge, and the consequences of those actions. I think these are, unfortunately, characteristics of the human experience," he said.
Northwestern's wildly diverse opera season opened with "Dog Days," a new opera by New York composer David T. Little. The season will conclude May 21 to 24 with "Orfeo" by Italian Baroque composer Claudio Monteverdi.
"It's kind of remarkable that all of these different shows we are doing fall under the umbrella of opera," said Bienen's director of opera Joachim Schamberger. "I'm very excited to be able to offer these operas to students and to audiences alike."
Tickets and more information about Northwestern Opera productions are available at concertsatbienen.org.
Back to top