New book by Nobel laureate tells story of chemistry's new field
Fraser Stoddart explains the mechanical bond and where it is taking scientists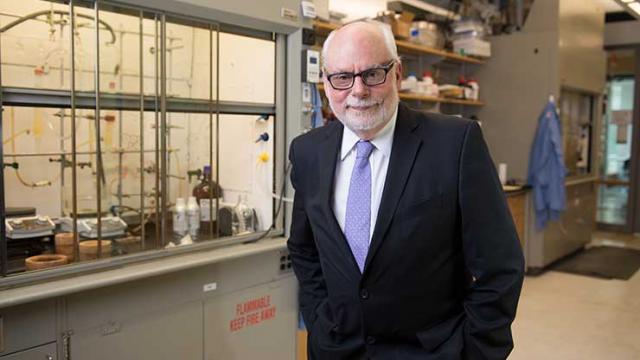 EVANSTON, Ill. - Northwestern University's Sir Fraser Stoddart, winner of the 2016 Nobel Prize in Chemistry and creator of a powerful new bond in chemistry, is the co-author of a new book that sheds light on how his research opened up a new field of chemistry.
Stoddart's introduction of the mechanical bond into chemical compounds has led to the design and synthesis of tiny molecular machines, for which he won the Nobel Prize. This ability to make devices the size of molecules has put chemists at the forefront of the burgeoning field of molecular nanotechnology.
Now, Stoddart and Carson J. Bruns discuss the mechanical bond, its rise to prominence in chemistry over the past few decades and where this important discovery is leading scientists in "The Nature of the Mechanical Bond: From Molecules to Machines" (Wiley, 2016), published this week.
"Our book on the mechanical bond constitutes a landmark for chemistry and the physical and biological sciences," said Stoddart, the Board of Trustees Professor of Chemistry at Northwestern's Weinberg College of Arts and Sciences.
"Thousands of new chemical compounds are made in laboratories around the world every day. They are a dime a dozen. Only a few new chemical reactions are invented every so often. They surface, however, on a regular basis. By contrast, new bonds in chemistry are few and far between. They only arrive on the scene once in a blue moon," he said.
In molecules, the mechanical bond is not shared between atoms but instead is created by entangled molecular entities. Covering both fundamental and applied research and with more than 800 illustrations, "The Nature of the Mechanical Bond" will appeal to a wide range of people interested in chemistry's latest and most non-canonical bond.
"Aside from providing ready access to molecular machinery, the advent of the mechanical bond has revolutionized chemical synthesis, given a new lease of life to stereochemistry, both in a static and a dynamic sense, and opened up the floodgates for the development of chemical topology," Stoddart said.
Mechanomolecules -- molecules made using the mechanical bond -- possess novel properties relating to both form and function. These molecules hold promise for new materials and applications in energy storage systems, electronics, sensors, health care, information technology and more.
"Bonds are the foundation of chemistry, and mechanomolecules are changing the way chemists think about them," said Bruns, a Miller Research Fellow at University of California, Berkeley. He received his Ph.D. in organic chemistry from Northwestern in 2013 and was a member of Stoddart's research group.
The book's first chapter can be appreciated by an educated layperson, Stoddart said. The following five more-technical chapters end with one devoted to the artificial molecular switches and machines mentioned in the citation for the 2016 Nobel Prize in Chemistry.
More information on "The Nature of the Mechanical Bond: From Molecules to Machines" is available from Wiley. 
Stoddart and Bruns' book has received praise from others in the field:
"I love the first chapter and its romp through the mechanical bond."
– Roald Hoffmann, recipient of the 1981 Nobel Prize in Chemistry
"The story is told by THE inventor-pioneer-master in the field and is accompanied by amazing illustrations … [It] will become an absolute reference and a best-seller in chemistry."
– Alberto Credi, University of Bologna, Italy
"… the great opus on the mechanical bond. A most impressive undertaking!" – Jean-Marie Lehn, recipient of the 1987 Nobel Prize in Chemistry
Back to top