Ryans increase campaign giving to $100 million
New gift creates matching gift challenge to support faculty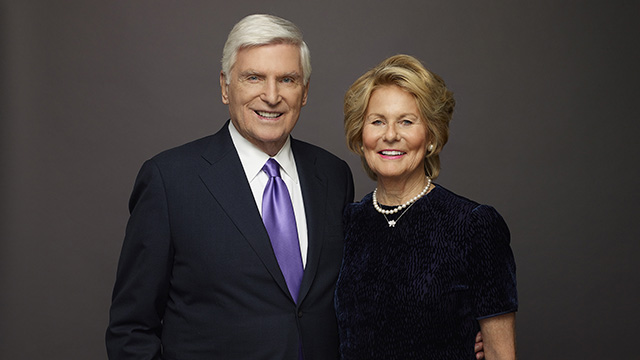 Northwestern University alumni Patrick G. Ryan and Shirley W. Ryan have made a new $25 million gift commitment to advance research and teaching at their alma mater, President Morton Schapiro announced today. A portion of the gift, part of We Will. The Campaign for Northwestern, will be used to accelerate the creation of endowed professorships across the University.
This gift will bring the Ryans' total contributions through the "We Will" Campaign to more than $100 million. It increases their total giving to Northwestern to nearly $200 million.
Of the new gift, $10 million will be used for the Ryan Family Chair Challenge, to match gifts made by other Northwestern supporters to establish new endowed professorships, or chairs, across a wide range of disciplines. Through the challenge, a wider circle of potential benefactors than ever before can consider endowing a professorship in their name or in the name of someone they wish to honor.
"The unprecedented generosity of Pat and Shirley Ryan has benefited Northwestern in so many ways," said Northwestern President Morton Schapiro.
"From undergraduate scholarships to graduate fellowships, from the arts to sciences to athletics, their extraordinary giving, both in terms of financial support and their personal involvement, has transformed Northwestern University at every level," the president said. "We are deeply grateful for this new, important gift and for their long-time support and leadership."
"The unprecedented generosity of Pat and Shirley Ryan has benefited Northwestern in so many ways." - President Morton Schapiro
The designation for the remaining pledge of $15 million will be determined at a future date.
An endowed chair is one of the highest honors bestowed on a faculty member and a critical way to attract and retain top faculty, said Northwestern University Provost Dan Linzer. Currently, fewer than 500 of Northwestern's 3,300 full-time faculty members hold endowed chairs.         
Recognizing the urgency of the philanthropic endeavor, Northwestern is seeking benefactors to participate in the challenge to create the new chairs. The challenge is flexible, meaning that the matching ratio will be determined on a case-by-case basis by the provost.
"Competition for the best talent among the world's most prestigious institutions has never been more intense," Linzer said. "Recruiting, retaining and investing in top faculty is absolutely necessary for Northwestern to continue its upward trajectory into the highest echelon of global universities."
The endowed professorships will be created in several strategic areas across the University, including biomedical sciences; nanoscience; energy and sustainability; electrical engineering and computer science; global health; markets, social structures and public policy; East Asian studies; media; performing arts; and writing and oral expression.
"Endowed professorships allow work in uncharted territory, giving faculty a stable foundation from which to pioneer new projects, riskier projects, in new and emerging fields," said Jan Eberly, James R. and Helen D. Russell Distinguished Professor of Finance at the Kellogg School of Management, who previously served as chief economist of the U.S. Treasury.
In addition to providing research funds, endowed chair positions support salaries for the faculty and members of their research teams, including stipends for students and postdoctoral fellows.             
"These faculty members often teach and do research in areas of strategic importance for Northwestern," President Schapiro said. "They uniquely connect our campus and community, and they are at the forefront of our engagement with the world."
The funds raised through the "We Will" Campaign will help realize the transformational vision set forth in Northwestern's strategic plan and solidify the University's position among the world's leading research universities. More information on We Will. The Campaign for Northwestern is available at wewill.northwestern.edu.
About the Ryans
Patrick G. Ryan is a 1959 Northwestern graduate. He received his undergraduate degree from what was then called the School of Business and now is named the Kellogg School of Management. He also received an honorary degree from the University in 2009 in appreciation for his 14 years of service as Northwestern's Chairman of the Board of Trustees.
Shirley Welsh Ryan is a 1961 Northwestern graduate. She received her undergraduate degree from what was then called the College of Arts and Sciences and is now named the Weinberg College of Arts and Sciences.
Over the course of their long association with Northwestern, the Ryans have become the University's most generous benefactors, having provided leadership and support for academic programs, scholarships, the construction of Northwestern's Nanotechnology Center, support for Northwestern's Feinberg School of Medicine and renovation of Northwestern's football and basketball stadiums.
The Patrick G. and Shirley W. Ryan Center for the Musical Arts, the home of the Bienen School of Music and the theater and performance studies departments and administrative offices of the School of Communication, is named in their honor. They also made the lead gift for Ryan Fieldhouse, a new multi-use athletics and recreational facility that will be located next to the shore of Lake Michigan at the north end of Northwestern's Evanston campus.
An earlier leadership gift from the Ryans created scholarships for low-income students to attend Northwestern without taking out any student loans, which has enabled Northwestern to attract high-achieving low-income students with exceptional leadership potential. That gift also supported graduate fellowships and facilities on both the Evanston and Chicago campuses, as well as provided athletic scholarships for undergraduate students.
The Ryans are co-chairs for We Will. The Campaign for Northwestern, a $3.75 billion University-wide fundraising initiative designed to support Northwestern's strategic ambitions.
Pat Ryan is distinguished as one of Chicago's most successful entrepreneurs and prominent civic leaders. His first business venture involved selling scrapbooks to female students, which paid for his Northwestern education. Pat Ryan founded and served for 41 years as CEO of Aon Corporation, the leading global provider of risk management, insurance and reinsurance brokerage. At the time of his retirement, Aon had $8 billion in annual revenue with more than 500 offices in 120 countries. He also founded Ryan Specialty Group, where he currently serves as CEO. He is a member of the International Insurance Hall of Fame.
A member and immediate past chairman of Northwestern University's Board of Trustees, Pat Ryan received the Northwestern Alumni Association Medal of Honor in 2013. The award is the highest award granted by the Northwestern Alumni Association to an alumnus/a who combines superior professional distinction and/or exemplary volunteer service to society, with an outstanding record of service to Northwestern. He also was elected that year to the Northwestern Athletic Hall of Fame. In 2008, he was elected to the American Academy of Arts and Sciences, the nation's oldest and most prestigious honor society, reflecting his many contributions to higher education.
Shirley Welsh Ryan also received the Northwestern Alumni Association Medal of Honor in 2013. She founded and directs Northwestern University's graduate-level Learning for Life series and has been a charter member of Northwestern's Women's Board since 1978. She is Chair of Pathways.org, has been appointed by two presidents to the National Council on Disability, and serves on the Executive Committee or on the Board of Directors of: the Lyric Opera of Chicago, the University of Notre Dame, the Art Institute of Chicago and the Chicago Council on Global Affairs.
Shirley Ryan has received several honorary degrees, including one from Notre Dame, where she was honored in 2015 for promoting full inclusion and accessibility for all people. Ryan Hall at Notre Dame is named after her and Corbett Ryan, the Ryan's youngest son, who graduated magna cum laude from Notre Dame in 2005.
In addition to Corbett, the Ryans have two other adult sons; Patrick Jr., and Robert J.W. All three son have ties to Northwestern. Patrick Jr. received a law degree and a master's degree in business in 1997 and is a Northwestern trustee. Robert J.W. also received a law degree and a master's degree in business from Northwestern in 2002. Corbett is on staff in Northwestern's department of athletics, where he works with community outreach on behalf of the women's basketball program and Northwestern's student-athletes.
Back to top