'No one bleeds purple like Northwestern President Morton Schapiro'
Outgoing University president honored for his support of Northwestern Athletics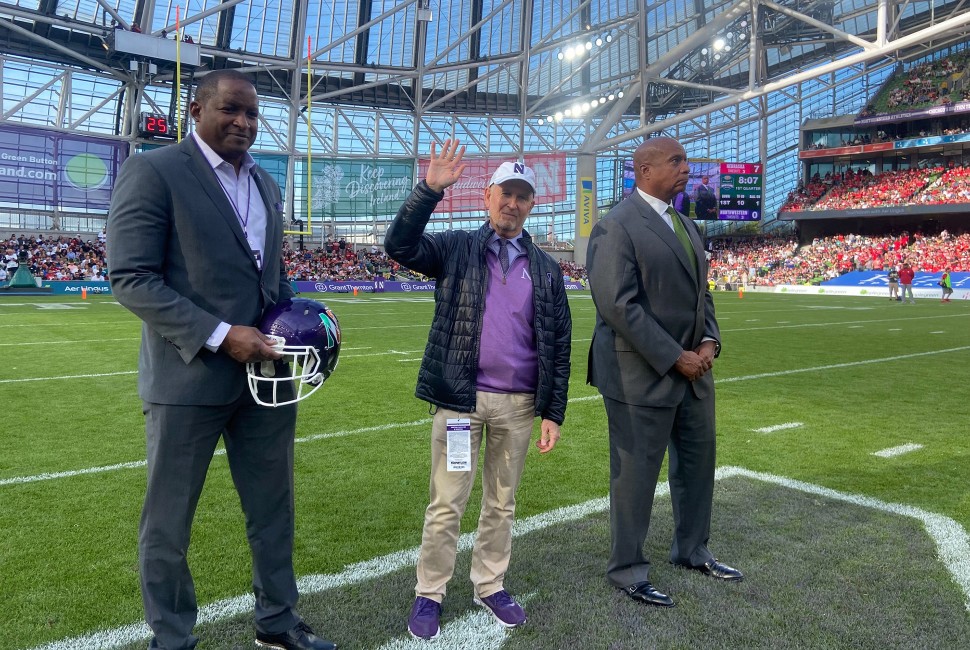 With just a few weeks remaining in his presidency, Northwestern President Morton Schapiro was honored Saturday for his unwavering support of Northwestern Athletics and Recreation.
In a video tribute that aired during the first quarter of Northwestern's nationally televised football game against the University of Nebraska, President Schapiro was hailed as a champion of student-athletes, both on the field and in the classroom.
"No one bleeds purple like Northwestern President Morton Schapiro," the video said.
President Schapiro, who was at the season-opening game in Dublin, Ireland, called the tribute humbling.
"It's been a thrill and an honor to cheer on our Wildcats. I'm tremendously proud of their accomplishments as students and as athletes," said Schapiro, who will be returning to his longtime home Southern California this fall. "They've set the standard for excellence in both academics and athletics. And with the upcoming expansion of the Big Ten, I'll have the chance in a couple of years to wear the purple and root for our teams when they come out to Los Angeles."
USA Today sports columnist Christine Brennan '80, '81 MS, a graduate of Northwestern's Medill School of Journalism, Media, Integrated Marketing Communications and member of Northwestern's Board of Trustees, said the tribute is special because it spotlights President Schapiro's love for all sports, from football to women's basketball, lacrosse and field hockey, among many others.
"He loves sports, and he loves this university," Brennan said. "He cares so much about our Olympic sports. We all know a lot of presidents who care about football and men's basketball, and that's great. But the essence of any great university, and certainly ours, is the success of so many other teams."
Fellow University trustee and Medill alumnus Michael Wilbon '80, of ESPN, said that in his 42 years of covering sports, he's met many college presidents. But none understand the importance of college athletics – and student-athletes – like President Schapiro.
"None know the students as well as Morty," Wilbon said. "He's irreplaceable. And this place is so much better off because of him."
Wilbon said that athletics, in concert with academics, help make a complete university.
"We are so enhanced by his years at Northwestern."