Training at the VA: Care for those who served
On the occasion of a 75-year affiliation, Feinberg School of Medicine trainees reflect on what it's like to treat patients at Jesse Brown VA Medical Center in Chicago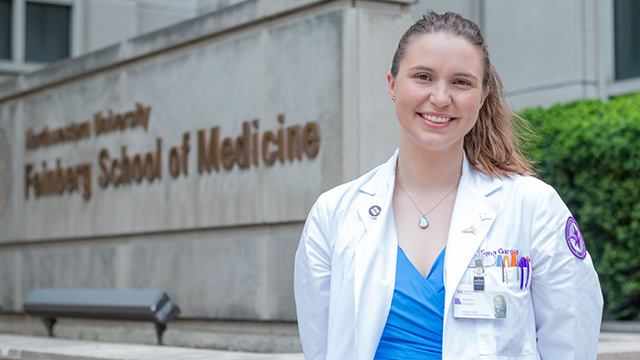 This year, Northwestern University Feinberg School of Medicine and medical schools across the country are celebrating 75 years of partnership with the Veterans Health Administration. 
Northwestern Now caught up with to two Feinberg trainees — Emma Susanna Gargus, who just completed her seventh year of Feinberg's Medical Scientist Training Program (MSTP), and Russell Huang, '17 MD, who just completed his ophthalmology residency at the McGaw Medical Center of Northwestern University and will be starting a glaucoma fellowship at Northwestern in July — about their experiences at the Jesse Brown VA Medical Center.
During their third and fourth year of medical school, Feinberg students have the option to complete some of their required clinical rotations — including surgery, psychiatry and medicine — at the Jesse Brown VA. McGaw residents can also choose to complete some of their training at the VA.
Gargus spent one month of her medicine rotation working at Jesse Brown, located near downtown in the Illinois Medical District, while Huang has trained there on and off for seven years.
Emma, what did you do at Jesse Brown?
I was at the VA for a month, completing one half of my required eight-week medicine rotation. I did the other half at Northwestern Memorial Hospital. The rotation consists primarily of patient care on the inpatient medicine floors, but we also had some lectures and conferences as part of the curriculum. My rotation at the VA was one of my favorite rotations in medical school. Working there is such great training because there are a lot of opportunities to take an active and meaningful role in patient care — even as a student. 
Were you able to connect with patients in a meaningful way?
Yes. Even though my fellow students and I were busy calling consults from specialists or running down to the pharmacy to pick up prescriptions or getting daily weights or vitals for our patients, we also had a lot of time to sit down and talk with the patients and hear their stories about their time during and after service. 
When chatting with a patient, I always asked what advice they have for trainees, as we're learning to become doctors, and to hear more about what qualities and behaviors they have liked and haven't liked from prior providers. The patients at the VA were so generous and thoughtful with their time and sharing their experiences. Obviously, patient care is the number one priority for clinical rotations, but once that was squared away, the veterans were really generous and patient, allowing me to practice physical exam maneuvers and other tasks to make sure I was learning everything I'll need in my future career. 
Do you have a special tie to the military? 
When I was in 5th grade, my grandparents moved in with me and my mom. My grandpa served in the Navy in World War II as a Seabee photographer in the Pacific Theater. He got all of his medical care at the VA and loved it. I was honored to have the opportunity to give back and provide that same care to other veterans.
Russell, you completed a large chunk of your clinical training at Jesse Brown. How did that come to be?
After I had my first medical school rotation at the VA, I chose the VA for every other rotation I could. All of my interactions there were just so positive. I looked forward to coming back during my residency in ophthalmology.
What about the experience drew and kept you there? 
The vets are just incredible and they all have such amazing stories. They've all lived through so much. It's people coming from different walks of life, and being there is a very enriching experience. You really feel like you're helping people who have, first of all, served and given so much to everybody in the United States, and also people who really need your help.
What kind of population do you work with?
Jesse Brown is definitely an inner-city VA. The pathology is very advanced for a lot of these guys. These are people who are struggling with PTSD and other issues. They haven't been able to take care of themselves for years. So, you know, honestly there's nothing better than really just connecting with one of these vets. And, especially as a medical student, you have the ability to do so much. Every little thing that you do for them is so meaningful to them, and it really empowers you as a medical student. 
How is the VA experience part of your residency program? 
As ophthalmology residents at the VA, we spend at least six months there. We're in the clinic two to three days a week. And by our fourth year, we're in the operating room half the time.
What types of procedures are you doing?
There's a very high incidence of glaucoma and also very advanced cases of cataracts. Many patients walk into our office legally blind from their cataracts. Doing cataract surgery on them is one of the most satisfying surgeries that we do because we can restore their vision.
You must hear interesting stories. 
Before COVID, we used to have this big waiting room full of guys, and you could hear them trading war stories, talking to each other about their eyes, talking to each other about everything else that's going on, and cracking jokes. I treated one guy who was working on a screenplay. It's fun.
How is your clinical training different because it is at the VA?
You learn to be very independent — very hands-on. The VA really pushes you. You're the doctor, and the buck stops with you. If you think there's something a patient needs, you have to get it done and, for better or worse, that's what makes the VA such a special place.
History of the partnership
The monumental partnership between medical schools and VA healthcare facilities — which enables medical students and trainees to serve the country's veterans while mastering their profession —  began at Northwestern's medical school in 1946. Its architect, Dr. Paul Magnuson, chair of the Department of Bone and Joint Surgery at that time, worked with President Harry S. Truman and other leaders to set in motion legislation that was part of an effort to help treat the many wounded soldiers returning from World War II.
On Jan. 4, 1946, 56 medical residents from Northwestern and the University of Illinois at Chicago were the first to begin clinical rotations at Edward Hines, Jr. VA Hospital in Maywood, Illinois.
Today, the VA partners with more than 100 medical schools and a total of 1,800 educational institutions across the country, including Feinberg at the Jesse Brown VA.
Back to top