Art exhibition by students addresses life after graduation
Campus art shows are on view outdoors and in galleries with timed-entry reservations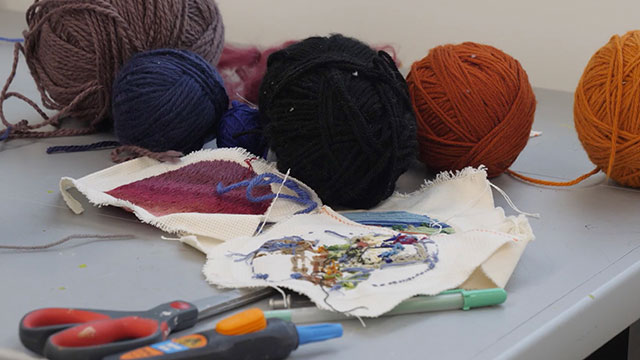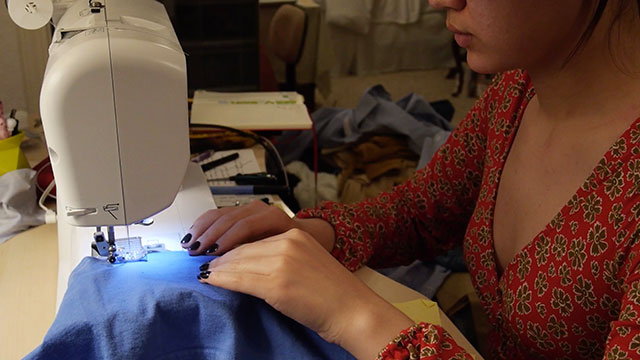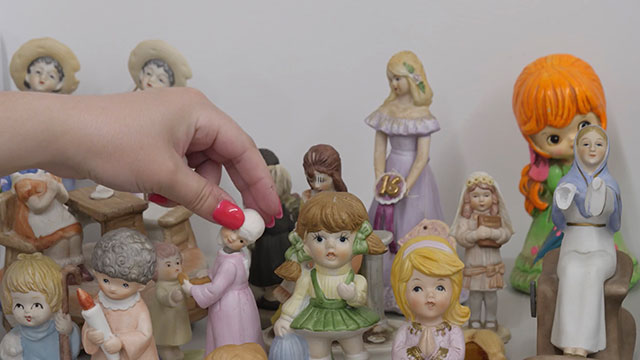 Throughout the timeline of a university education, students experience structure and security. But a new exhibition by senior art students will address thoughts and ideas of life after graduation.
"After-Thought" features the creations of seven seniors in the Art Theory and Practice (ATP) program at Northwestern University. The works will be on display May 20 to June 18 at Dittmar Memorial Gallery, located in Norris University Center, 1999 Campus Drive.
Gallery hours are 10 a.m. to 10 p.m. Gallery visitors are asked to sign-in when visiting. Visitors from outside of Northwestern, must make a reservation on the Dittmar Gallery website at least two days prior to visiting. COVID-19 protocols such as mask-wearing and social distancing are required.
"It has been an enormous pleasure to work with these seven ATP majors over the course of their four years at Northwestern," said ATP instructor and visiting artist Brendan Fernandes. "This year has put much stress and pressure on all of us, but these students pushed through and pushed the boundaries of what can be accomplished in times as difficult as these. They proved themselves to be resilient and committed, and continued to make art that is political and evocative. I am so excited to see what new adventures and possibilities await them." 
About the artists
Michael van Bree is an ATP major with a minor in linguistics. Van Bree's art touches on the intersection of the divine and the mundane through the mediums of sculpture and performance art. After graduation, van Bree hopes to create a video game using art and coding. 
"Getting into this art business when I first got into college, because I didn't do it in high school, was really interesting and liberating," van Bree said. "I think it was really eye opening to see that."
Amy Greenberger is from the suburbs of Chicago and is graduating with an economics and ATP double major. Greenberger works mostly with natural materials. Following graduation, Greenberger will start a master's degree program in architecture.
"College is a time of a lot of personal growth and change," Greenberger said. "I like to take concepts and ideas that are thought of in one way and challenge myself to look at them in a different lens." 
Kit Hammond is an ATP major from California who creates art centered around self-reflection and sustainability. Hammond works with found materials and digital media like photography and video. After graduation, Hammond will continue work on a web series called "Searching for Love," an online dating show.
"My favorite memory as an ATP major has been spending time in Kresge … and the connections I've made throughout the department," Hammond said.
Finn Hewes is from Gulfport, Mississippi, and will graduate with majors in ATP and film. Hewes uses a variety of mediums, mostly paints, to depict the figure and body, revealing internal states in a lighthearted way. Hewes wants to recharge following graduation and then, hopes to "get back to work."
"I feel like I'm in a good groove with the stuff I'm working on with figures right now, and I want to continue exploring that," Hewes said.
Ezra Okeson is an ATP major from Philadelphia. Okeson is interested in contrasts in color and shape and mostly creates abstractions. Weavings are Okeson's primary medium, and he'll continue to explore them following graduation. 
"Seeing what other people are working on and getting to collaborate in free-form ways has been a really great experience," Okeson said.
Roxanne Panas studies ATP and journalism and is from Wisconsin. Panas' work focuses on childhood and grief using ceramics, fabric and clay. Following graduation, Panas will go into doll customization.
"I'm really excited to get into that sort of work because I'm finding that, even though I love working with the ceramic figures, sometimes it is a frustrating medium," Panas said. "I'm excited to work with dolls that actually have bodies I can use instead of having to construct my own."
Clarissa Rivera is from Cicero, a suburb of Chicago. Rivera's work focuses on depictions of women in different traditions and more recently has touched on self-perception and body image. Rivera uses paint and marker primarily, but also enjoys graphic design and mixed media. Following graduation, Rivera looks forward to "taking a minute to breathe," especially after the past year.
"My past major was cognitive science, and I think finally realizing that I really enjoy art and making that transition and getting to explore all the art classes the department had to offer was, in general, my favorite thing," Rivera said.
The artists and ATP department will host a "Zoomissage," virtual opening celebration, Thursday, May 27 at 4 p.m. Register for the Zoom link on the ATP website.
MFA exhibition
On view now through June 21 is "A Bruising Gaze on a Faltering Landscape," the 2021 Art Theory and Practice MFA Thesis Exhibition addressing "questions of perception, scene and seen." The works by MFA candidates Shabtai Pinchevsky and Katherine Simóne Reynolds are on display in the Alsdorf Gallery of The Block Museum of Art, 40 Arts Circle Drive.
The exhibition is open to the public with confirmed, time-entry reservations. For reservations and more information, visit The Block website. 
More campus art
The outdoor exhibition "Behold, Be Held," curated from The Block Museum collection by graduate student Rikki Byrd, continues throughout the summer. Read the story here.
Back to top