Interdisciplinary teams address thorny global problems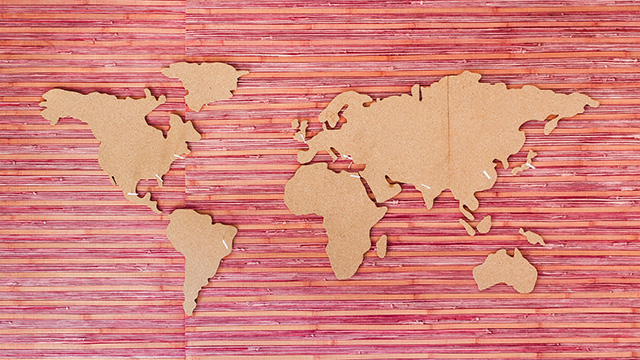 The Northwestern Roberta Buffett Institute for Global Affairs unveiled last week several research projects it will support in the coming year, bringing together faculty from across disciplines and national borders to address urgent global challenges.
The teams will tackle a range of issues: The rapid spread of antimicrobial resistance, racism in today's world, how music could compensate for possible developmental disruptions among children during the pandemic, how to depict the unfolding impact of climate change on people around the world, and media portrayals of mental health.
During a rigorous "Idea Incubation Process" over the past year, Northwestern Buffett has engaged more than 120 researchers representing 45 departments and 10 schools.
A panel of experts judged the research proposals based on their potential for societal impact. The judges were Chris Abani, professor of English and director of the Program of African Studies at Northwestern; Fernando Chico, Northwestern Board of Trustees member and chair of Northwestern Buffett Board of Advisors; Sarah J. Fodor, executive director of Foundation Relations and Corporate Engagement at Northwestern; Marwan Kraidy, dean and CEO of Northwestern University in Qatar and Balakrishnan Rajagopal, UN Special Rapporteur on Right to Adequate Housing and associate professor of law and development at MIT.
"We at Northwestern Buffett strive to bring together the brightest minds from across the University and around the world to address critical global challenges that can't be solved from any one disciplinary perspective or geographical perspective alone," said Annelise Riles, executive director of Northwestern Buffett and a professor of law and anthropology.
The new genius, Riles said, is a collaborative genius.
"As the problems grow increasingly complex, they demand thinking that transcends traditional silos of expertise," she said.
This year's Global Working Groups are:
Antibiotic Resistance
There has been a rapid spread of antimicrobial resistance (AMR) across the world over the last several years. Infections with these resistant bacteria are associated with high mortality and morbidity across all age groups, in both developed and developing countries. Compounding the rapid spread of AMR is a serious dearth of a global coordinated effort, limited antimicrobial stewardship programs in some healthcare systems, overuse and misuse of antimicrobials due to poor healthcare regulation, lack of diagnostics for infectious diseases, and in some cases, misunderstanding of the role of antibiotics in common illnesses. This project aims to develop basic infrastructure to evaluate AMR across two disparate healthcare systems in different parts of the world and understand how healthcare providers make decisions around antibiotic prescribing.
Group Leads:
Race, Caste, Colorism
What are the ways that the persistence of color and colorism not only inflect different world-systems, but could be said to constitute a particular world-system itself? How do we "translate" discourses of race, caste and color around the world? The researchers seek to develop an interdisciplinary project that explores the cultural and social systems of racism, casteism and colorism worldwide, with a focus on the U.S., South Asia and the Caribbean/Latin America. A primary focus on these sites – and their social, political and religious histories, intellectual traditions, and literary, art, and media cultures – reveals the connective tissues among writers, scholars, artists and activists who foreground experiences of race, caste and color in their work.
Group Leads:
Trauma, Music and the Breath 
Music is emerging as a powerful and transformative force in cultivating well-being among humans all around the world, particularly among those who have endured trauma. A small but growing body of research has highlighted the developmental disruptions children around the world have experienced due to the global COVID-19 pandemic. This group aims to gather an interdisciplinary team of clinicians, researchers, musicians and thought leaders to examine the ways music is being used globally to improve the health and well-being of children throughout and following the traumas of COVID-19.
Group Leads:
This year's Global Catalyst Grant recipients:
Climate Crisis and Media Arts
Combining the expressive power of the media arts with critical frames offered by the environmental humanities and the rigor of climate science, this project seeks to influence cultural and political discourse on the climate emergency not by speculating on unlivable futures, but by creating new ways of depicting what it means to live and die within a changing climate, right now. It brings together artists, scholars, activists and students, with the goal of producing empowering, public-facing and sensorial depictions of the material effects and lived experience of climate crisis in China, Central America, the U.S.-Mexico Borderlands, Southeast Asia and beyond.
Group leads:
Global Media Representations of Mental Health/Illness
What social and cultural assumptions are embedded in and reinforced by media portrayals of mental illness? How might richer, more counter-cultural depictions of mental illness broaden social understandings of distress and highlight the structural factors that shape individual and group vulnerabilities? The team aims not only to study portrayals of mental illness in media but to add to those portrayals by promoting the creation of film/TV (narrative and documentary), plays, performance pieces and other forms of media. The goal is to help rewrite dominant narratives and understandings of mental health in the U.S. and globally in a way that better captures the complex determinants, inequalities and forms of knowledge production and activism at work.
Group leads:
A full list of group team members is available online.
Back to top