Northwestern alum elected to lead Illinois House of Representatives
Emanuel "Chris" Welch is the first Black lawmaker to hold the office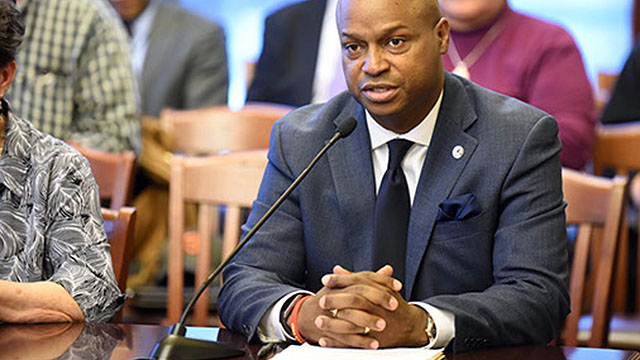 State Representative and Northwestern University alumnus Emanuel "Chris" Welch '93 has been elected Illinois House speaker. He succeeds Michael Madigan, who has been speaker for almost four decades.
The first Black lawmaker to hold the office, Welch took the helm of the statehouse Wednesday, Jan. 13, the same day the House passed sweeping criminal justice reforms to eliminate cash bail and require all police officers to wear body cameras — part of the agenda set forth by Welch and other members of the Illinois Legislative Black Caucus to address systemic racism.
"The Northwestern community takes great pride in the election of Chris Welch as Speaker of the Illinois House of Representatives," said Northwestern University President Morton Schapiro. "One of the most important ways in which universities like Northwestern serve our world is by producing alumni who go on to become leaders of the first rank. Chris has done just this, as a legislator who's fought tirelessly and skillfully to increase opportunity for every person in Illinois."
Welch has been a state representative from the 7th District of Illinois since 2013, serving on several committees, including the Executive, Revenue and Higher Education.
A tireless advocate for equity in education, Welch spearheaded efforts to pass historic legislation like the four-year map grant award and the AIM High Scholarship and has been the chief sponsor of important legislation, including the law that made Illinois a Welcoming State for immigrants, the Homeless Bill of Rights.
He is also a leading voice for adding Black and Brown people to the boards of publicly held corporations after sponsoring landmark legislation that requires Illinois corporations to annually disclose their board composition.
Welch is a graduate of the School of Communication and played baseball during his time as an undergraduate at Northwestern. An advocate for athletes then and now, he has championed the rights of college athletes to profit from the use of their name and likeness as sponsor of the Student Athlete Endorsement Act. Welch earned a law degree from The John Marshall Law School in 1997 and is currently a partner in the local government law firm Ancel Glink.  
Prior to joining the General Assembly, Welch served as board chair of the Proviso Township High School District in Forest Park (his alma mater is Proviso West), where he led the creation of the Proviso Math and Science Academy, a school recognized by U.S. News & World Report, while balancing the district budget.
Back to top