Northwestern seeks applications for Racial Equity and Community Partnership grants
New program will support partnerships for progress in Evanston and Chicago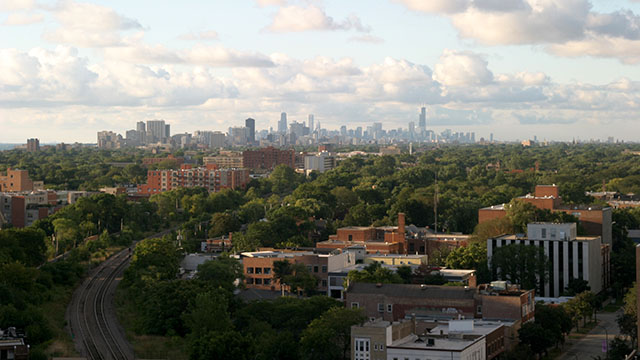 When Northwestern President Morton Schapiro announced last summer that the University's contribution of $1 million to the Good Neighbor Fund would be used to help dismantle systemic barriers faced by historically marginalized communities, he also unveiled a new program to address racial equity and social justice issues in Evanston and Chicago.
Through the new Racial Equity and Community Partnership grants program, Northwestern has provided $500,000 in additional funding to support ideas that combine University and community assets to solve problems in local neighborhoods.
"As Northwestern's Evanston and Chicago homes continue to grapple with two historic challenges — COVID-19 and systemic racism — the University is in a position to help lead the way, and it has a duty to do so," President Schapiro said.
The grants, through the Northwestern Good Neighbor Racial Equity Fund, are part of a larger series of commitments to social justice presented by senior University leaders in a June 14, 2020, message to the Northwestern community.
As the new year begins, Northwestern students, faculty and staff, as well as community-based organizations, are invited to submit proposals for funding. Grant applications are due by Feb. 11. 
Have a project idea? 
The University is aiming to fund proposals for structural changes that address racial equity. Ideas should focus on one or more of the following areas:
health equity 
economic and social empowerment
children and youth learning
There are two types of grant opportunities available. Partnership grants will support projects that already have, or can have by Feb. 11, a Northwestern or community-based connection in place. Incubator grants are for community organizations interested in participating in Northwestern's Center for Diversity and Democracy incubator program.
National model for community engagement
"Northwestern is committed to becoming a national model for how a major research university engages with the communities where it resides," said Dave Davis, executive director of Neighborhood and Community Relations. "We know it will require a sustained commitment and significant investments in our most marginalized communities to address the residual effects of racism and create a more equitable society. And I'm confident this program will cultivate the kinds of deep partnerships that focus on these issues and begin to move the needle on structural racism."
The Racial Equity and Community Partnership Grant program was developed by an advisory committee of Northwestern faculty and staff and local community leaders in Evanston and Chicago.
"I'm excited to see how recipients will address critical community issues with interventions rooted in racial equity and social justice during this historic time," said Rebeca Mendoza of Rotary International, who is a committee member and Evanston school board member. "With a focus on health equity, economic and social empowerment and youth learning, the timing for this grant is opportune."
Learn more about the Racial Equity and Community Partnership grants, read a list of FAQs and check out sample projects online at Northwestern's Office of Neighborhood and Community Relations. Send additional questions to ncr@northwestern.edu.
Back to top