'Digital Dillo' 2020: five things to know
Virtual event May 30 will capture the spirit of the annual student-run music fest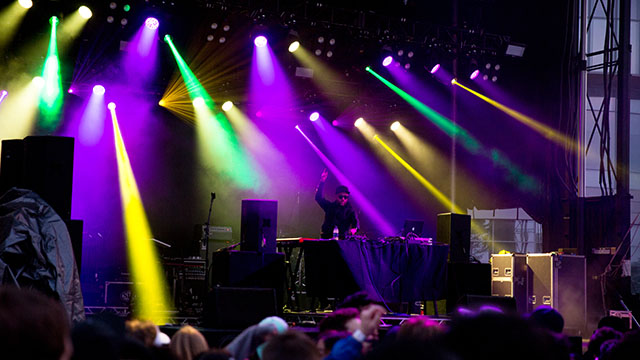 Despite a quarter spent apart, there was no doubt Northwestern students would celebrate "together" the annual rite of spring that is Dillo Day.
Upon the stay-at-home directive due to the COVID-19 pandemic, organizers quickly shifted gears to turn what should have been a day on the lakefront into a virtual festival to capture the Dillo spirit, keep students safe at home and provide a sense of closure to an unusual school year.
Nicholas Khang and Rocco Palermo, both seniors set to graduate in June, are co-chairs of Mayfest, the organization that produces Dillo Day.
"Once we knew we were going online, we had to figure out how to bring students the best of Dillo in the digital space" Khang said. "We want to give them a special sense of investment this year."
A campus tradition of more than 50 years, Dillo Day has always been about more than just the music.
"Performances will look and feel different," Palermo acknowledged. "We're going to really see the creativity of each artist and their personal take on what the virtual stage means to them."
The festival begins at 1:30 p.m. CT on Saturday, May 30. It is open to the Northwestern community, as well as friends and neighbors. Visit the Dillo FAQ page before the event for the livestream link and other registration details. 
Here are five things to know about Dillo Day 2020.
1. Bands
Rico Nasty, Jai Wolf and The Regrettes are on the schedule. To provide something unique for Northwestern students, each band's set will include a performance as well as an interactive session with a Q&A or studio tour.
2. Art and fashion
This year, campus organizations and clubs will join together to highlight student art. Dance Marathon emcees will make a special appearance in a 30-minute set that symbolizes the event's 30 hours of dancing in March. Social media campaigns will ramp up this week with Dillo Fits, for example, where participants can share their own backyard photo shoot wearing the outfits they would've worn to the event Saturday. The best will be shown on the livestream.
3. Dillo for charity
Participants can donate to local and national charities in support of COVID-19 relief. Dillo Day is partnering this year with the Direct Relief Fund, Feeding America, Soul & Smoke, The Chicago Community COVID-19 Response Fund and the Boys & Girls Club of America.
4. Campus partners
Hundreds of Northwestern staff work on or contribute to Dillo Day to make sure everything goes as planned. Several departments within Student Affairs engage throughout the year and during the event itself. Other Northwestern partners include Northwestern Police, Facilities, Risk Management, Kellogg, Neighborhood and Community Relations, Athletics, SustainNU and the Office of the President.
5. History
For almost a century, Northwestern students would gather around the maypole for traditional springtime festivities. But by the 1970s, Dillo Day began to take shape amidst the counterculture revolution. While the exact origins are unclear, the popular take is that two native Texans created a low-budget campus music fest and named it Armadillo Day after an Austin, Texas, concert venue and the Lone Star state animal.
Back to top