In pivot to digital admissions, Northwestern spirit shines through
Admitted and prospective student outreach leans into virtual tours, YouTube Live and digital Q&A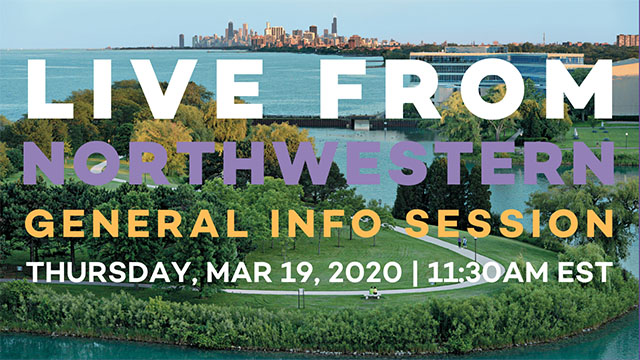 Spring at Northwestern typically brings bikers along the lake, Frisbee on Deering Meadow and the sweet smells of hyacinth and lilac. 
But the coronavirus pandemic has changed that.
At a time when hundreds of newly admitted students and thousands of prospective applicants normally would flood campus to take a tour, peek into a residence hall or meet a professor, the University has moved to digital admissions programming designed to accentuate the school's core spirit and sense of community.
When news of Northwestern's COVID-19 shutdown came in mid-March, the undergraduate admissions team made a quick pivot and reimagined what this programming could look like in the digital space.
"The college admissions world has always done outreach a certain way, and it relies heavily on face-to-face connection," said Liz Kinsley, director of undergraduate admission. "I'm so proud of the entire admissions team — at a key moment, when we'd normally see the maximum number of prospective students on campus, my staff came together to create something new and great. And so many members of the wider Northwestern community have contributed, too. The quality and spirit of the pivot itself are reflective of what makes Northwestern special."
Northwestern admissions staff welcome new admits via Zoom.
For admitted students, throughout the month of April, there are virtual office hours with current students and "Live from Northwestern," a series of digital sessions with Q&As across a range of topics germane to the Northwestern undergraduate experience. As students are deciding whether or not to enroll, they also can drop in on weekly live Instagram Q&As with representatives of various undergraduate organizations, connect with their undergraduate schools, join regional alumni receptions via Zoom and follow the Class of 2024 Facebook page staffed by current students and administrators. The live sessions and Q&As are recorded and available for on-demand viewing on the admissionsYouTube channel and Instagram TV.
Across these programs, the Class of 2024 will meet undergraduates from all six schools as well as administrators from areas like Residential Services, Campus Inclusion & Community, the Provost's Office, Pre-Health Advising, New Student and Family Programs, Career Advancement, Northwestern Alumni Association, Athletics and The Garage. And this week, President Morton Schapiro offered a YouTube Live Q&A for the parents and guardians of admitted students.
As they begin their college process, prospective applicants can take part in live online info sessions and student panels. Those who want to dig deeper into the undergraduate experience can sign up for "Purple Preview Conversations," one-on-one video or phone calls with one of more than 100 current students. And admissions staff are participating in a growing number of virtual events hosted by external organizations, including high schools, community-based organizations and youth organizations. 
The virtual online tour is enjoying, perhaps, its finest hour. Led by student guides, the tour provides 360-degree views of the Evanston campus as well as insights on residential life, dining and campus traditions. The virtual tour has had about 8,500 visitors over the past month, more than double the traffic from the same time last year.
The result of all of this programming has been incredible student engagement, according to Kinsley.
"We've connected with thousands of high school students over the past few weeks," she said, "and we feel confident they've fully experienced the values at the heart of a Northwestern education: collaboration, creativity, innovation, intellectual and personal generosity, warmth, and, of course, loads of Purple Pride."
From a guide's POV: Emily Coffee
As a tour guide, I can honestly say the best parts of a campus tour are often those spontaneous little moments that really capture Northwestern — especially in spring.
Sometimes it's having a friend or two wave and say "hi" to the tour group as you pass by. Sometimes it happens on a warm day when you see dozens of students hanging out on the lakefill that you were just about to talk about. And if you're really lucky, it's the third week of May when one of our fraternities grills hot dogs for a week to raise money for a philanthropy, making the whole tour smell really good.
More than not seeing the iconic spots of campus, I worried that our visitors would miss out on those chances to see the Northwestern community in those small, sometimes silly, and often seemingly inconsequential ways that could really have a large impact on their perception of campus life.
However, in all of the virtual student panels and live info sessions I've seen and been a part of, there have been other students and staff members right there with me. We're still able to play off of each other and add to the other's stories. And we're still able to give the students watching a better look at the ways in which each Northwestern student brings something to the table.
In a recent Instagram Live stream about religious and spiritual life on campus, I got the opportunity to answer questions with my co-worker and friend, Robby. Not only did we get to joke and laugh with each other while we struggled with our Wi-Fi, but I also got to learn a lot about his personal experiences on campus while sharing some of my own.
I think in our effort to make sure we have enough students to answer the wide variety of questions that prospective students and families might have, we also have ensured those asking the questions get to see what it looks like when Northwestern people interact and share their experiences.
Although I admit it's not quite the same, these are the moments I value most on tours. I hope that if these students get the chance to see campus, they'll be able to connect it to those who told their stories on virtual panels and realize that the Northwestern community exists everywhere — even if we'd much rather be together.
Back to top