Researchers urged to donate medical supplies to healthcare workers
N95 respirators, disposable gowns, gloves help fight COVID-19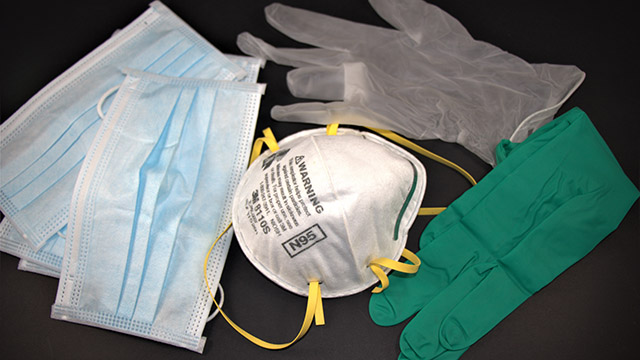 Since last week, the Office of Research Safety at Northwestern University has delivered more than 1,500 N95 respirators, several hundred disposable gowns and gloves — urgent medical supplies collected from campus labs and researchers for use by healthcare workers at Northwestern Memorial Hospital (NMH).
​"Being able to help protect those that care for us during this pandemic gives additional meaning to our work in Research Safety," said Michael Blayney, executive director of Research Safety at Northwestern University. "Looking at the national situation, the critical need at this moment seems to be protecting our healthcare workers who are on the frontline."
The Office for Research recently sent out an urgent call for N95 respirators, face shields and sterile non-cotton swabs made of rayon, nylon, or polyester, with non-wooden shafts. The response has been "overwhelming."
"I'm truly touched by the generosity of our Northwestern community and the overwhelming response to donations," said Andrea Hall, director of the Research Safety Chicago Office at Northwestern.
Organizers urged laboratories to retain items required in any essential research, as defined by a March 19 communication. Others who have supplies to donate (packaged and in good order) are asked to label them with their name and University affiliation, then bring them to Research Safety at the following campus locations:
Evanston: Leave items in the hallway outside of Tech NG-71 during normal business hours.

Chicago: Leave items at the security desk inside 345 E. Superior St.
For further questions, please email researchsafety@northwestern.edu.
Donations also can be sent to Northwestern Medicine directly using this form.
The office of Research Safety is responsible for identifying the potential hazards and risks in basic science research at Northwestern and for finding effective, practical solutions to ensure the protection of individuals, public health and the environment.
Back to top