Recognizing Maura Sullivan, champion for veterans and military families
Alumna says the opportunity to serve is 'greatest gift America has given me'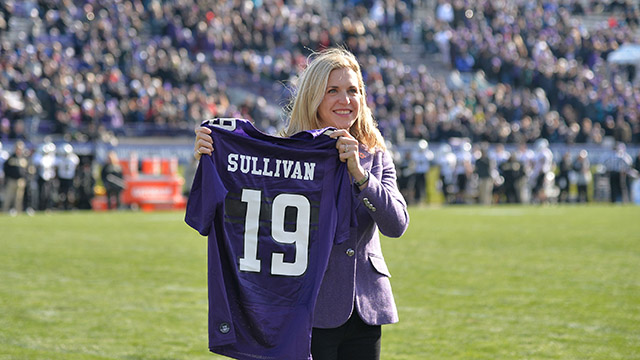 Northwestern University presented Maura C. Sullivan '01 with its third annual Veterans Recognition Award Nov. 9, recognizing the former U.S. Marine Captain and VA Assistant Secretary's illustrious career, in which she has fought on the frontlines and advocated for veterans back home. 
Born and raised in Evanston, Sullivan comes from a family dedicated to service. Both of her grandparents fought in World War II. She followed in their footsteps, committing herself to a life of public service. Sullivan served for more than five years in the Marines; in Fallujah, Iraq, with Combat Logistics Battalion 8, and spent two years stationed in Okinawa, Japan, in support of joint military exercises throughout Southeast Asia. 
"In Iraq, in the Marines, nobody asked if we were Democrats or Republicans. We were called to serve," she said. "We had a mission, and though we didn't always initially agree with one another, we worked together to get the job done. Our global community faces real challenges — climate change, geopolitical tensions, humanitarian issues and more. The world is counting on and needs a new generation of Americans to step up and lead, who are prepared to put the country first."

Sullivan was honored with thanks and applause from the crowd at Ryan Field during Saturday's football game between Northwestern and Purdue University. Download video of the event.
For Sullivan, the essence of leadership comes down to serving others and leading by example.
"The greatest gift America has given me is the unparalleled joy I experienced via the opportunity and privilege to serve — as an officer in the Marines and in the Obama Administration at the VA and the Pentagon," Sullivan said in an interview.
Upon return from overseas, she attended Harvard Business School and Harvard's John F. Kennedy School of Government, where she continued her advocacy on behalf of student veterans and military families, before holding management positions in the food and beverage industry across New England.

In 2014, she was appointed by President Barack Obama as an Assistant Secretary at the Department of Veterans Affairs, where she helped ensure that more than nine million veterans had better access to quality healthcare.
Her service in the Obama Administration continued as a Commissioner on the American Battle Monuments Commission and at the Pentagon, where she was Special Assistant to the Secretary of the Navy Ray Mabus. Mabus presented her with the Distinguished Civilian Service Award, the highest honor the Secretary can bestow on a civilian appointee. She was part of the team that worked to successfully update the Navy's policies on Diversity & Inclusion, Family Leave, as well as the Navy's Discharge Policy regarding mental health issues.

She earned a Marine Corps ROTC scholarship to Northwestern and was commissioned a second lieutenant in the U.S. Marine Corps upon graduation in 2001. She was the company commander in her ROTC unit and attended the Marine Corps Officer Candidates' School in Quantico, Va. 
"I still remember the early morning stadium runs and workouts on the lakefill overlooking Lake Michigan with my ROTC classmates," she said of her time at Northwestern. 

Currently, Sullivan is a resident of Portsmouth, N.H., and is a senior fellow with New Politics, where she mentors military veterans running for office.

The ROTC at Northwestern is one of the original six units established in 1926, and has a storied history of producing high-quality officers for the Navy and Marine Corps. Fifteen undergraduate students are currently enrolled in the program at Northwestern.
Back to top