Higher ed in service to Chicago youth
President Morton Schapiro hosts meeting for America's Urban Campus, welcomes Chicago Mayor Lori Lightfoot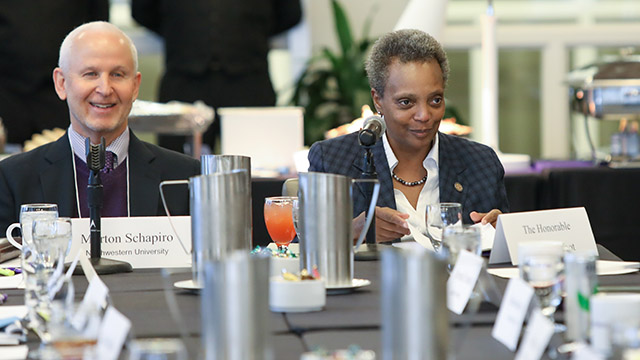 On Oct. 30, Northwestern President Morton Schapiro hosted the Annual Leadership Meeting for America's Urban Campus, a coalition of 21 Chicago-based colleges and universities.
University leaders from across the city met to discuss higher education issues and exchange best practices that help improve the lives of all Chicagoans.
Chicago Mayor Lori Lightfoot provided remarks to the assembled group and led a dialogue around equity, the role of anchor institutions in Chicago neighborhoods and the importance of research and community partnerships.
She thanked the leaders in attendance for the many initiatives already in place to serve Chicago's youth and encouraged future collaborations and efforts to create hope for all communities.
Back to top