Dittmar Gallery announces eclectic fall 2019 exhibitions
Solo shows by local artists explore narrative with woodblock prints and sculptures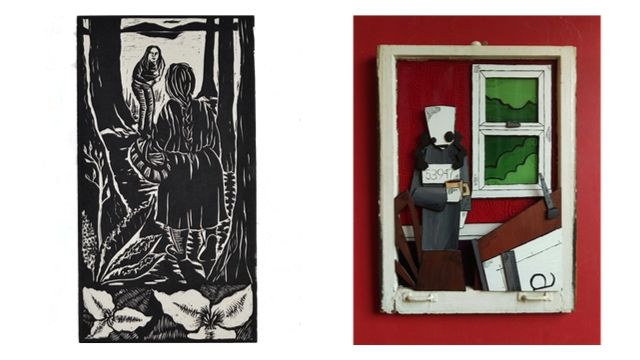 Opening reception for Gabriella Boros' 'Narrative Botanics' is Sept. 26, 6 p.m.
Narrative visual artist lewis lain's 'reevaluating 'a'' reception is Oct. 18, 6 p.m.
Dittmar Gallery at Northwestern University announces two fall exhibitions by Chicago-area artists. "Narrative Botanics," a collection of nature-inspired woodblock prints by Gabriella Boros is on view now through Oct. 13, and "reevaluating 'a'," a show of paintings and sculptures by lewis lain will open Oct. 18 and continue through Dec. 8.

Dittmar Memorial Gallery is located at Norris University Center, 1999 Campus Drive on the Evanston campus.
Skokie-based artist Gabriella Boros's love for narrative is a product of the rich heritage of her European parentage, Israeli childhood and American influences. Incorporating a lifelong interest in nature and science into her art practice, the 43 artworks in "Narrative Botanics" show the inextricable tie between plants and humans. Plants figure into the works as both visual subject matter and utilitarian agent.

 Inspired to make woodcut prints after seeing the work of Italian artist Pietro Parigi during a trip to Florence, Boros delights in complex graphic images that are a result of woodblock printing's restraints. While the truths Boros narrates are very personal, the resulting images have a universal appeal.
A reception with the artist will be held Thursday, Sept. 26, 6 to 8 p.m.
Chicago-based narrative visual artist and illustrator lewis lain works in reclaimed windows, found glass, recycled cardboard and acrylic paint to create his layered, boldly colored paintings and sculptures.
His solo show "reevaluating 'a'" centers on the ongoing story of an "enlightened" typeface designer named 53947.
"Ten years ago, I painted a burning letter "a" on one side of a salvaged window whose glass looked into another world," said lain. "On the other side, the letter appeared in the sky above a deep valley where its unique light fired the rods and cones in the eyes of a typeface designer named 53947. The sublime vision 'opened his mind to the possibility of everything' and granted him newfound omniscience."

Ten years later, lain attempts to capture the essence of this enlightenment in a new design, inspiring a journey that will encourage 53947 to re-evaluate his perception of what is known.

The opening reception will be held Friday, Oct. 18, 6 to 8 p.m.
Dittmar Gallery admission is free and open to the public. Gallery hours are 10 a.m. to 10 p.m. Mondays through Sundays, except when a new exhibition is being mounted.
For more information, visit the Dittmar website, call the Dittmar Gallery at 847-491-2348 or email dittmargallery@northwestern.edu.
Dittmar Gallery is a member of the Northwestern Arts Circle, which brings together film, humanities, literary arts, music, theatre, dance and visual arts.
Back to top