American Music Theatre Project announces 2019-2020 workshop series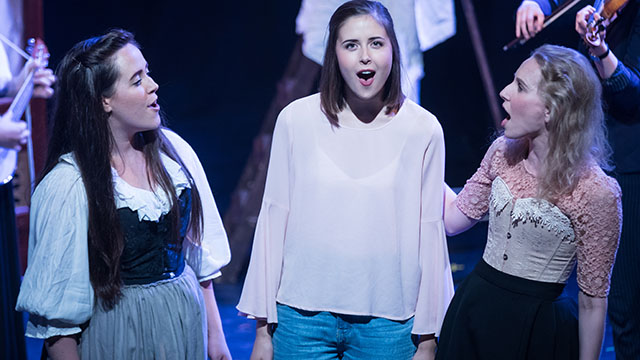 The American Music Theatre Project (AMTP) at Northwestern University has announced the 2019-2020 workshop series of projects by award-winning music theater creators, which are directed by regional theater directors and performed by students in the AMTP program.
The series includes "Cherry Orchard," Nov. 24, 2019, by 2019 Larson Award winner Emily Gardner Xu Hall; "A Mother's Song," March 14 to 15, 2020, written by Finn Anderson and directed by Tania Azevedo; and folk-rock biography "The Battlefields of Clara Barton," May 29, 2020, co-written by acclaimed playwright Suzan Zeder and Jennifer Hartmann Luck. 
The staged readings will be presented at Northwestern's Wirtz Center for the Performing Arts. Admission is free and it is open to the public. Performance times and venue information will be available on the AMTP website.
Led by Artistic Director David H. Bell, Northwestern's Donald G. Robertson Director of Music Theatre, Associate Artistic Director Ryan Cunningham and Producing Director Brannon Bowers, AMTP matches leading artists in music theater with Northwestern faculty, staff and students to develop new musicals. The program bridges the educational and professional worlds through uniquely tailored new work processes.
AMTP also will partner with Theatreworks USA to begin development on a new musical by 2019 Larson Award winner Ben Wexler, and for the fourth consecutive year will commission, develop and produce two new musicals for the 2020 Edinburgh Festival Fringe in partnership with the Royal Conservatoire of Scotland. 
AMTP workshopped musicals include "Found," "Hero," "Next Thing You Know," "Michael Collins" and "Scotland, PA" by Adam Gwon and Michael Mitnick currently running Off Broadway at Roundabout's Laura Pels Theatre. Last season's "Get Out Alive," written and performed by Nikki Lynette, will be featured in Steppenwolf's LookOut series Jan. 30 to Feb. 2, 2020.

Past AMTP artistic collaborators include Andrew Lippa, Benj Pasek and Justin Paul, Lonny Price, Alexander Gemignani, Joshua Salzman and Ryan Cunningham, Michael Friedman, Michael Greif, Sheldon Harnick, Hunter Bell, Claude-Michel Schönberg and Alain Boublil.
The 2019-2020 workshop season is as follows:
"Cherry Orchard"
Book, music and lyrics by Emily Gardner Xu Hall
Inspired by Anton Chekhov's "The Cherry Orchard"
Mussetter-Struble Theater
Sunday, Nov. 24, 2019
"Cherry Orchard" is inspired by the Chekhov play, with an original book and a folk, jazz, blues and musical theater score. When a family is on the brink of losing their ancestral home, it is up to daughter Anya and stepdaughter Varya to save it. The fading estate and its surrounding orchards now house an entire community of disenfranchised people, from homeless refugees to newly freed slaves.

In a country unwilling to deal with its history of sexism, slavery and immigration issues, can the three women of the family protect the community from poverty? Can we heal the trauma of the past? Can there be love in America? 
"A Mother's Song"
Story by Finn Anderson and Tania Azevedo
Book, music and lyrics by Finn Anderson
Directed by Tania Azevedo
Mussetter-Struble Theater
Saturday, March 14 and Sunday, March 15, 2020 
Three remarkable women at different times in history, each on the verge of motherhood, find connection through the traditional songs passed down their family tree. The songs guide each woman through life-changing decisions.
In modern-day New York, Sarah is moving into an apartment that she has bought with her female partner Alix. However, she becomes increasingly distracted when forced to sort through a box left to her by her Aunt Betty. Within Betty's box is her research into the ballads passed down Sarah's family tree -- specifically the stories of two women, both on the verge of motherhood, who carried these songs from Scotland to Ireland and onto America. Sarah's rediscovery of these songs and the stories embedded within them brings to the surface her own desire to have a family. As the ghosts of Sarah's ancestors take over the apartment, she becomes obsessed with Betty's research and the choices her ancestors faced.

"A Mother's Song" was originally commissioned and developed as a part of AMTP's partnership with the Royal Conservatoire of Scotland. 
"The Battlefields Of Clara Barton" 
Book and lyrics by Suzan Zeder
Music and lyrics by Jenn Hartmann Luck
Directed by Rives Collins
Mussetter-Struble Theater
Friday, May 29, 2020
"The Battlefields of Clara Barton" is a folk/rock/historical/contemporary musical about the life of Clara Barton, a Civil War nurse, political activist and the revered founder of the American Red Cross. In a tumultuous life that spanned almost a century, Clara fought on many battlefields: historical, political and emotional.
Clara's story is brought to vibrant life by an ensemble of women, playing multiple roles, where age and gender are fluid. Diverse means of storytelling including spoken word poetry, abstract movement, scenes, songs and monologues capture the chaos and complexity of the times. The threads of Clara's life run from past to present with seamless synchronicity, creating a rich tapestry of themes as personal and potent today as they were in Clara's times. Rives Collins, chair of the theatre department at Northwestern's School of Communication, directs.
American Music Theatre Project is a member of the Northwestern Arts Circle, which brings together film, humanities, literary arts, music, theater, dance and visual arts. 
Back to top