U.S. Rep. Adam Schiff on championing democracy and America
Chair of the House Intelligence Committee delivers 30th annual Leopold Lecture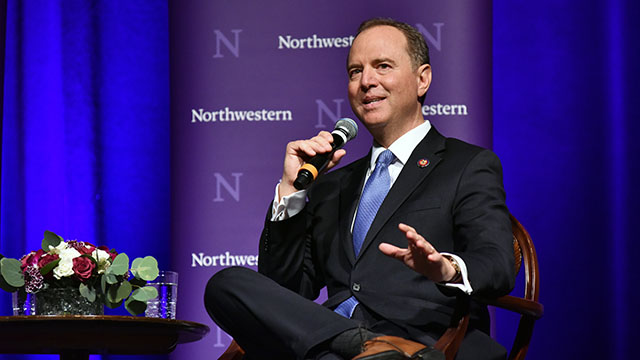 U.S. Rep. Adam Schiff, chair of the House Intelligence Committee, told an enthusiastic Northwestern audience Oct. 3 that both this nation's liberal democracy and even "the very idea of America" have been put at risk by President Donald Trump.
People around the globe look to the United States for hope, and even though it is far from perfect, it remains a promise the world over that people can live free, immigrants are welcome, and a free press and human rights are respected, he said. 
Schiff also reflected on Trump's criticism of the press, his condemnation of entire faiths and his administration's harsh treatment of those seeking refuge in the United States. "The very idea of America" as the globe's foremost defender of human rights and freedoms is at risk, he said.
"The rest of the world is watching us right now, and they want to know whether we're having a bout of momentary insanity or whether we're fundamentally not the country they thought we were," Schiff said. "It would be a tragedy if we're not."
The Democratic congressman expressed his concerns about global democracy, election integrity and the dignity of the presidency before an audience of nearly 1,000 Northwestern students, faculty, staff and visitors in Cahn Auditorium.
But Schiff, who is leading the U.S. House of Representative's impeachment investigation of the President, also issued a clarion call for young people to enter public service.
Today's young people will not tolerate the status quo on issues ranging from climate change to gun violence and mass shootings and have the drive and ability to change society, he said.
"We need you to fix this mess, and I have every confidence that you will," Schiff told the capacity crowd, who gave several standing ovations to the congressman as he delivered the College's 30th annual Richard W. Leopold Lecture. The lecture is hosted by the Weinberg College of Arts and Sciences.
Senior leaders from the University, including President Morton Schapiro and Provost Jonathan Holloway, were in attendance. Weinberg College Dean Adrian Randolph opened the evening with a tribute to Leopold and introduced Schiff.
The rise and fall of democracy
Schiff discussed his concerns about the risks that technology poses to free and fair elections: hacking and dumping operations, the possibility that unscrupulous agents could insert forgeries into real documents, the vulnerability of the election infrastructure and the growing prospect of "deepfake technology" corrupting public perception.
"It's one thing when you're talking about parody, and it's another when you're talking about a deliberate act of deceit," said Schiff, who is in his 10th term representing California's 28th Congressional District.
Schiff noted that the end of World War II saw the emergence of new democracies around the world, lulling many to believe that "somehow the spread of democracy and human rights is self-perpetuating." That, Schiff said, "is a flawed assumption. Every generation needs to be the champion of that, or else the idea withers and dies."
Specifically, Schiff pointed to two trends influencing the rise of authoritarianism in many nations: economic anxiety and the rapid flow of information. Facts too often yield to speed, fear or both, Schiff said.
"Put these two revolutions together and it's a combustible mix," he said.
More than democracy at risk
During a 20-minute, post-lecture Q&A session moderated by Associate Professor of History Michael Allen, Schiff answered questions on a variety of topics, including the president's penchant for inflammatory rhetoric and demeaning nicknames, the attitudes of his Republication colleagues and whether impeachment proceedings might strengthen Trump's push for a second term.
Schiff, who said he initially had been reluctant to back an impeachment push, said he doesn't give much thought to how impeachment might motivate one base or another.
"This decision shouldn't be made on the basis of how it cuts politically," the former federal prosecutor said. "It's too serious, too consequential a process to engage in for any other reason than that the president is endangering the country."
Richard W. Leopold Lecture
The Leopold Lecture series has brought a variety of distinguished speakers to the Northwestern campus, including U.S. Senators Russ Feingold and Richard Lugar, presidential nominee George McGovern and former Mexico President Vicente Fox.
Professor Leopold's undergraduate students established the Richard W. Leopold Lectureship within the Weinberg College of Arts and Sciences in 1990 to honor the late eminent diplomatic historian and dedicated educator. For more than 40 years, most of them at Northwestern, Leopold distinguished himself as an attentive teacher.
Generations of undergraduate students, many of whom enjoy successful careers as educators, writers, lawyers and public officials, remember Leopold's scholarship, teaching and friendship. The lectureship honors Leopold's contribution to the University and recognizes his enduring influence on the lives of his students.
Back to top