Waldron Connections Program links Weinberg College students, alumni for career success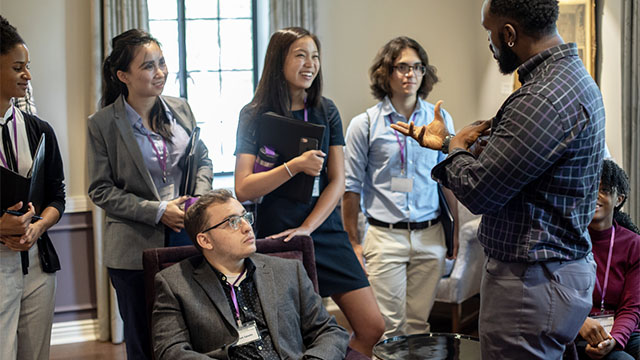 A Northwestern direction is not always a linear path. It often is filled with twists, turns and intersections from a student's time on campus and throughout his or her career. This can be especially true for students at the Judd A. and Marjorie Weinberg College of Arts and Sciences, where a broad interdisciplinary education prepares them for success in a wide range of professional fields.
Explore a career
Career exploration is an essential part of defining a student's path forward, and Northwestern University alumni are uniquely positioned to provide insight and guidance. That is why alumnus Austin J. Waldron '78 created and endowed the Austin J. Waldron Student-Alumni Connections Program at Weinberg College.
The Waldron Student-Alumni Connections Program connects Weinberg College undergraduate students with College alumni in various fields and across stages of their careers. The program helps students engage in career exploration, hone professional and networking abilities and learn how to communicate the value of their arts and sciences degrees. 
More students each year
Since the program began in 2013 as a pilot program, also made possible by generous support from Waldron, it has experienced tremendous growth, from 87 student participants in its first year to 607 student participants in 2017–18. Waldron has made additional gifts to support the program's growth, endowing the program in 2017 to foster student-alumni connections in perpetuity. In recognition of Waldron's $5.2 million in support throughout We Will. The Campaign for Northwestern, Weinberg College named the program in his honor.
"Through his foundational and continued support of the Austin J. Waldron Student-Alumni Connections Program, Austin has provided hundreds of students so far with valuable opportunities to examine potential careers and to do so with the guidance of our incredible alumni network," said Adrian Randolph, dean of Weinberg College. "We at Weinberg College are grateful to Austin for his commitment to the program and to future generations of students."
Waldron's cumulative support both ensures the program's future and bolsters its existing offerings, increasing the programming available to students, as well as enabling a greater number of students and alumni to participate. The Waldron Connections Program currently supports multiple activities each quarter, including:
Panel discussions, lunch-and-learns and industry-specific roundtables
Professional skill-development workshops
On-site career treks to Chicago and Evanston businesses
The annual Weinberg College Career Summit
Collaborative events with Northwestern Career Advancement, Chicago Field Studies and other departments and programs
Spirit of mentorship
These educational and networking opportunities foster a spirit of mentorship throughout the Weinberg College community, aid in the prestigious job placements of current undergraduates and help students find their "north star" or true calling, increasing the likelihood they will experience career satisfaction and fulfillment.
"Each speaker had a remarkably different journey that led to the success of their ventures," one student commented after an alumni panel discussion. "Each of them was able to share how they overcame hurdles and directed their energies towards what they were passionate about. I learned that hustle is imperative — and being willing to pivot."
By connecting with alumni firsthand, students gain a better understanding of the wide variety of career options available to them. They are able to see the ways in which their mindset, as well as their skillset, can be applied across multiple roles and industries. Moreover, the opportunity to engage with alumni like themselves helps students envision their own professional futures, alleviating concerns about life after graduation. 
"The goal of the program is to expand students' concept of what their degree is preparing them for," said Jane Corey Holt, director of faculty affairs for Weinberg College. "Our curriculum encourages students to stay broad so that they leave Northwestern as adaptive thinkers and doers, ready to respond to the complexity of today's world."
Versatile degree
Many students can feel bound to their major when deciding upon a career path. The beauty of an arts and sciences degree, Holt emphasized, is its versatility. In addition to domain-specific knowledge, the arts and sciences help students cultivate skills in critical thinking, communication and analytical reasoning valuable in many careers. 
"Today's employers are looking for broad thinkers and cross-functional communicators," said Waldron, a member of the Weinberg College Board of Visitors.
Like many students, Waldron faced a degree of uncertainty in choosing a career after graduation. Originally planning to become a doctor, Waldron discovered that pre-med was not the path for him and changed his major to psychology. More than any particular course of study, Waldron credits his career success to the skillset he developed at Northwestern, particularly skills like agility. 
"Having worked for more than 30 years in health care operations, in roles I didn't know existed as a student, I think it is critically important that Weinberg College students understand the many career options available to them," Waldron said. "Who better to broaden their understanding than our alumni, who once faced the same challenges and now have robust career experience across a number of fields?"
A lifelong Chicagoan, Waldron is a veteran health care operations executive who spent his 37-year career at Health Care Services Corporation. Prior to retiring in 2016, Waldron served as senior vice president and chief customer service officer and oversaw claims and account service for 15 million members. He holds a bachelor's degree in psychology from Northwestern and a master's in business administration from DePaul University. Waldron's nephew, Nick Marks '22, is a rising second-year student at the McCormick School of Engineering.
Waldron has been a generous benefactor throughout the "We Will" Campaign. He is a gold-level member of NU Loyal, Northwestern's giving society recognizing consistent annual giving to the University, and a member of the Henry and Emma Rogers Society, which acknowledges those who have included Northwestern in their estate plans.
Discover more information on getting involved in student-alumni connections at Weinberg College.
About the Campaign
The funds raised through the "We Will" Campaign are helping realize the transformational vision set forth in Northwestern's strategic plan and solidify the University's position among the world's leading research universities. Get more information on We Will. The Campaign for Northwestern.
Back to top