Liz Kinsley named Northwestern's new director of undergraduate admission
Kinsley formerly served on Northwestern's and Yale's admission teams and at University of Chicago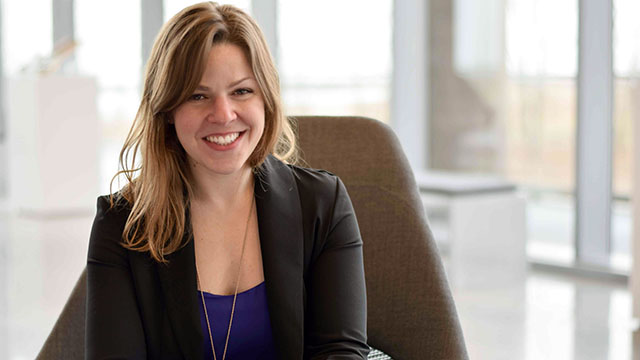 Liz Kinsley, who served as director of communications in the Office of Undergraduate Admission for the past four years, has been named director of undergraduate admission, Associate Vice President of Student Outreach Christopher Watson announced.
Watson, who is dean of undergraduate enrollment at Northwestern University, said Kinsley's appointment took effect July 15.
Kinsley has extensive experience in and a deep understanding of college admissions. She also brings teaching and advising experience at the high school and college levels. Since 2005, she has served on Northwestern's and Yale's senior admission teams, and on the senior staff of the University of Chicago's central marketing unit.
"I am pleased to welcome Liz to the undergraduate enrollment leadership team," Watson said. "Having worked with Liz for the past four years, I know she is a talented administrator and an innovative strategist committed to our goals of a diverse and intellectual undergraduate student body.
"Our colleagues at Northwestern and at secondary schools have benefitted from Liz's collaborative approach when working with talented students and their families," he added. "Liz is a wonderful source of creativity and spirit, and I don't think she's ever had a bad day."
"It's a dream to lead admissions for Northwestern -- an institution I love, with remarkable strengths to share," Kinsley said. "To be able to shape the future of this community at the helm of a smart, hardworking and ever-fun team of colleagues I already know and respect makes this new role all the more thrilling."
For the past four years, as director of communications in the Office of Undergraduate Admission at Northwestern, Kinsley has steered messaging strategies and led efforts in creating digital, print, social media and presentation content. She also trained staff in application evaluation and managed the selection process. 
Earlier in her career, as director of outreach and recruitment at Yale, Kinsley led initiatives that resulted in the most diverse class in the University's history to that point.
Watson said she will be an ideal leader at Northwestern.
"Liz has the expertise and creativity to keep Northwestern on an upward trajectory as we enroll stronger and more diverse classes, year after year," Watson said. 
During the past 10 years, Northwestern has gone from enrolling 12% Pell eligible to 21% Pell eligible students in the incoming class; from 6% international students to 11%; and from 8% first-generation college students to 13%.
In that time, the University has gone from having 3% of its incoming class from Chicago Public Schools to 6%; and from 13% underrepresented students to 22%. 
Kinsley earned her B.A. from Yale in English and music, a master's in interdisciplinary humanities from NYU, and her Ph.D. in rhetoric and public culture at Northwestern. She's also a residential college fellow at Shepard where she has taught seminars.  
Kinsley and her husband, David Skidmore, Bienen '05, live in Chicago with their 11-month-old daughter, Ida.
Back to top