University colleagues remember Frederick Hemke, professor emeritus of saxophone, for his integrity, vitality and artistry
A memorial service will be held June 2 at Alice Millar Chapel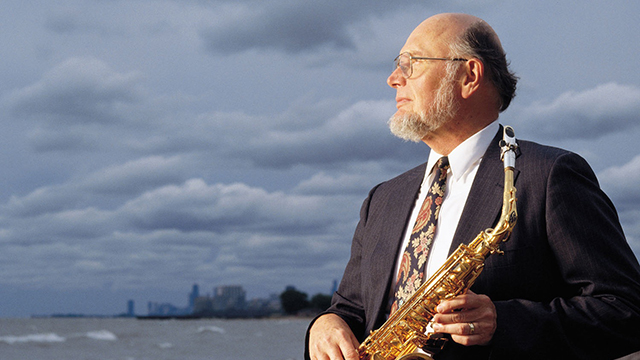 A memorial service will be held June 2 at Northwestern University for Professor Emeritus Frederick Hemke, a world-renowned virtuoso on the saxophone, who played leading roles at the Bienen School of Music and in representing the University at the Big Ten and the NCAA while championing all things purple.
Hemke passed away April 17 at age 83. His association with Northwestern lasted more than 56 years, and spanned roles including professor of saxophone, chair of music performance studies, senior associate dean for administration and acting dean of the Bienen School.

Hemke served as Northwestern's faculty athletics representative to the Big Ten and the NCAA from 1980 to 2001 under three Northwestern presidents. He transferred to emeritus status in 2012, and as recently as November 2018, had presented a master class to students at the Bienen School.
President Morton Schapiro, Bienen School's Dean Toni-Marie Montgomery and associate professor of saxophone Taimur Sullivan praised Hemke first and foremost for his legacy as a musician.
"Fred was an extraordinary talent," President Schapiro said. "His brilliance lives on through his many students and recorded performances. I listen to 'Prisms of Light' all the time. And his 'Pictures at an Exhibition' is a rare treasure."
"The Bienen School is among a small group of music institutions that enjoys an international reputation for saxophone instruction," Dean Montgomery said. "Frederick Hemke established the saxophone studio's premier status and his legacy for excellence continues today."
Sullivan cited Hemke's boundless knowledge, energy and infectious wit.
"There is quite literally no aspect of our profession, in any corner of the globe, that has not been profoundly shaped by his artistry, pedagogy, vision and leadership over the past 60 years. Our world is emptier without him, but incredibly richer because of him," Sullivan said. 
As Northwestern's representative at Big Ten and NCAA conferences, he was known for his steady integrity and thoughtful engagement.
"Fred Hemke was a wonderful friend and mentor to me when I was asked to succeed him as Northwestern's faculty athletics representative," said Robert Gundlach, professor of linguistics and director of the writing program at Weinberg College of Arts and Sciences. "Along with many of Fred's colleagues, at Northwestern and across the Big Ten, I admired Fred's magnificent vitality." 
"Fred Hemke was an important performer and member of the Bienen School of Music faculty. I knew him well in those capacities," said Henry S. Bienen, president emeritus of Northwestern. "Fred ably served as faculty athletics representative to the Big Ten and the NCAA, and had no trouble 'speaking truth to power'. I will miss him as a friend and colleague." 
Eugene Lowe, Jr., assistant to Northwestern President Morton Schapiro and senior lecturer in religious studies in Weinberg College, recalled Hemke as an exemplar of Northwestern values across many domains. "We sat together at the University's New Year's Eve celebration dinner the evening before the 1996 Rose Bowl. Fred, whom I was then just getting to know, beamed with pride about what the University and the football team had accomplished. 'We did this the Northwestern way!' he told me.
"Over the years, he offered good advice and wonderful company at sports events, music performances and in unplanned conversations about religion and all things purple," Lowe said. "I will miss him, but will always cherish his music and his memory."
In a 1988 interview with the Chicago Reader's Michael Miner titled "A Gentleman Among Jocks," Hemke explained how a prominent saxophonist such as himself wound up in charge of the Big Ten athletic conference's search for a new commissioner. Then Northwestern President Robert Strotz appointed Hemke to the post in 1981, presumably thinking "if there was going to be any control of varsity athletics, it should be maintained by someone as far away from athletics as possible," Hemke said.

Hemke brought Northwestern instrumental and vocal groups to perform for his Big Ten colleagues, helping them to appreciate music even more. "Doug Weaver, the athletic director at Michigan State, plays the guitar and banjo," Hemke said in the Reader article. "I've converted him to the saxophone and he's been learning to play it."
The following is an excerpt from Hemke's Bienen School obituary: 
Hemke was born in Milwaukee, Wisconsin, on July 11, 1935. In 1956 he became the first American to receive the Premier Prix du Saxophone from the Conservatoire National de Musique in Paris. Hemke earned a bachelor's degree from the University of Wisconsin-Milwaukee, a master's in music education from the Eastman School of Music, and a doctor of music degree from the University of Wisconsin-Madison.
Hemke joined the Northwestern faculty in 1962 and was named the Louis and Elsie Snydacker Eckstein Professor of Music. He chaired the Department of Music Performance Studies until 1994 and served as senior associate dean for administration. After 50 years of teaching, Hemke retired from the Bienen School of Music in 2012 and was named professor emeritus.
Read the full text of the Bienen School's obituary here.
A Celebration of Life will be held on Sunday, June 2, 2019, from 1:30-2:30 p.m. at Alice Millar Chapel, 1870 Sheridan Rd., Evanston.
Back to top