Northwestern undergrads earn prestigious congressional award
The two Goldwater Scholars are participants in Weinberg's Integrated Science Program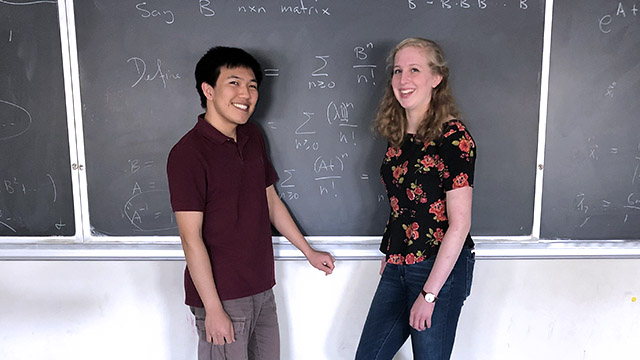 Northwestern University juniors Nicholas Chen and Julia Dierksheide have been awarded the 2019 Goldwater Scholarship, an honor that funds students who intend to pursue research careers in the natural sciences, mathematics and engineering.
Chosen from a pool of more than 5,000 applicants from across the United States, Chen and Dierksheide are among 496 students who received this year's award. Both are in Northwestern University's Integrated Science Program, which offers a select group of students customized honors curriculum that integrates mathematics with the sciences in the Weinberg College of Arts and Sciences.
Getting involved in science has been a family affair for Chen. Growing up in Phoenix, he spent multiple summer breaks in Chicago visiting his older sister, who attended Northwestern as an undergraduate and is currently a Ph.D./MPH candidate at Northwestern Feinberg School of Medicine. Chen became interested in science while in high school, but his sister's influence encouraged him to pursue research. 
"Apart from just science, she's honestly been one of the best role models I could have asked for," he said.
At Northwestern, Chen, who is a chemistry and biology major, has worked in the Brickner Lab, where he investigated chromatin, and is currently conducting research in the Silverman Lab, where he is using his expertise in neurology and chemistry in drug design. This work, in addition to speaking candidly with his professors about academia, has helped him figure out a tentative career path.
"I think I'm leaning towards entering academia after graduate school," he said. "One day I would like to lead my own lab and conduct research on neurodegenerative diseases."
Dierksheide, unlike Chen, does not have close family members in the STEM fields. She realized she loved science in her honors biology class in high school, and her interest only grew from there. Though she had a tough time deciding on which college to attend, Northwestern's close proximity to home -- she grew up in Elmhurst -- and the unique Integrated Science Program sealed the deal.
"I couldn't let ISP go; I was really excited," she said. "I was like, 'I can't say yes to another school, because I know that means that I can't come to this program.'"
She has since found a home-away-from-home at Northwestern with the Petersen Lab, where researchers study the molecular and cellular basis of regeneration in animals. In addition to research and extracurriculars, Dierksheide spent fall quarter in Mexico, studying abroad -- something many STEM majors don't do, due to rigorous academic schedules.
"It's such a different way of using your brain," she said of learning Spanish. "I've always liked having that side of academics as well, not just science all the time."
Though she isn't entirely sure of what her future will hold, Dierksheide plans to get a Ph.D., and, like Chen, she is considering academia, due to her love of research.
Both students attributed their success partially to support received from professors, mentors and peers at Northwestern.
"All the people in ISP have gotten me through so much," Dierksheide said. "They're all doing so much with their research and classes, and they always push me to do what I like to do."
LaTanya Williams, associate director for STEM in the Office of Fellowships, worked closely with Chen and Dierksheide throughout the application process. She said both are incredibly involved in research and campus activities.
"Julia is very active outside of the lab as a harpist in the NU Philharmonia for non-majors, as an executive board member for Girls Empowered by Math and Science, where she organizes events to engage middle and high school girls into STEM, and a tutor for ISP," Williams said. "Nicholas is a member of the Student Supporting Brain Tumor Research program, where he has organized the annual walk-a-thon and was able to observe a brain surgery in real time." 
Back to top