Learning to integrate nutrition science in patient care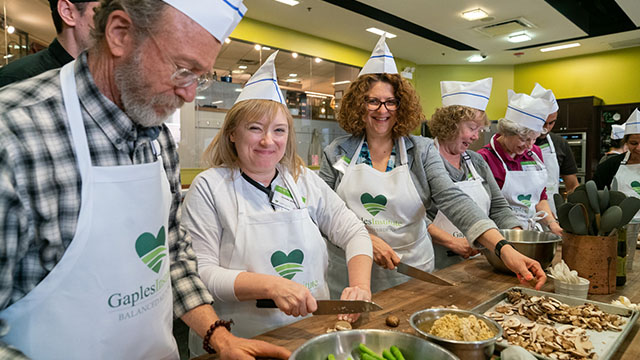 Physicians and nurses gathered in Chicago recently to learn about the science of nutrition and eating to live. Sponsored by Northwestern University Feinberg School of Medicine and the educational nonprofit Gaples Institute, the program also featured a "health lab" where clinicians donned aprons to cook gourmet plant-based meals.
Participants, many of whom came from around the country, reviewed more than 40 nutrition studies, watched food prep demonstrations chosen to highlight the study findings and worked side-by-side in the kitchen with trained chefs.
"The program was designed to stimulate the mind and senses — a carefully curated blend of graphs, charts, smells and tastes," says program director Stephen Devries, associate professor of cardiology at Feinberg and executive director of the nonprofit Gaples Institute. "Health care professionals attended to learn how to help guide their patients to better nutrition. As a bonus, they came away with strategies for self-care. And with smiles all around."
The lunch was a gourmet feast, consisting of six dishes including a beet and roasted blueberry salad, artichoke and spinach risotto and chocolate almond truffles.
Program speakers included Devries, as well as Clyde Yancy, chief of cardiology, and vice dean for diversity and inclusion at Feinberg, Professor Emerita Barbara Deal of Feinberg, Michael Rakotz of the American Medical Association and chef Carol D'Anca.
Back to top