Cool off with 'Lunch on the Lake' concert series and Summer Cinema at Norris Center this July
Summer at Norris includes free outdoor concerts and movies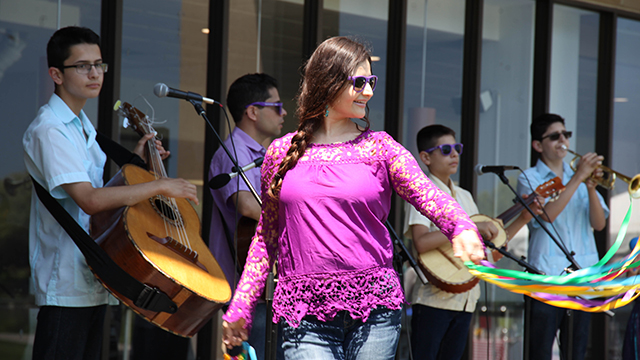 Enjoy hot rhythms, BBQ favorites and a side of cool lake breezes when Norris University Center kicks off the 2019 "Lunch on the Lake" concerts. The Northwestern University series kicks off July 10 with Soul 2 The Bone. The night continues with a free screening of "Captain Marvel," the first of four films in the "Summer Cinema" series.
"Lunch on the Lake" and "Summer Cinema" events continue weekly through July 31 on the East Lawn of the Norris University Center, 1999 Campus Drive, on the Evanston campus. 
The full Summer at Norris schedule follows:
Lunch on the Lake 2019 concerts
Concerts begin at noon. Picnic lunches are available for $12 plus tax and include entrée, dessert and beverage. Enjoy free watermelon, and picnic blankets courtesy of Coca-Cola. The Lunch on the Lake concert schedule and menu is available on the Norris University Center website.
Soul 2 The Bone
Wednesday, July 10
Soul 2 the Bone Band performs Motown, R&B, neo soul, disco, light rock, contemporary and traditional jazz with a sprinkle of blues.
Chris Greene Quartet
Wednesday, July 17
The critically acclaimed Chris Greene Quartet features Evanston's own saxophonist and composer, Chris Greene, performing blues-inspired jazz.
Johnny Blas & Afro-Libre Group
Wednesday, July 24
A hard-hitting conguero, Johnny Blas has performed and recorded in the world of Jazz and Latin music for more than 25 years. Johnny and his band put on a fierce show with swing, energy and heat that can melt asphalt.
Charles and Company
Wednesday, July 31
 Charles and Company is a band of seasoned musicians that plays dance music from Motown, classic and 50s rock, blues, standards and reggae. 
Summer Cinema 2019
Moviegoers are encouraged to bring their lawn chairs, blankets, food, beverages (alcoholic beverages are prohibited) and an environmentally friendly insect repellent. Enjoy free popcorn and lemonade, and free picnic blankets provided by Coca-Cola while supplies last. Pre-movie events begin at 7:30 p.m., and films are screened at dusk (approximately 8:30 p.m.). In the event of inclement weather the film will be screened indoors in the McCormick Auditorium at 8 p.m.
Captain Marvel
Wednesday, July 10
Captain Marvel tries to discover the secrets of her past life as a U.S. Air Force pilot while learning to harness her superpowers as an extraterrestrial Kree warrior. Runtime is 125 minutes.
Shrek 2
Wednesday, July 17
Shrek and Fiona return from their honeymoon to learn that Fiona's parents have invited the new couple to visit kingdom Far Far Away. Trouble ensues when her parents find out that Shrek is an ogre and not the Prince Charming they expected. Runtime is 105 minutes. 
Spider-Man: Into the Spider-Verse
Wednesday, July 24
Teenage Miles Morales is the new Spider-Man, fighting for the future of all realities while crossing paths with five counterparts from other dimensions. Runtime is 116 minutes.
Jordan is a tech mogul on the eve of a do-or-die presentation who magically turns into her 13-year-old self. After mistreating her assistant, April, Jordan must learn to rely on her. Runtime 109 minutes.
For more information about the Summer Season at Norris, visit the Norris Center website.
Inclement weather
In the event of rain, the scheduled concert or film will be moved indoors to the Norris Center.
 Parking
Public parking is available in the Segal Visitors Center Garage, 1847 Campus Drive, Evanston. Parking is $8. Free parking is available after 4 p.m. on weekdays and all day on weekends.
Back to top