Arts faculty on page and stage
Artists shine around the world in books, biennials and peformances this spring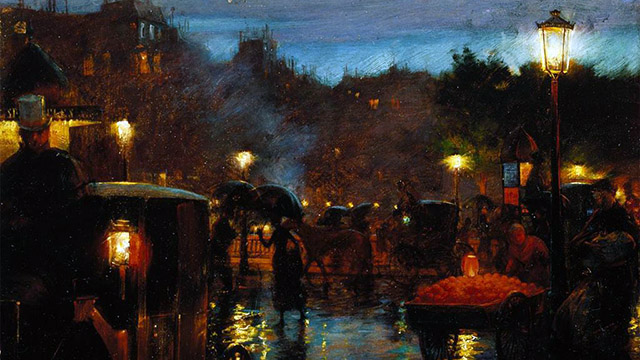 Northwestern's accomplished arts faculty continue to make a mark globally this season with new research and keynote presentations, work exhibited in international art shows, and headlining concert hall appearances. 
'Illuminated Paris'
S. Hollis Clayson's latest book "Illuminated Paris: Essays on Art and Lighting in the Belle Époque" will appear in May 2019 published by the University of Chicago Press. The Bergen Evans Professor in the Humanities and Professor of Art History's essays trace the evolution from gas lighting to electric in Paris, the "City of Light" and how 19th century artists communicated their concerns about modernization into their work (above).
'Crossroads of Africa'
Kathleen Bickford Berzock, associate director of curatorial affairs at The Block Museum of Art and curator of the "Caravans of Gold" exhibition, will present at the "Crossroads of Africa" conference May 20-21 at Villa I Tatti: the Harvard University Center for Italian Renaissance Studies in Florence, Italy. Berzock's research, and that of many scholars who advised on the "Caravans of Gold" exhibition and companion publication, offers an expanded view of the medieval world, charting connections between Africa, Europe and the Middle East in the eighth to 16th centuries through global routes of trade and exchange.
Bodies that move
Brendan Fernandes, art theory and practice artist-in-residence, will be featured in the Whitney Biennial 2019, May 17 to Sept. 22 as well as in a solo show at MCA Chicago, June 18-Oct. 13. Fernandes' public installation/dance performances (above) explore how value is assigned to bodies that are performing — including the physical work of dance and the everyday movement of domestic jobs.
Skyline Piano Artist series
James Giles, piano program coordinator, closes out the Bienen School of Music's Skyline Piano Artist Series with a concert on May 30. Giles also serves as director of the Amalfi Coast Music Festival and was the director of the 2017 American Liszt Society Festival.  
London's Fourth Plinth
Art Theory and Practice professor Michael Rakowitz's work (above) will be the subject of a major survey exhibition at Whitechapel Gallery in London (June 4 to Aug. 25) and the Castello di Rivoli in Turin. Rakowitz's Assyrian winged bull sculpture is currently on view on the Fourth Plinth in London's Trafalgar Square and his stop-motion animated film "The Ballad of Special Ops Cody" is on view through June 10 at the Sharjah Biennial 14 in Dubai.
Back to top