'An American Summer: Love and Death in Chicago'
Medill lecturer, author Alex Kotlowitz captures the psychological toll of a city's violence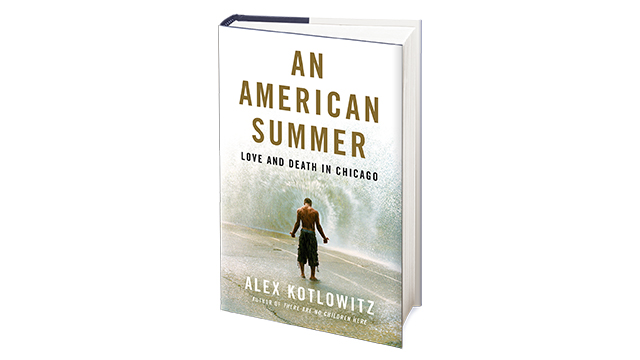 "An American Summer: Love and Death in Chicago," a new book by author and Medill School of Journalism Senior Lecturer Alex Kotlowitz, is a spellbinding collection of deeply intimate stories that will transform the way readers think about gun violence in America.
The numbers are staggering: Over the past 20 years in Chicago, 14,033 people have been killed and roughly another 60,000 wounded by gunfire. The latest book by Kotlowitz, author of the critically acclaimed work, "There Are No Children Here," examines the psychological toll gun violence takes on the spirit of individuals and communities.
Drawing on his decades of experience, Kotlowitz set out to chronicle one summer in the city, writing about those who have emerged from the violence and whose stories reveal the capacity and the limits of the human spirit. The book was released today (March 5).
Kotlowitz will discuss his book in conversation with Charles Whitaker, interim dean of the Medill School of Journalism, Media, Integrated Marketing Communications, from 5:30 p.m. to 7 p.m. on Tuesday, March 12, at McCormick Foundation Center, 1870 Campus Drive on Northwestern University's Evanston campus. Students, faculty, staff and the general public are welcome. To register, go to Medill Events or contact Stacy Simpson at stacy.simpson@northwestern.edu. Light refreshments will be served before and after the discussion.
In his latest work, Kotlowitz tells stories of mothers, fathers, young men, girlfriends and children emerging from the violence and trying to reckon with it. As the novelist Maaza Mengiste writes, "This spectacular book is an urgent call to bear witness, not to the dying that violence breeds but to the love that stands tall amidst the debris.
The 14 stories in "An American Summer" are, indeed, about pain and fear but also about love and resiliency. As Kotlowitz writes: "You can't talk about death without celebrating life." Many in his book are not only moving on, but moving on heroically, not only to push on but also to push back.
One man who as a teenager killed a rival gang member is still trying — 20 years later — to come to terms with what he did. One woman, a devoted school social worker struggling with her favorite student, refuses to give evidence in the shooting death of his best friend. Another man, the witness to a wrongful police shooting, can't shake what he has seen, while an aging former gang leader builds a place of refuge for himself and his friends.
​"This book has been six years in the making, a collection of stories that upended my thinking about the violence," Kotlowitz said. "I set out to chronicle one summer in Chicago, telling stories of those who have emerged from the violence and whose stories reveal the capacity — and the breaking point — of the human heart and soul. I just hope I did justice to the remarkable people whose stories I tell." 
"An American Summer" was published by Nan A. Talese/Doubleday. It is already getting exemplary reviews from reviewers and fellow authors.
"Unforgettable," wrote Eric Klinenberg in the Sunday New York Times Book Review, "a powerful indictment of a city and a nation that have failed to protect their most vulnerable residents, or to register their pain." 
"With his uncommon warmth and sensitivity, Kotlowitz makes us understand that violence doesn't happen in a moment; it's a state of affairs," wrote Sarah Koenig, creator and host of Serial, the acclaimed NPR podcast, which is produced in collaboration with WBEZ Chicago.
Applying the close-up, empathic reporting that made "There Are no Children Here" a modern classic, Kotlowitz offers a tenderhearted yet piercingly honest testament to one summer that will stay with readers.
Kotlowitz is by turns an author, documentary filmmaker ("The Interrupters"), radio producer (This American Life), contributor to The New Yorker, and lecturer at Northwestern, where he has been teaching a course titled, "The Journalism of Empathy" for 20 years.
Like all good reporting, empathy is at the heart of Kotlowitz's work — both in the subjects he reports on and in the relationships he cultivates. He is a master of creating an atmosphere of trust among his subjects. Keeping an emotional boundary between his subjects, he said, is virtually impossible — nor, he argues, should it be the goal. "When you know all of these people, your life becomes so much richer," he said.
In addition to the national bestseller "There Are No Children Here," which the New York Public Library selected as one of the 150 most important books of the 20th century, Kotlowitz also wrote "The Other Side of the River," which was awarded the Heartland Prize for Non-Fiction. For his documentary film, "The Interrupters," he received an Emmy and a Film Independent Spirit Award for best documentary.
Kotlowitz's work, which has appeared in The New York Times Magazine, The New Yorker and National Public Radio, has been honored with two Peabody awards, two duPont-Columbia University Awards and a George Polk Award. He is a writer-in-residence at Northwestern, and he lives with his wife, Maria Woltjen, and their two children, Mattie and Lucas, just outside of Chicago.
Back to top