Volunteers can join emergency response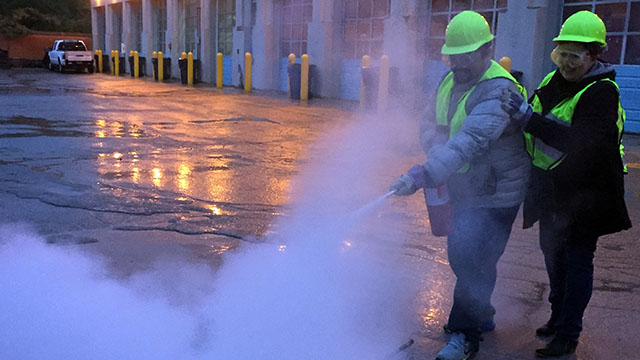 Northwestern University's program to bolster emergency preparedness and local security with the help of community volunteers continues to expand its ranks and is offering new training sessions this spring.
The University's Community Emergency Response Team (CERT) program for volunteers working at Northwestern and in Evanston is designed to enhance its commitment to the safety of its students, faculty, staff and visitors.
Volunteers are invited to train in the program, which was started at Northwestern in 2014 as a partnership between the Department of Safety and Security's emergency management division and the Evanston Fire Department.
The City of Evanston and the Evanston Fire Department have been collaborating on this course with Northwestern for the benefit of the Evanston and University communities.
The City of Evanston has a CERT program as well. If a significant incident were to occur in Evanston or on the Northwestern campus, both the City and University teams could be activated if necessary.
CERT is a volunteer and training program for community members to help support preparedness, community welfare during major special events as well as organized community recovery efforts following a crisis.
CERT is a national community preparedness program operated under the Federal Emergency Management Agency (FEMA) and the U.S. Department of Homeland Security's Citizen Corps Council.
CERT members receive an initial 20 hours of training in basic disaster and emergency response skills from experienced instructors in the first responder and emergency management professions. Members of a CERT program are trained in:
Disaster preparedness

Disaster fire suppression

Disaster medical operations

Light search and rescue operations

Disaster psychology and team organization

Terrorism and the CERT program

Disaster exercises, drills and simulations

Principles of the incident command and management

CPR and AED (automated external defibrillator) lifesaving skills

Extreme violence and active shooter awareness
The 2019 class is offered to any Northwestern faculty, staff or student - as well as members of the community — and will be limited to 20 participants. Registration will close the last week of March. Classes are scheduled on the Evanston campus for April 4, 11, 18, 25 and May 2.
Learn more
For more information on 2019 CERT training, email Joseph Frascati of Northwestern's Department of Safety and Security or call him at 847-467-3065.
Register for one of the CERT training courses by completing and submitting the CERT course registration form and the CERT Hold Harmless Waiver and Permission Form. 
In the event of a serious man-made or natural disaster, Northwestern and the City's Office of Emergency Preparedness will activate the joint Emergency Operations Center and call upon the City of Evanston and Northwestern's first responders, Crisis Management Teams and CERT volunteers to manage the incident.
Back to top