Wirtz Center's MFA Lab series presents 'The Wolves,' 'The Flick' and 'The Angry Brigade'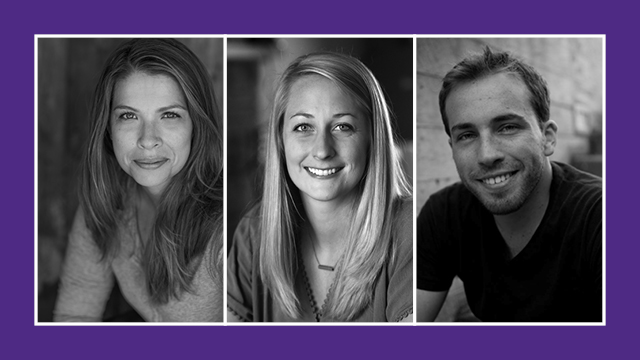 EVANSTON, Ill. --- Exciting new plays featuring themes of female empowerment, the struggle for authentic communication and battling political views take center stage in the Wirtz Center at Northwestern University's annual MFA Lab series.

Productions include Sarah DeLappe's award-winning play, "The Wolves," Feb. 8 to 10, with Pulitzer Prize-winning playwright Annie Baker's "The Flick," May 3 to 5, and James Graham's "The Angry Brigade," May 24 to 26.

The MFA Lab series matches emerging theater directors from Northwestern's MFA directing program with burgeoning designers from its partner MFA program in stage design for exciting and unexpected collaborations. These next-wave artists are given the freedom to collaborate on bold, risk-taking productions of plays by today's most exciting playwrights.
All productions will be presented at the Hal and Martha Hyer Wallis Theater, 1949 Campus Drive on the Evanston campus.
The schedule is as follows: 
By Sarah DeLappe
Directed by Sarah Gitenstein
Feb. 8 - 10
The Wolves, a girls' indoor soccer team, practice drills as they prepare for a succession of games. As they warm up and talk about life, the girls navigate the politics of their personal lives as well as the politics of the larger world. Each team member struggles to negotiate her individuality while being a part of a group.
"This play reminds me of the conversation that so many female-identified people, myself included, need to have," director Sarah Gitenstien said. "Playwright Sarah DeLappe astutely observes the incredible feat of the impossible, self-imposed pressure that we put upon ourselves and that is thrust upon us. But while observing this, DeLappe kindly suggests that we should release ourselves of the burdens and just exist. Because we are wolves. All of us. And this is the play that reminds us of that."
By Annie Baker
Directed by Danielle Roos
May 3 - 5
In a run-down movie theater in central Massachusetts, three underpaid employees mop the floors and attend to one of the last 35-millimeter film projectors in the state. Their tiny battles and not-so-tiny heartbreaks play out in the empty rows, becoming more gripping than the lackluster, second-run movies shown on the screen. With keen insight and a finely tuned comic eye, "The Flick" is a heart-rending cry for authenticity in a fast-changing world.

"In today's digital age, we are able to instantly communicate with anyone on the planet, but our ability to listen and understand one another hasn't improved," director Danielle Roos said. "Reported cases of depression and anxiety, often born of loneliness, are continuously on the rise. As we watch the characters of this play battle the grit and grime of the small movie theater in which they work, we also are watching them struggle with questions regarding their self-worth, purpose and ability to connect." 
By James Graham
Directed by Nate Cohen
May 24 - 26
Against a backdrop of high unemployment and the deregulated economy of 1970s Britain, a young urban guerrilla group mobilizes: The Angry Brigade. Their targets: members of parliament, embassies, police and pageant queens. An uprising has begun, and no one is exempt. As a special police squad hunts the home-grown terrorists whose identities rocked the foundation of the oldest empire on earth, James Graham's heart-stopping and darkly comic thriller lures us into a frenzied world that looks much like our own.
"I cannot imagine a more poignant play to be working on at Northwestern in this political moment," director Nate Cohen said. "This is a story about two groups of young people, both deeply committed to their causes and entrenched in their views, who find themselves pitted against each other by conditions largely beyond their control. Ultimately, they are forced to question their most deeply held truths and to ask themselves how far they are prepared to go for what they believe is right."
Performances for all MFA Lab series productions are Fridays at 8 p.m., Saturdays at 2 p.m. and 8 p.m. and Sundays at 2 p.m. Tickets are $10 for the general public and $6 in advance for NU students (or $10 at the door).
Tickets and more information are available on the Wirtz Center website.
Beginning Jan. 8, tickets can be purchased by phone at 847-491-7282 or in-person at the Wirtz Center box office, which is located in the lobby of the Ethel M. Barber Theater, 30 Arts Circle Drive on the Evanston campus.  Box office hours are Tuesdays through Fridays from 10 a.m. to 5 p.m. and Saturdays from noon to 4 p.m.  The box office is closed Sundays and Mondays. 
The Wirtz Center is a member of the Northwestern Arts Circle, which brings together film, humanities, literary arts, music, theater, dance and visual arts. 
Back to top