University-wide action teams propel Staff Survey forward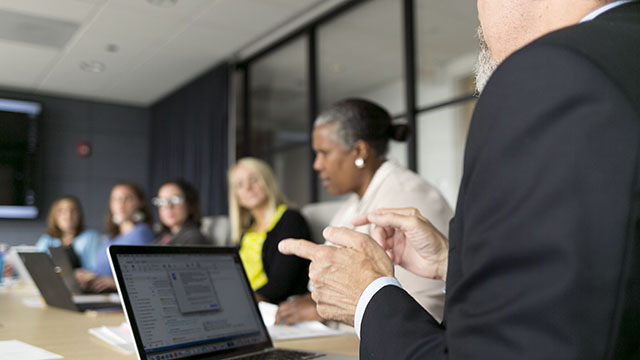 The Staff Survey that kicked off in the fall of 2017 has marked another milestone as staff members gathered to exchange ideas earlier this month, while teams in individual units and schools reviewed their respective survey results.
Almost 70 staff members from across the University made up the four cross-University action teams. Representing different schools and units, the teams tackled the topics that resonate across Northwestern: leadership communications, work processes, career development, and diversity, equity and inclusion.
The action teams have been working throughout the summer to discuss common themes before they present recommendations to University leadership.
"We're at the point where we're pulling together recommendations for actions to implement University-wide to address the results of the Staff Survey that was administered last fall," said Samir Desai, executive director of learning and organization development within Human Resources at Northwestern University.
This fall, these recommendations will be presented to University leadership, then presented back to the Northwestern community as a whole, Desai said.
Danna Dotson, teacher education coordinator with the School of Education and Social Policy, said the leadership communications team has conducted focus groups with staff members.
"A lot of the staff members that we have interviewed have really wanted to know how they connect back to the University mission and vision -- and understanding their role in that," Dotson said.
The goal of these peer-to-peer meetings was to share insights and lessons learned from different units that might be applicable for staff and practices across more units and schools around the University.
In August, the teams met with executive sponsors -- Provost Jonathan Holloway, Senior Vice President for Business and Finance Craig Johnson and Vice President and Chief Human Resource Officer Pamela Beemer -- to share updates and seek support for their direction. Teams also solicited feedback from Northwestern University's Staff Advisory Council (NUSAC).
In addition to the exchange meetings, staff groups in individual units, departments and schools have also been meeting separately to review the results of the Staff Survey regarding issues and challenges in their respective units and discuss solutions.
Back to top