American Music Theatre Project will workshop five new works in 2018-2019 season
Tony nominees Alexander Gemignani, Lonny Price and Adam Gwon and the 2018 Larson Award winners are featured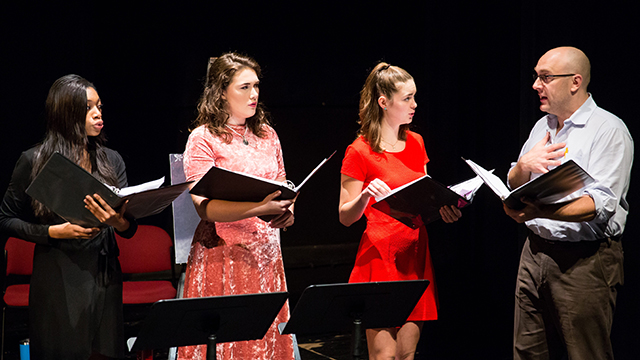 EVANSTON -- The American Music Theatre Project (AMTP) at Northwestern University has announced the new season of workshop readings written by award-winning music theater creators, directed by leading regional theater and Broadway directors and performed by students in the Music Theatre program.
The 2018-2019 workshops include: "Diamond Alice" by Tony nominee Alexander Gemignani and Ben Steinfeld, directed by Amanda Dehnert, Oct. 6 to 15; "Scotland, PA" by Adam Gwon and Michael Mitnick, directed by Tony nominee Lonny Price, Oct. 20 to 28; "The Girl Who" by Scott Gilmour and Claire McKenzie, March 4 to 17;  "Get Out Alive" by Nikki Lynette, directed by Roger Ellis, April 22 to May 4; and "Finn the Fearless" by 2018 Larson Award winners Andrew Farmer and Andrew R. Butler, May 18 to 26.

Final presentations for each project will take place in the Mussetter-Struble Theater, 1949 Campus Drive on the Evanston campus.
Under the leadership of Artistic Director David H. Bell, Northwestern's Donald G. Robertson Director of Music Theatre, Associate Artistic Director Ryan Cunningham and Producing Director Brannon Bowers, AMTP brings together the nation's leading artists in music theater to work with Northwestern's faculty, staff and students to nourish and invigorate American music theater by developing and producing new musicals.
Past AMTP workshopped musicals that have gone on to full productions or award recognition include "Found," "Hero," "Next Thing You Know," "Michael Collins" and "Edges." Featured artists from past years include Andrew Lippa, Benj Pasek and Justin Paul, Joshua Salzman and Ryan Cunningham, Michael Friedman, Michael Greif, Sheldon Harnick, Hunter Bell, Claude-Michel Schönberg and Alain Boublil.
The 2018-2019 season is as follows:
"Diamond Alice"
Oct. 6 to 15, 2018
Book by Ben Steinfeld
Music and lyrics by Alexander Gemignani
Directed by Amanda Dehnert
World War I has just ended, but for the women of London, the real war has only just begun. Alice Diamond, a resourceful street survivor, and Maggie Hughes, a widowed political activist, form an unlikely bond and make a vow to change the world. Recruiting a ragtag team of feisty, independent women, they set out to disrupt the status quo in the most unladylike fashion they know: by transforming themselves into a gang of thieves. When Alice decides that the gang's next heist will be at the site of a massive new jewelry store, the gang protests. But Alice pursues the high-risk venture, and the consequences lead to a painful and powerful recognition of the dangers of pride, rage and greed. Based on the exploits of the historical Forty Elephants Gang, "Diamond Alice" is an exciting new musical in which a group of unconventional and dynamic women discover what it means to live life by their own rules.
"Scotland, PA"
Oct. 20 to 28, 2018
Book by Michael Mitnick
Music and lyrics by Adam Gwon
Directed by Lonny Price
Based on the film by Billy Morrissette and produced by Richard Shepard, Jan Stern and Abandon Pictures
The new musical version of "Scotland, PA" takes its inspiration from the film of the same title, which is itself inspired by Shakespeare's "Macbeth." Shifting that story of murderous ambition to America in the 1970s, "Scotland, PA" follows Joe and Pat McBeth, a pair of downtrodden hamburger stand employees. Pat decides that the boss and his old ideas are keeping everyone else from getting ahead, so she encourages the bewildered Joe to act. Things quickly take a turn for the deadly, and soon the McBeths find that their stars are on the rise (just as a bunch of hippies in the woods had predicted). But when a police investigator takes an interest in the duo, they must act fast to keep the truth (and the bodies) hidden before the fast food empire they fought so hard to build comes crashing down on top of them.
"The Girl Who"
March 4 to 17, 2019
By Scott Gilmour and Claire McKenzie 

Anna is searching for her parents. Audiences will decide how she finds them. "The Girl Who" is a multi-path musical that places the audience in complete control of the story. Based on the iconic "choose-your-own-adventure" series, the audience's choices determine Anna's decisions, morals, successes and failures -- affecting not just which path she takes, but how she does so. With 128 possible versions, audience members determine the songs they hear, the characters they meet and the worlds they visit, allowing every show to be unique and every audience to question, "What if I'd chosen differently?" 
"Get Out Alive"
April 22 to May 4, 2019
Written and performed by Nikki Lynette
Directed by Roger Ellis
Co-produced by Ira Antelis

This edgy one-woman musical by independent artist Nikki Lynette uses storytelling, song, movement, visual media and a live DJ to share Lynette's mental health journey. Her offbeat and hopeful approach shows that even when life leads to a bad place, we can still make it out alive.
"Finn the Fearless"
May 18 to 26, 2019
Book by Andrew Farmer
Music and lyrics by Andrew R. Butler
Directed by Kent Nicholson
The lovable, ragtag crew of Shepard and Shepard's Gator Show of Floridian Marvels and Oddities is on a goodwill diplomatic mission across the north, sharing their favorite folktale, Finn the Fearless – a yarn about a weird little fella from up north who goes on a hero's quest to scare his heart awake so he can feel things the way other people do. Led down south by a fierce-tempered maiden named Annabelle, he finds himself in the heart of Florida, the vacation home of the Devil himself (who wears flip-flops and prefers to be called "Ol' Scratch"). Scratch bets Finn he can scare his heart awake through three hair-raising trials. If Finn completes them, he gets his wish; if he doesn't, Ol' Scratch gets Finn's soul. With help from Annabelle, who's on a redemption mission of her own, Finn faces vampiric retirees, an alcoholic were-gator and an army of damned folk heroes, ultimately weaving together an unlikely ending for himself that breaks the mold set by Yankee fairytales.
Admission to the final presentations is free and open to the public. Event times and locations will be available soon on the AMTP website.
American Music Theatre Project is a member of the Northwestern Arts Circle, which brings together film, humanities, literary arts, music, theater, dance and visual arts.
Back to top