Marketing executives on unlocking personal, organizational growth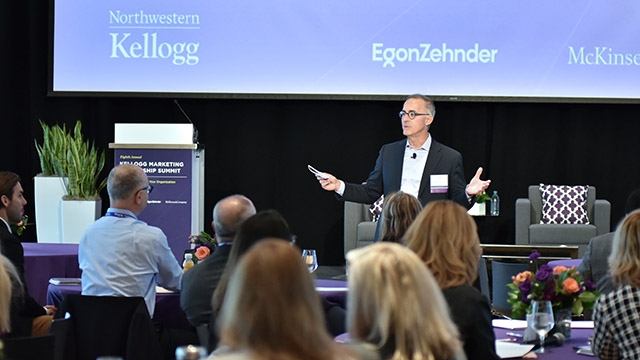 The Kellogg School of Management's annual Marketing Leadership Summit, held Oct. 3-4, convened senior marketing executives who shared ways to unlock personal and organizational growth.
Given the rapid pace of change in marketing, success means a permanent state of transformation. It was fitting, then, for 100-plus marketing leaders to find common ground at this year's Summit, exploring the year's theme, "Transformation: For Your Organization and For Yourself."  
The Summit welcomed attendees representing among the most transformative – and transformed – companies in the world, including Google, Facebook, Coca-Cola and KFC. For two days, keynotes and panelists shared their stories of growth, complemented by research insights from Kellogg and co-host organizations.
Experience as foresight
For many, their transformative journeys were evident only after they occurred. 
"Transformation is not often something you see through your front windshield, it is often something you see through your rear-view mirror," observed McKinsey & Company Partner, Jason Heller, who co-founded one of the first digital media marketing agencies in 1998, at the epicenter of the industry's explosive growth. 
Now as Global Lead for Digital Marketing Operations & Technology, Heller applies his insights to help companies rise to challenges of their own journeys. His recommendation for transformative growth? Business model innovation.
Information and creativity as equals
With increasing demand for personalization, transparency and a seamless experience, paired with explosive growth in consumer data, marketing demands a new operations model equally data-driven and creative, according to Heller and McKinsey Partner, Jeff Jacobs. 
Research agrees. According to Ben Jones, the Gordon and Llura Gund Professor of Entrepreneurship at Kellogg, evidence shows breakthrough ideas increasingly come from teams.  "If you want to attack a big problem," noted Jones, "You need an aggregation of people to bring advanced knowledge together and actually succeed."
The modern marketer
The fundamental role of the modern marketer requires adaptation, too, explained Raquel Rozas `05. As Chief Marketing Officer of GoFundMe, Rozas builds upon over ten years' experience in innovation and brand building experience. As a former Procter & Gamble executive, Rozas was charged with leading disruptive technologies for the firm's Global Fabric Care business, notably transforming P&G's laundry category with the launch of Tide PODS.
With shifts in consumer need, Rozas explained, marketers must reach beyond traditional responsibilities of their function and undertake more expansive roles as an "Expert Generalist."
"Be willing to unlearn," Rozas advised Summit attendees, to remain agile in market shifts and develop new strengths. 
Pivoting an icon
What if an organization's greatest strengths are also its weaknesses? Kevin Hochman, Chief Concept Officer for KFC, posed this question along with an anecdote of his own. 
Founded by the Colonel Harland Sanders in 1925, KFC's brand equity was largely rooted in the global recognition of its founder, and faced uncertainty — and a decades-long decline — with his passing. To turn business around, KFC tapped in Hochman, reputable for his revolutionary work at P&G with Old Spice. Under Hochman's leadership, KFC resurrected the iconic chicken salesman, Colonel Sanders, and launched an integrated marketing campaign for unprecedented company growth.
Hochman's success at KFC may be attributed to its timeless mascot, but also, he says, to a culture of trust. "If you don't have trust with your agency or your employees, how will you have an honest conversation with them? Trust is the number one thing to do anything great."
"If you don't model the behavior you'll never get the behavior out of your team. You can't just say you want change; you have to show it." 
Back to top