Northwestern bus caravan rockets to Big Ten Championship
Rocket scientist chaperone joins 3,000 students on the trip to Indianapolis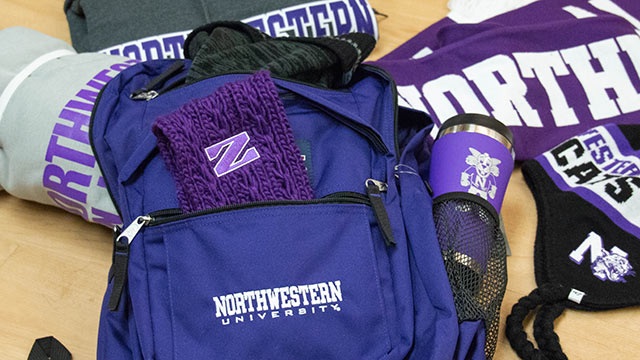 When Northwestern's caravan leaves campus tomorrow (Dec. 1) for the Big Ten Championship game, it will include nearly 3,000 excited students, almost 50 buses overflowing with spirited gear and one rocket scientist.
The rocket scientist — Enectali Figueroa-Feliciano — isn't lost. As the faculty in residence for Goodrich House, Bobb Hall and McCulloch Hall, he had been looking for a way to deepen his connection with his students. Naturally, sports came to mind.
"I'm always looking for new ways to interact with students," said Figueroa-Feliciano, an associate professor of physics and astronomy in the Weinberg College of Arts and Sciences and an associate member of CIERA (Center for Interdisciplinary Exploration and Research in Astrophysics). "Sports are a great way to do that, and many of Northwestern's student-athletes live in Bobb."
Figueroa-Feliciano made news last summer for launching his NASA-funded Micro-X rocket into space to observe a supernova remnant. The rocket carried a superconductor-based X-ray imaging spectrometer that is capable of capturing unprecedentedly high-resolution images of various astronomical objects.
Just as he was mulling over how to get his students to Lucas Oil Stadium in Indianapolis, Figueroa-Feliciano received an email from Northwestern's Campus Life calling for game-day chaperones.
Campus Life — within Student Affairs — partnered with Athletics & Recreation and an anonymous donor to provide tickets and travel to Indianapolis for students to cheer on their fellow Wildcats at Northwestern's debut appearance in the Big Ten Football Championship Game. The caravan will depart from the Norris University Center at noon tomorrow for the 200-mile trek.
At kickoff (7:17 p.m., FOX, WGN Radio), nearly 45 percent of the Northwestern undergraduate population will be gathered inside Lucas Oil Stadium, among the many thousands of Wildcats of all ages.
Patricia Telles-Irvin, vice president of student affairs, is proud that Northwestern's student body will be well-represented at the game.
"It's an exciting time to be a Northwestern student, and we are thrilled to fill the Lucas Oil Stadium with purple," she said. "We are pleased to partner with Athletics to support the student-athletes on the football team who have worked hard to reach this achievement. Our students will undoubtedly look back on this experience for years to come."
After the game, the buses will make the late-night journey back to campus. Figueroa-Feliciano does not doubt that he — and his wife and young son who plan to accompany him — will be exhausted. Still, it will be worth it.
"The whole point is for my students to all be together," he said. "We want to build community and a sense of tradition and foster a sense of belonging. We want the residence hall to feel like home, not a hotel."
With student-athletes in his residence hall ranging from lacrosse and soccer to basketball and tennis, Figueroa-Feliciano hopes this football game is the first of many sports outings. "This is our first away game, and the perfect opportunity to start this tradition," he said. "No matter what happens in the game, we're excited that we got to go."
Back to top