Honoring a veteran who serves other veterans
At a time of rising veteran enrollment, Northwestern recognizes alum Todd Connor and his business incubator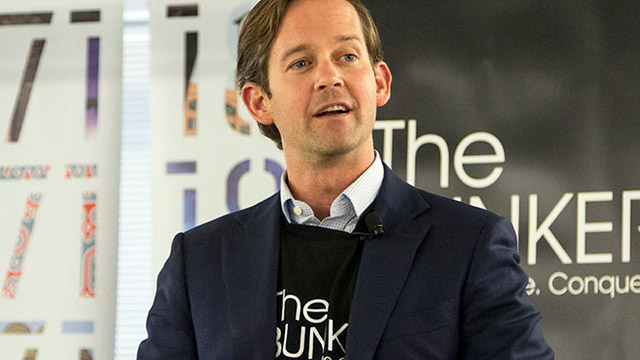 In marking Veterans Day this year, Northwestern University recognized alumnus and veteran Todd Connor for a lifetime of service.
Connor was awarded the Northwestern Veterans Recognition Award earlier this month by the Office of Institutional Diversity and Inclusion and the Veterans Recognition Committee of Northwestern University.
Northwestern's commitment to veterans continues to rise each year. This fall, 277 veterans — including 26 on active duty and 69 using transferred GI Bill benefits — attend Northwestern, according to data provided to Inside Higher Education.
A 2000 graduate of the Weinberg College of Arts and Sciences, Connor says his service in the U.S. Navy during Operation Iraqi Freedom was a lesson in leadership. And it's paying big dividends for his fellow service members through Bunker Labs, the startup incubator he founded to help veterans transition back to the professional world as business leaders.
"Veterans know how to take on a mission, get past obstacles, pivot when it makes sense and make quick decisions in an ever-changing environment," Connor said. "That capacity is learned in the military, but it has significant application in entrepreneurship."
Connor was recognized Nov. 3 in a presentation at Ryan Field during Northwestern's football game against Notre Dame.
Serving those who served
Students who are veterans, and their dependents, are enrolled in programs across campus, representing fields from engineering and education to journalism and music.
During their time on campus, these students have access to a long list of support services, such as the Yellow Ribbon Program for financial assistance. The Northwestern University Veterans Association provides resources and advocacy on campus. And Northwestern Career Advancement helps veterans translate military experience into marketable skills in other industries.
A campus resource guide for veterans is available through the Student Affairs division.
Army Chief of Staff program
A program unique among American business schools is the Chief of Staff of the Army Senior Fellow at Northwestern's Kellogg School of Management. 
Each year the Chief of Staff of the Army selects 11 senior colonels to participate. Nine individuals are assigned to think tanks around the world, but two are assigned to academic institutions. Fellows represent the Chief of Staff of the Army as strategic scouts and ambassadors, advising Army leadership on emerging opportunities and challenges, cultivating relationships and promoting a greater understanding of the U.S. Army.
Back to top