Big Ten Voting Challenge nearing the finish
Competition among Big Ten schools to increase student voting draws spotlight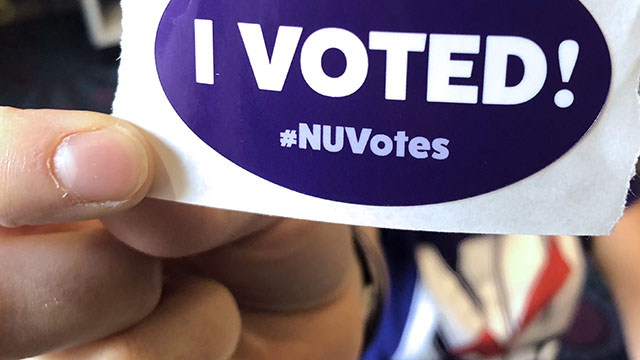 Northwestern University is in a dead heat with the other 13 universities of the Big Ten as part of an historic competition to see which of the conference schools has the best record for voter turnout in today's midterm election.
As the Big Ten Voting Challenge nears the finish line, it is gaining momentum. It caught the attention of Northwestern alum Steven Colbert, who gave a shout out to the Big Ten and Northwestern on "The Late Show" Friday night.
The Big Ten Voting Challenge was also the subject of recent Wall Street Journal article by Erica Snow, a Medill School of Journalism, Media, Integrated Marketing Communications alum.
Voter turnout for people under the age of 30 is historically low when compared with other segments of the population. In a study of 2014 voting habits, that rate took an even deeper plunge, signaling a worrisome trend of disengagement and dissatisfaction.
According to the Center for Information and Research on Civic Learning and Engagement (CIRCLE) at Tufts University, only 21 percent of those under 30 turned out to vote in 2014, compared with 36 percent of eligible voters overall.
Turnout among college students across the country was even lower, at just 19 percent.
In an effort to build student enthusiasm in the political process and to ensure that the issues that impact youth are heard, the 14 universities of the Big Ten conference have created the Big Ten Voting Challenge, which is aimed at registering student voters and encouraging them to cast a ballot.
"We know we can all do better," a letter by Big Ten University Presidents and Chancellors states. "Our democracy thrives best when all voices are represented, and students can play an integral role in shaping our collective future."
After the 2018 midterm election, trophies will be giving to two universities; one for having the highest eligible voter turnout and the other for being most improved.
Early voting numbers show that voter turnout among young people is up sharply so far, but it remains to be seen how those numbers will play out through Election Day.
At Northwestern, the University's efforts in the Big Ten Voting Challenge are being anchored by NU Votes, a campus-wide initiative bringing together students, faculty, and staff to make voter engagement a norm in the Northwestern community.  In 2017, those efforts resulted in Northwestern being recognized as a national leader in voter engagement and turnout.  Through a wide variety of activities and events, ranging from student ambassadors making classroom announcements to rides to the polls for early voters, the University is committed to seeing its past success in voter engagement carry on to the midterms, and hopefully to the top of the Big Ten Voting Challenge.
Back to top