Acclaimed writer Roxane Gay to speak at Northwestern on April 3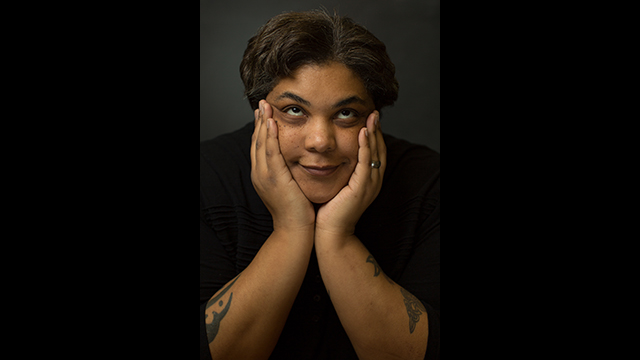 EVANSTON - Roxane Gay, an acclaimed writer and cultural critic, will speak on Northwestern University's Evanston campus, and tickets for the free event are available beginning the week of March 12.
Hosted by the student-run Contemporary Thought Speaker Series (CTSS) and the Women's Center, and co-sponsored by a score of campus departments and organizations, the event will be held at Pick-Staiger Concert Hall at 7 p.m. Tuesday, April. 3. A conversation with Gay will be moderated by Professor Nitasha Sharma. Gay also will answer questions submitted by students. 
Tickets are required for the event and are available for pick-up in-person at the Norris Box Office beginning at noon Monday, March 12. To ensure an even distribution of tickets for Northwestern students, faculty and staff, tickets will be released in waves over the course of a week. Only one ticket will be given out per person, and a WildCard is required. Information on the ticket release dates will be available on CTSS' Facebook page.
Tickets will also be available on the Chicago campus on Thursday, March 15, from 9 a.m. to 1 p.m. and Monday, March 19, all-day, at The Graduate School Office on the third floor of Abbott Hall.
Gay's collection of essays, "Bad Feminist," is considered a quintessential exploration of modern feminism. NPR named it one of the best books of the year and Salon declared the book "trailblazing." Her powerful debut novel, "An Untamed State," was long listed for the Flaherty- Dunnan First Novel Prize. In 2017, Gay released her highly anticipated memoir, "Hunger: A Memoir of (My) Body," which became an award-winning bestseller, as well as a collection of short stories titled "Difficult Women."
"We at the Women's Center are very excited to be part of a collaborative group of campus partners hosting Roxane Gay," said Alecia Wartowksi, the director of programs at the Women's Center. "As she is coming during our 30th anniversary celebration year, we believe her work can help us to think about what it means to be intersectional feminists at this time in history."
"Hunger" was named one of the best books of 2017 by NPR, The Washington Post, People, The Los Angeles Times, and The Chicago Tribune, among other publications. The Guardian has called Gay "America's brightest new essayist" and Elle calls her the "go-to voice on the ever-roiling front line of gender, race and politics, and, perhaps most of all, the embodiment of intersectionality."
"Roxane's work is relevant, powerful and hugely important, and her expertise is at the center of so many topics central to today's cultural conversations" said Ben Zimmermann, chair of CTSS. "We are so excited to hear from Roxane and learn from such an important intersectional voice at this critical time in our history."
Gay also is a contributing op-ed writer for The New York Times,and her writing has appeared in McSweeney's, The Nationand many other publications. She recently became the first black woman to ever write for Marvel, writing a comic series in the Black Panther universe called World of Wakanda. Gay is also known for her avid social media following on Twitter and Tumblr. She currently works as an associate professor of English at Purdue University, where her research interests include the intersections between race, gender and popular culture, contemporary fiction and the political novel.
Nitasha Sharma is an associate professor of African American studies, Asian American studies and performance studies at Northwestern. She is the author of "Hip Hop Desis: South Asian Americans, Blackness, and a Global Race Consciousness," which analyzes links between hip-hop, race and class. Sharma's academic activities are based on an interdisciplinary, comparative and ethnographic approach to the study of difference, inequality and racism. The central goal of her teaching, research and writing is to develop models for multiracial alliance building by zeroing in on cultural phenomena that unearth and challenge the factors that structure contentious race relations.
The event is co-sponsored by The Graduate School, the Provost's Office of Diversity and Inclusion, One Book One Northwestern, Campus Life, the Black Graduate Student Association, the Division of Student Affairs, the Office of the Provost for Faculty, College Feminists Sex Week and the department of gender and sexuality studies.
The conversation with Gay will be the Contemporary Thought Speaker Series' fourth event of the year. Former UN Ambassador Samantha Power, Houston Rockets GM Daryl Morey, and award-winning actress and writer Lena Waithe all spoke earlier this year. Previous CTSS speakers include journalist Ta-Nehisi Coates, Pulitzer Prize-winning writer Junot Díaz, acclaimed author Zadie Smith, hip-hop artist Killer Mike, astrophysicist Neil deGrasse Tyson, activist Angela Davis and filmmaker Barry Jenkins.
For more information, contact CTSS chair Ben Zimmermann at benzimm2185@gmail.com.
Back to top