Convocation speakers represent fields ranging from government to sports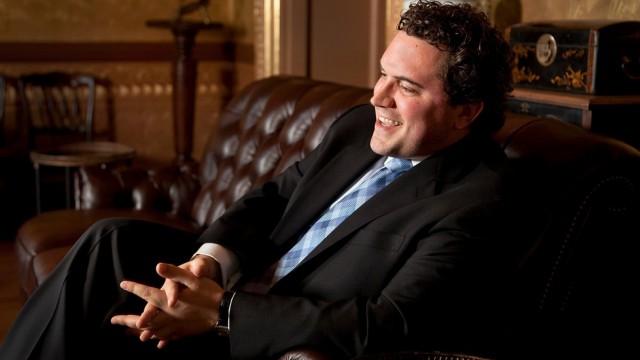 Cody Keenan, Weinberg '02, will deliver the convocation address for the Weinberg College of Arts and Sciences at 11:30 a.m., Saturday, June 23 at Ryan Field in Evanston.
Keenan, who graduated with a degree in political science from Northwestern, has been a speechwriter for President Barack Obama for more than a decade, rising from a campaign intern in Chicago to director of speechwriting at the White House.
Other speakers coming to address graduates at Northwestern schools include Charlie Baker '86, Governor of Massachusetts, Kellogg School of Management; Sheinelle Jones '00 BSJ, co-anchor of NBC's "Weekend TODAY" and Rachel Nichols '95 BSJ, host of ESPN's "The Jump," Medill School of Journalism, Media, Integrated Marketing Communications; and Daryl Morey '96, general manager, NBA's Houston Rockets, McCormick School of Engineering (see full list below).
Keenan's passion for public service was sharpened as a young aide to the legendary Senator Edward M. Kennedy. In 2014, Northwestern honored Keenan with its "Emerging Leader Award," presented to a top alumnus under age 35, and the Sigma Chi International Fraternity recognized him with its Significant Sig Award. In 2015, his commencement address at New York University's Robert F. Wagner School of Public Service was highlighted by the New York Times and the Washington Post as one of the year's best. After 36 years of hopeful waiting, Keenan finally got the chance to write his dream speech in January 2017 -- one in which President Obama welcomed the World Champion Chicago Cubs to the White House.
Today, Keenan serves as Obama's collaborator on his upcoming book and as his post-presidential speechwriter. In fall 2018, he will be a visiting professor in Weinberg's department of political science.
As a speechwriter and as someone who has helped others craft commencement speeches, Keenan said he's sensitive to the often-used clichés and sentimental anecdotes recounted this time of year.
As he contemplates addressing his fellow Wildcats, Keenan said most of all he wants the graduates to have fun and hopefully take something away from his own personal and professional trajectory.
"In a light-hearted way, I want to give the honest talk that I wish someone had given me when I was graduating," Keenan said.
He remembers how hard it was breaking into the Washington political scene as a young college graduate.
"People are not easily impressed," Keenan said. "Starting out will be hard, you'll have to pay your dues and you'll do grunt work that will be menial and tedious."
At the same time, he wants students to remember that their first jobs will not define their career path forever, there is time to explore. "Don't be in a rush to get that dream job," he said.
Keenan plans to stay clear of politics in his speech — for the most part. Except to say that contrary to popular belief, he's more optimistic now than when he arrived at the White House almost a decade ago.
"I know that sounds counterintuitive, but I saw the power people can have when they work together for the better," he said. "If something bothers you, roll up your sleeves and get involved. Jump in and try to make a difference. Progress never travels in a straight line."
Convocation speakers and dates
Bienen School of Music: Jane Chu, chair, National Endowment for the Arts (June 23)

Feinberg School of Medicine: David Skorton '74 MD, secretary of the Smithsonian Institution (May 21)

Kellogg School of Management: Charlie Baker '86, Governor of Massachusetts (June 22)

Northwestern Pritzker School of Law: Sharon Y. Bowen '82 JD-MBA, director, Intercontinental Exchange (May 11)

Northwestern in Qatar: Sharmeen Obaid-Chinoy, renowned filmmaker and journalist (May 8)

McCormick School of Engineering: Daryl Morey '96, general manager, NBA's Houston Rockets (June 23)

McCormick Graduate School master's ceremony: Ted Karwoski '81, serial entrepreneur

McCormick professional master's ceremony: Ed Chen '93 '98, CEO of Biometrics4All

McCormick Ph.D. hooding ceremony: Priscilla Lu '80, Deutsche Bank

Medill School of Journalism, Media, Integrated Marketing Communications: Sheinelle Jones '00 BSJ, co-anchor of NBC's "Weekend TODAY" and Rachel Nichols '95 BSJ, host of ESPN's "The Jump" (June 23)

School of Communication: Thomas Hoegh '92, CEO of Arts Alliance (June 23)

School of Education and Social Policy: Janice Jackson,

 

CEO of Chicago Public Schools and Subra Suresh,

 

president, Singapore's Nanyang Technological University (June 22)

School of Professional Studies: Jon Suarez-Davis '97 SPS, senior vice president and chief strategy officer at Salesforce Marketing Cloud. (June 22)

The Graduate School: June 21 (no speaker)

Weinberg College of Arts and Sciences: Cody Keenan, Weinberg '02, presidential speechwriter for President Barack Obama (June 23)
Back to top