Dance Marathon selects Community in Schools of Chicago as its primary beneficiary
45th annual NUDM will take place March 8 to 10, 2019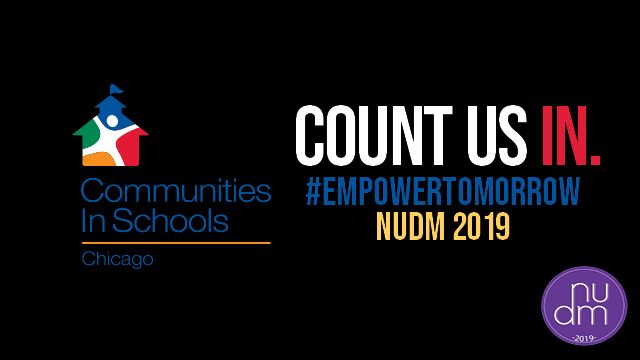 Dance Marathon is one of the largest student-run philanthropies in the U.S.  
Has raised more than $1 million annually for its beneficiaries the past eight years
Evanston Community Foundation chosen as second beneficiary for 22nd year
EVANSTON - Community in Schools (CIS) of Chicago, has been selected as the primary beneficiary for Northwestern University's Dance Marathon (NUDM) next year. The nonprofit provides students in Chicago Public Schools with a community of support empowering them to stay in school and achieve in life.
"The distribution of opportunity in the United States is inequitable," said NUDM executive co-chair CJ Patel. "CIS of Chicago attempts to diminish the opportunity gap by thinking critically about the systemic and institutional issues perpetuating the drop-out crisis."
For each of the last eight years, NUDM participants have collectively raised more than $1 million offering a truly transformative gift for its designated beneficiary.
One of the largest student-run philanthropy organizations in the country, NUDM will culminate with a euphoric weekend March 8 to 10, 2019 when more than 1,000 undergraduate students dance for 30 hours straight to raise funds for CIS of Chicago.
Evanston Community Foundation (ECF) has been selected as the second beneficiary for the 22nd consecutive year and will receive 10 percent of Dance Marathon's net proceeds.
ECF engages the Evanston community by making grants, training leaders and connecting people and organizations to help Evanston thrive as a vibrant, just and inclusive community.  
More on Community in Schools of Chicago
In 1988, Community in Schools (CIS), the country's largest network of independently operating dropout prevention organizations, established a branch in Chicago. Alice Palmer, a Northwestern educator, Illinois state senator and activist, was hired as its first executive director. CIS of Chicago addresses systemic issues in schools that lead to students being pushed out or dropping out. The organization places highly trained staff inside 147 Chicago public schools to connect students to a range of high-quality art programs, college and career readiness opportunities, as well as physical and mental health education and services.
CIS of Chicago has worked with more than 900,000 Chicago public school students over the past 30 years to help them stay in school and on track. This year alone, CIS of Chicago will provide services to more than 70,000 students.
"People who dropout are more likely to live in poverty, to be unemployed, to be incarcerated, to have poorer health outcomes and to have their own children dropout. CIS of Chicago has a proven approach that helps kids graduate -- and break that cycle," said Marianne Woodward, chief resource officer for CIS of Chicago. "We've only just begun the relationship [with NUDM], and already we think it's wonderful. It's been very collaborative so far, and we imagine that will continue and deepen as the partnership unfolds."
"The relationship between NUDM and CIS of Chicago will be a true partnership," said Justin Savin, the other NUDM executive co-chair. "Our community engagement co-chairs are working closely with CIS of Chicago to craft BUILD (Build, Uplift, Inspire, Learn, and Dance), a program that will provide the backdrop for meaningful interactions between CIS of Chicago students and NUDM dancers. Over the next 10 months, we hope these interactions will turn into long-standing relationships."
"One of the very best things about this partnership is that the dancers are all college students," Woodward said. "The opportunity for our students to interact with Northwestern students, will allow them to envision themselves as college students, to dream bigger and to aspire and achieve."
The 45th annual NUDM will be held March 8 to 10, 2019 on the Norris University Center East Lawn at 1999 Campus Drive on Northwestern's Evanston campus.
About Northwestern University Dance Marathon
NUDM is one of the largest student-run philanthropies in the nation. Since 1975, NUDM has raised more than $20 million for more than 30 different charities.
Last year, NUDM raised over $1 million dollars for its eighth consecutive year in support of Cradles to Crayons — an organization that partners with social service organizations, such as school districts and homeless shelters, to connect communities with excess resources with communities that are in dire need of these resources. Cradles to Crayons provides children with quality items, emphasizing the idea that quality equals dignity.
To learn more, visit www.nudm.org.
Back to top