Strobe Talbott to discuss impact of academic research on national policy
The inaugural Buffett Distinguished Visitor will meet with faculty and students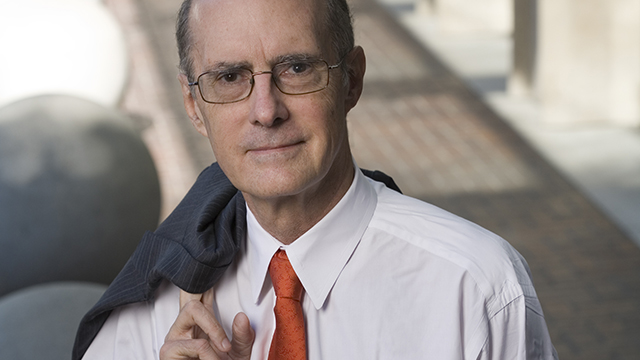 EVANSTON - Strobe Talbott will discuss the relevance of academic research to policymaking in his first public talk as the inaugural Buffett Institute Distinguished Visitor on Northwestern University's Evanston campus.
The conversation will take place 4 p.m., Thursday, March 1 at the McCormick Foundation Center, 1870 Campus Drive.
The event is open to the public. Registration is requested.
The conversation is co-sponsored by the Institute for Policy Research and will be led by its director, Diane Schanzenbach. Schanzenbach is the Margaret Walker Alexander Professor of Human Development and Social Policy. 
Strobe Talbott is the past president of the Brookings Institution. He was a long-time reporter for Time magazine before serving as U.S. deputy secretary of state from 1994-2001. As a reporter, he covered Eastern Europe, the U.S. Department of State and the White House. He was twice awarded the Edward Weintal Prize for distinguished diplomatic reporting.
In 2011, Talbott was named by then Secretary of State Hillary Clinton as chair of the U.S. State Department's Foreign Affairs Policy Board, a post he held through Secretary John Kerry's tenure. He has also been a member of the Aspen Strategy Group, a fellow of the American Academy of Arts & Sciences and the Academy of Diplomacy, chairman of the board of the American Ditchley Foundation and a governor of the Conference of Montreal.
The Buffett Institute's Distinguished Visitors Program invites prominent global leaders to share their insights with the wider Northwestern community. From senior government leaders to heads of nonprofits and international institutions, Distinguished Visitors bring their global experiences and insights to the Northwestern community, enriching learning and enhancing research across campus.
Two more Distinguished Visitors
The program will bring two more distinguished visitors in the 2018 spring quarter, Leila Sadat and Daniel Shapiro.
Sadat is a professor of law at Washington University and a specialist in international criminal law. In 1994 she started working on establishing the International Criminal Court (ICC). In 2012, she was appointed as special adviser on crimes against humanity to ICC Prosecutor Fatou Bensouda. She helped draft a convention on the prevention and punishment of crimes against humanity, which is currently being debated by the UN International Law Commission.
Shapiro was the U.S. ambassador to Israel from July 2011 to January 2017. Before that he was former President Barack Obama's senior advisor on U.S. policy on Israel, Egypt, Jordan, Syria, Lebanon, Libya, Tunisia, Algeria, Morocco and Palestine. He advised the president on U.S. responses to the Arab uprisings of 2011, which included the first post-revolution assistance package to Tunisia.
Back to top