'Danceworks' showcases the best in contemporary dance at Northwestern University
A post-show talk with the artists is planned for opening night March 2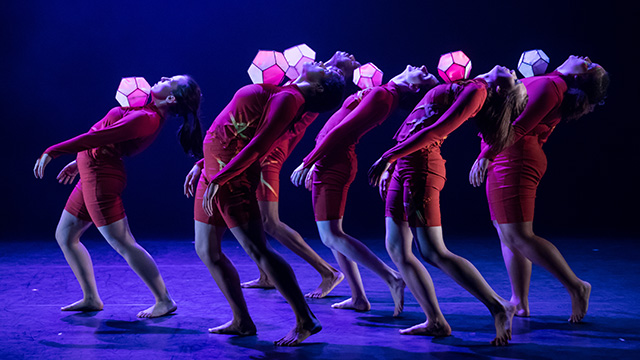 EVANSTON - Three Chicago choreographers will premiere new works in Northwestern University's "Danceworks 2018: @ Hi-Speed." Part of Wirtz Center for the Performing Arts's Mainstage series, the annual program is performed by Northwestern undergraduate dance students with lighting, sets, costumes and props designed by graduate theater students.
"Danceworks 2018: @ Hi-Speed" runs March 2 to 11 in the Josephine Louis Theater, 20 Arts Circle Drive on the Evanston campus.
This year's guest choreographers include Carrie Hanson, founding artistic director of the critically-acclaimed dance company The Seldoms; Nejla Yatkin, one of Dance Magazine's "25 to Watch;" and Vershawn Sanders-Ward, founder and executive artistic director of Red Clay Dance Company.
"These three Chicago choreographers are making inroads in the national and international scene of contemporary dance," said Joel Valentín-Martínez, Danceworks artistic director and a Northwestern distinguished senior lecturer in dance. "This one-hour program promises to showcase high-speed dancing and exciting entertainment."
The works in the program include:
Choreographer Nejla Yatkin's "On the Eve of…" explores the repercussions of misogynistic myths and fairytales imposed on women. Her high-energy, theatrical approach is aimed at presenting more empowering stories of women that allow them to move forward with wisdom and grace, free from the burden of past limitations and oppressions.
Carrie Hanson's "Untitled" portrays the changing landscape of the Arctic. The abstract work uses formal vocabulary and spatial narrative as the dancers embody disruption, ice calving and elemental disruption.
"Re(source)," choreographed by Vershawn Sanders-Ward, utilizes Afro-contemporary dance technique that fuse Africanist movement vocabulary, Chicago house and modern dance forms. Inspired by the strategies humans use to survive under adverse circumstances, the work questions where the source of strength and resilience lies.
Other guest collaborators include Mikhail Fiksel and Shamou for music composed for Carrie Hanson and Nejla Yatkins, and Enki Andrews and Peter Anderson for videos created for Nejla Yatkins and Vershawn Sanders-Ward. 
"Danceworks 2018: @ Hi-Speed" performances are Thursdays, Fridays and Saturdays at 7:30 p.m. and Sundays at 2 p.m.
Single tickets are $25 for the general public; $22 for seniors (62 and older); $20 for Northwestern faculty, staff and emeritus; $10 for full-time students; and $6 in advance or $10 at the door for Northwestern students. 
Tickets are available online at the Wirtz Center website, by phone at 847-491-7282 or in person at the Wirtz Center box office in the Barber Theater lobby, 30 Arts Circle Drive, Evanston.    
Box office hours are Tuesdays through Fridays from 10 a.m. to 5 p.m. and Saturdays from noon to 4 p.m. The box office is closed Sundays and Mondays. 
The Wirtz Center is a member of the Northwestern Arts Circle, which brings together film, humanities, literary arts, music, theater, dance and visual arts. 
Back to top