The 88th annual Waa-Mu Show announces theme, new writing process
Tickets go on sale online Dec. 4; at the box office Jan. 8, 2019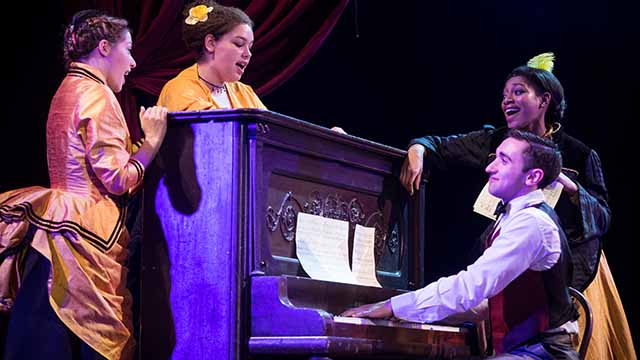 EVANSTON -- Northwestern University's Waa-Mu Show announces its 88th annual production "For the Record." The entirely student written and orchestrated musical follows a journalist as she embarks on a project to chronicle the lives of three of history's most incredible, and nearly forgotten, women.
"For the Record" will run May 3 to 12, 2019 in the Cahn Auditorium, 600 Emerson Street, on the Evanston campus. Tickets are available online beginning Dec. 4 on the Wirtz Center website. Phone and walk-up sales at the box office begin Jan. 8, 2019.
The creative team will take a new approach to the writing process this year, according to Waa-Mu Show co-chairs and School of Communication seniors Gabby Green, Ziare Paul-Emile, Alex Rothfield and Lindsay Whisler.
While The Waa-Mu Show has been written by a single group of students in past years, "For The Record" will accept pitches for songs, lyrics, scenes and other ideas from the entire student body, beginning in the winter quarter which starts Jan. 7, 2019.
Carly Mazer ('20) and Lauren Katz ('21), who pitched the story theme of "For the Record," will serve as writing coordinators, leading a team of 14 student writers in the creation of an outline for the musical.
Speaking about this year's show, Mazer and Katz highlighted the relevance of the theme.
"I am so excited to be working on this show because the topic is so raw and relevant to what is going on in the world today," Katz said.
Mazer added, "I am thrilled to have so many brilliant minds working together to make this show possible. Collaboration and inclusivity are so important and especially pertinent to this subject matter."
The fictional New York journalist at the heart of "For The Record" traces the lives of Ida B. Wells, Julie D'Aubigny and Gene Grabeel, three women who dedicated their careers to changing the world, and whose stories have been all but erased from historical record. Her quest to reveal their lives will end up shaping her own. Inspired by a true story, "For The Record" asks the age-old question: How can we learn from our past in order to create a more enlightened future?
Stephen Schellhardt, Northwestern theater lecturer and director of "For The Record," said he embraces the changes to the writing process.
"I think the student experience will be more well-rounded, more inclusive and Waa-Mu itself will be more centered around best practices and not just the final product," Schellhardt said.
"For The Record" tickets are available on the Wirtz Center website starting Dec. 4. Phone and walk-up box-office sales begin Jan. 8, 2019. The box office is located in the Barber Theater lobby, 30 Arts Circle Drive. For tickets and more information call 847-491-7282 or visit the Wirtz Center website.
Back to top