Two earn prestigious scholarships to U.K., Ireland
Marshall and Mitchell scholars illustrate virtue of commitment to academics, creativity, community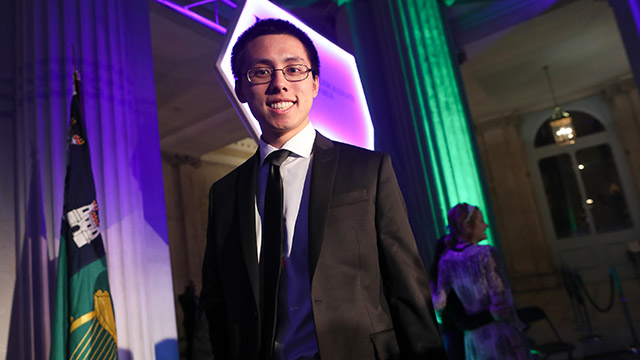 Two recent graduates are destined for The United Kingdom on prestigious scholarships to pursue passions discovered at the intersection of community, creativity and scholarship at Northwestern University. 
Patrick Liu, a 2017 graduate of the Weinberg College of Arts and Sciences, is a recipient of the Marshall Scholarship to study in England, and Alison Mahoney, a member of the School of Communication class of 2014, is headed for Northern Ireland on a Mitchell Scholarship. 
While Liu and Mahoney were both drawn to Northwestern by its academic prowess, their undergraduate experiences could not have been more different. 
Liu, who tentatively plans to pursue the equivalent of a Ph.D. in oncology at the University of Oxford, came to Northwestern to study science. He triple majored in biological sciences, neuroscience and psychology and graduated summa cum laude in a mere three years. Liu also extensively involved in biomedical research and published several papers in peer-reviewed journals. 
Alison Mahoney is headed for Northern Ireland on a Mitchell Scholarship.
Mahoney, who will study contemporary performance practice at Ulster University's Magee Campus in Derry~Londonderry, majored in theatre and gender studies, and she helped found what is now Seesaw Theatre, a student theater company that producers theater for audiences with autism and other developmental disabilities.   
"I chose Northwestern because I knew I wanted a professional theatre career, but always loved academics and wasn't willing to give them up to attend a conservatory," Mahoney said.
While their interests are notably distinct, Liu and Mahoney both found their calling by working to make a difference through the student organizations in which they were involved. 
"I learned so much from working with my peers on student-led theatre projects," said Mahoney, who later founded a Bluelaces Theater Company with fellow Northwestern students in New York. "The opportunity to gain administrative skills through this work and learn how to effectively manage teams equipped my peers and me to found Bluelaces when we graduated, which is still producing theatre for audiences with developmental disabilities almost 5 years after we founded it."
As remarkable as Liu's Northwestern record is in terms of academic achievement, some of the most important lessons he took from his undergraduate years were not part of any curriculum. 
"I learned that being transparent and honest with others about your difficulties is not only necessary for you to thrive, but it also helps others do the same, especially in stressful educational contexts" said Liu. Being part of a community as an undergrad changed his outlook. 
As part of an ongoing Fulbright Fellowship, Liuis currently an English Teaching Assistant at Changwon Science High School in South Korea. He also volunteers at a Hana Center for North Korean defectors. 
Liu's desire to teach abroad grew out of his work as a mentor and tutor while at Northwestern and his experiences as the child of Chinese immigrants. 
"I am interested in how educational design affects students' wellbeing, creativity and desire to learn," Liu said. "This is what has led me to my various cultural and educational extracurricular activities, and this is what I am currently exploring in Korea as a teacher." 
The coveted Marshall and Mitchell scholarships, designed to train future leaders, both promote partnerships, peace and greater cultural understanding between Britain and Ireland and the United States.
Established in 1953 as a British gesture of thanks to the United States for assistance Britain received under the Marshall Plan after World War II, the Marshall Scholarship aims to strengthen the relationship between the British and American citizens, their governments and institutions.  
The increasingly popular Mitchell Scholarship, founded in 1998, was named to honor former U.S. Sen. George Mitchell's pivotal contribution to the Irish peace process. Up to 12 Mitchell Scholars between the ages of 18 and 30 are chosen annually for one academic year of postgraduate study in any discipline offered by institutions of higher learning in Ireland. 
Students and alumni interested in applying for the Marshall or Mitchell scholarships may contact the Office of Fellowships at fellowships@northwestern.edu or 847-491-2617.   
Back to top