Northwestern University, City of Evanston announce agreement to share Emergency Operations Center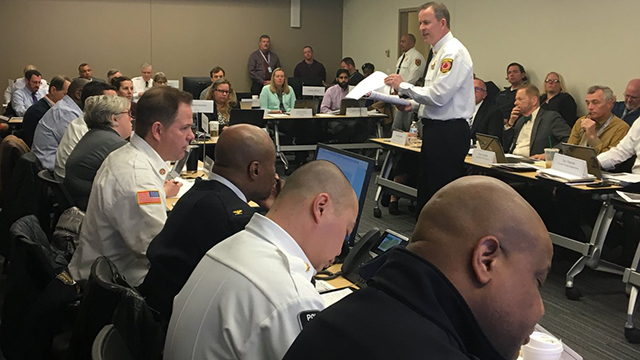 EVANSTON - Aiming to improve public safety and strengthen emergency preparedness and response, the City of Evanston and Northwestern University have agreed to a plan for the shared use of Northwestern's Emergency Operations Center (EOC), officials announced today (Aug. 16).
The EOC, located in the Northwestern University Police headquarters at 1201 Davis St. in Evanston, will provide a safe and secure location during an emergency or disaster where the University and City of Evanston crisis management teams can collaborate to make effective, informed decisions in coordination with local, county, state and federal agencies.
The City and the University signed a Memorandum of Understanding on a one-year agreement for the shared use of the facility, beginning on Sept. 1, including an option to be renewed annually.
"Northwestern University highly values our relationship with the City of Evanston, and nothing is more important to both of us than the safety of our two communities," Northwestern President Morton Schapiro said. "We are proud to partner with City emergency officials to increase collaboration in every way that can help make both our communities more secure."
"This important agreement will enhance public safety for all who live, work or study in Evanston," Mayor Stephen Hagerty said. "In my 25 years as an emergency management consultant, I can tell you, without question, those who collaborate together succeed together. The City and Northwestern will continue to look for these opportunities." 
In March, the City and Northwestern utilized the Emergency Operations Center during a joint training exercise, which simulated a hazardous materials spill in the area. This new agreement will facilitate continued coordination between the City and Northwestern as the organizations focus on emergency preparedness and response training.
"The Emergency Operations Center is a state-of-the-art facility with IT infrastructure that has been adapted to meet the City's needs," Northwestern University Police Chief Bruce Lewis said. "We have learned from experience how vitally important it is to collaborate on emergency response in managing either a man-made or a natural disaster, as either will most definitely impact both the City and the University."
"Disaster and emergency incident mitigation, preparedness, response and recovery are responsibilities shared by all public safety personnel, regardless of their agency or jurisdiction," Evanston Fire Chief Brian Scott said. "Sharing this outstanding facility will maximize public safety by ensuring the effective collaboration of all stakeholders."
"This agreement is another example of the wonderful partnership of the City of Evanston and Northwestern University crisis management teams," Evanston Police Chief Richard Eddington said. "I look forward to our continued progress on projects that make our community safer."
"Northwestern's Crisis Management Team members help the University community prepare for potential or actual threats and respond to the EOC during emergency incidents and disaster situations," said Greg Klaiber, director of emergency management at Northwestern. "Working closely with our counterparts from Evanston in a crisis affecting both our communities is crucial for the safety of both. This new step establishing a joint EOC at Northwestern will help ensure that happens." 
For more information, call or text 847-448-4311. For convenience, residents may simply dial 3-1-1 in Evanston.
About the City of Evanston's Crisis Management Team 
The City of Evanston's Crisis Management Team consists of senior officials and staff from all City departments who work to ensure effective response to major emergencies and disasters, as well as continuity of City services.
About Northwestern University's Crisis Management Team
Northwestern University's Crisis Management Team is made up of executive and senior leaders throughout the University who play key roles in maintaining the continuity of services and enable effective and efficient incident management.
Back to top